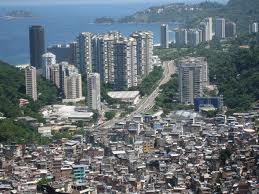 Housing is one of the key issues facing our overstretched planet today. According to UN reports, over 30 per cent of the planet's urban population lives in slums, in great deprivation without fundamental amenities like water, sanitation, adequate space. 35 per cent of the rural population does even worse and more than 2 billion people all over the world live without the shell of comfort that we take for granted and statistics get worse each day.
**
In a "third world country" like India, the situation is visibly desperate and says Habitat.org, "worldwide, some 827.6 million people live in urban slums. By 2020, it is estimated that the world slum population will reach almost 1 billion. Lack of clean water and sanitation claim the lives of more than 1.8 million young children every year." What are we missing here? We have a life-style industry worth billions of rupees selling us things we don't need. We have design and colour and furniture and material trends that tell us to how and what to consume and discard and no dearth of housing options for the middle-class and the rich. So between excessive urban development depleting natural resources and building recklessly even in eco-sensitive zones on one hand and extreme poverty on the other, where is the missing piece of the puzzle?
**
What the consumption driven industries do not want you to know is that sustainable development will show us that less is more, that greed based consumption offers too many options to some and too few to others and that a balanced use of resources, space and imagination will streamline development equitably. In the 1970s, 'sustainability' was described as economy "in equilibrium with basic ecological support systems" and ofcourse, any kind of development must address the environmental, social and economic imbalance that we see in the world today.
**
What can we as individuals do to change things? Well, we can start by living within the means of our environment, recycle resources, build green, not connect a lavish life-style with the quality of life and change the way we look at housing. Heard of Steve Areen? His sustainable, 500 foot, $900 dollar home in Thailand is an Internet sensation  (http://steveareen.com/domehomecreation/index.html ) and it was built in just six weeks! He was offered a small spot on a friend's mango farm in Thailand. The rustic but breathtakingly aesthetic dome house on that little piece of land is built with clay bricks and cement blocks.  It has recycled wood planks for dining furniture.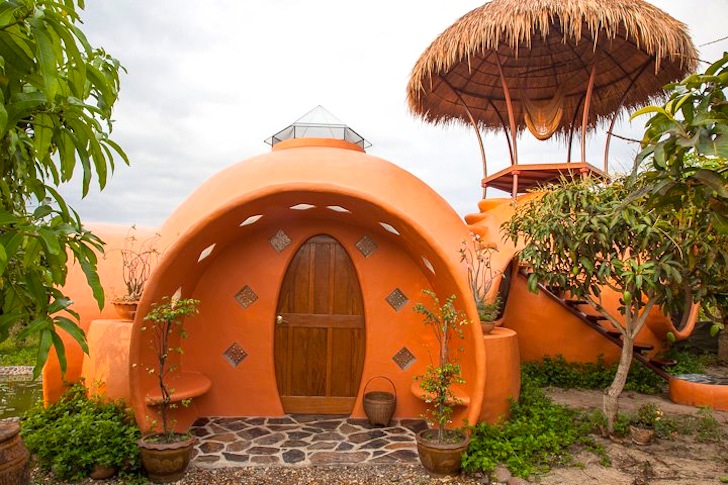 **
His bed is a built in cement structure finished with dabbed clay and stone mosaic, the circular windows work as seats where the owner curls up to play his guitar, his shower wall is created out of round stones, the faucet is made out of bamboo, the sink is a clay and slate affair and a thatched gazebo graces the roof. The glass inserts in the wall bring in sunshine.
**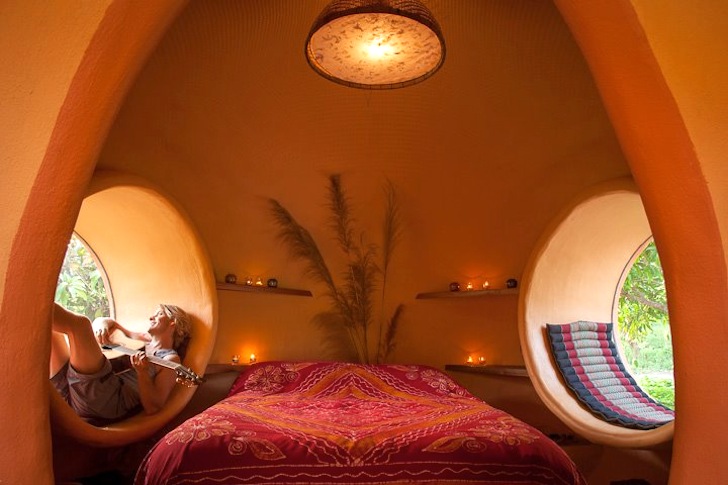 The house has doors, screens, shelves, a lily pond, intricate stonework , simple landscaping, filtered well water and hot water.
**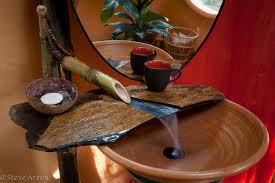 There is comfort in the house but the real luxury is the lack of clutter and all the things we think are necessary for our way of living.
**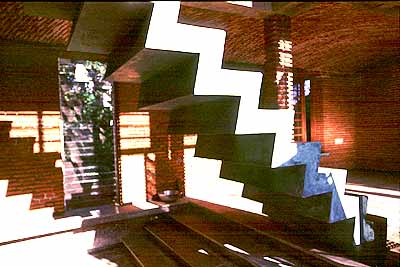 Architect Anumapa Kundoo created her own minimalistic design idiom in Auroville where she blended beauty with function and addressed water, waste and energy management through renewable sources. Using RCC excessively was not an option because it is energy depleting and so her linear house is a marvel of brick masonry, has ample air circulation, vaulted spaces, alcoves and projections that welcome in light and air. The outdoor spaces merge into the indoor spaces because really, who is to say that the two do not belong together.
**
No structural steel has been used in the house, Burned clay pots have been used as fillers in the RCC slab. Brick mortar has replaced cement wherever possible, exposed brick and lime mortar walls reduce the need for paint, plasters or ceramic tiles. Rough granite flooring serves even the toilets. The house runs on solar energy It can be beautiful to minimize needs and have a reductionist approach towards life and just focus on absolute essentials so that living can be about experiencing simplicity and harmony on a planet that is now shuddering under the weight of our greed.
**
The story was earlier carried in the New Indian Express, Chennai