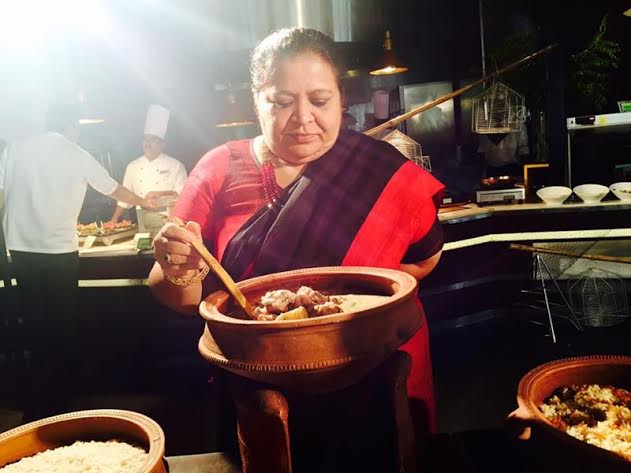 One of the most memorable one liners delivered by Chef Marco Pierre White on MasterChef Australia is,"Generosity is the greatest garnish." And it is possibly true that generosity of spirit separates a great cook from a good one. Meeting Calicut's culinary doyenne Abida Rasheed reaffirms this fact.  At the Moplah Food Fest at Novotel Bengaluru Techpark's buzzing restaurant The Square, she greets every question with a surge of warmth. Her gestures are expansive and dramatic as she describes how a fish must be marinated. "NEVER with water, " she emphasises. And adds, "Because when you put it in a pan or tawa to fry, the water will evaporate and the spices will separate and the fish will be left alone. But if you marinate the fish with coconut oil and fry it with a little.. yes, coconut oil again, the sizzle will tell you that the spices are happy and the fish will cook just fine!"
**
At the fest, her manner is not that of a presiding chef but of a caring hostess as she peers into my vegan plate with disapproval and decides she wants to feed me "her stuff" and not just any generic food that most buffet counters offer. As for the non-vegetarians seated around her, she wants them to taste "everything." Her passion for cooking and feeding is obvious and you can almost visualise her stirring a big aromatic pot, tasting spices, revising flavours till she gets every note perfect.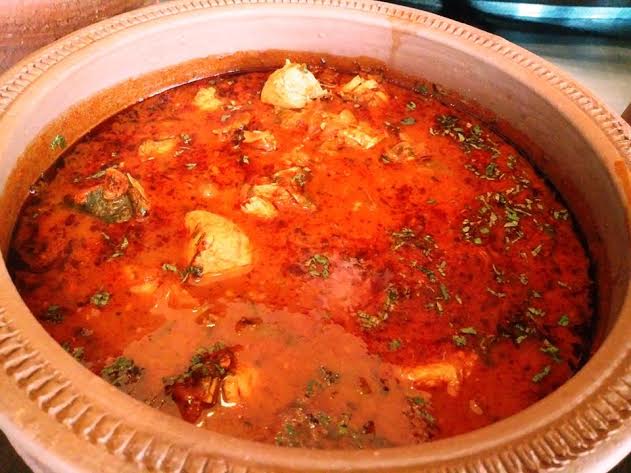 **
Ask her how it all began and she laughs, "I got married in 1985 and immersed myself in running my house and kitchen. There was no time or ambition to pursue a career. With time, people began to talk about my recipes till a friend arranged for me to offer consultancy services to a major hotel and that is how passion tuned into a profession." Today ofcourse, she is invited by leading hotel chains and catering companies to cook up a storm with signature recipes like kozhi porichathu, meen porichathu and erachi pathiri.  The keynote of Malabar and especially Moplah cuisine, she says, is honest to goodness flavours. She says, "I personally like to enhance natural and real flavours rather than submerging them in excessive spices. I like to strive for balance and subtlety. You should be able to taste the produce in all its freshness."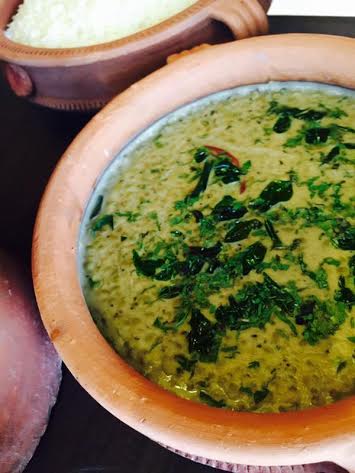 **
That the Moplah legacy is being passed on to the next generation is visible in the way her daughter Nafisa watches over the food simmering across the buffet table and says, "I have grown up surrounded by great food and remember my mother cooking endlessly. The love for cooking has come naturally to me." She explains the finer points of the salads, pickles, breads, chutneys, rich stews, curries, fish, chicken and ghee biryanis and desserts as she offers me an inviting cooler. It is an ice achaar and basically tastes like summer in a goblet with bits of finely chopped raw mangoes.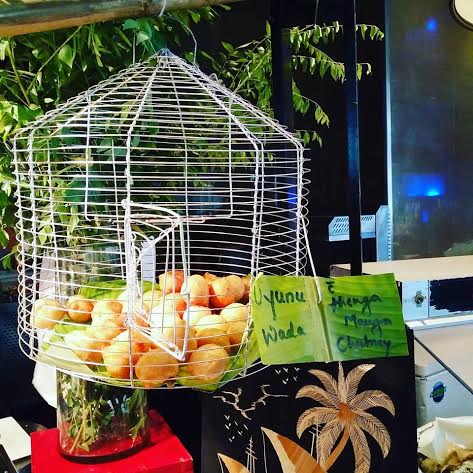 **
She simplifies the story of the Moplah cuisine by telling me that it developed in the kitchens of the Moplahs, North Kerala's Malabari Muslims. "We trace our roots right back to the Arabs who came to trade here centuries ago in spices and silk and stayed on. Authentic Moplah cuisine includes seafood, rice dishes including biryani, and surprising little eats like pathiri, idiappam, puttu, malabari paratha, koyi nirachathu and chattipathiri. "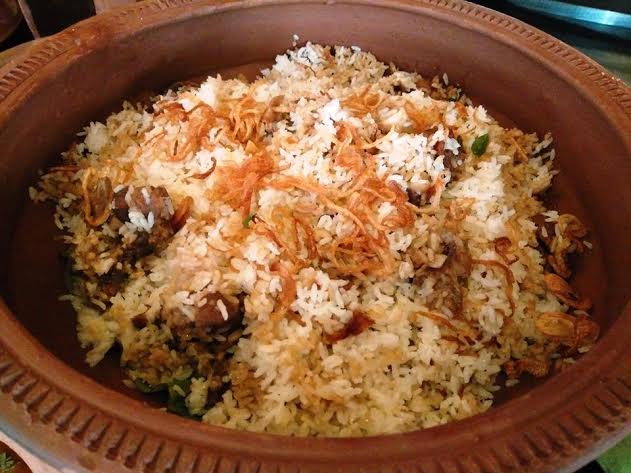 The element of rusticity and homeliness in the food on offer shows how even plush hotel kitchens now want to diversify into distinctive ethnic cuisines that surprise the palate and have a certain soulfulness. That there is a growing demand for Moplah cuisine with its intriguing blend of coastal flavours from Kannur, Thalassery, Mahe and Calicut bodes well for foodies.
**
Chef Abida feels that it was serendipitous that she was born into a traditional Malabar family and was able to not just absorb its richness but share it with the world. At her cooking studio in Calicut, she does not just do cooking demonstrations but takes her guests to local markets to teach them about sourcing quality produce and ingredients. The joy of cooking and tasting "real" food she says, unfolds outside mechanised kitchens because a dish is not just about presentation but memory, tradition and methods that are unhurried and invested with warmth and love. And yet she says, "Nothing that I cook is stuck in the past. The cuisine is adaptable to modern palates."
**
And ofcourse there is that warm, broad smile that she serves everything with. And what we started this story with. A large dollop of generosity.
The festival is on till May 27 at:
IIbis & Novotel Bengaluru Techpark, Opposite RMZ Ecospace Business Park, Marathahalli – Sarjapur Outer Ring Road, Bengaluru – 560103, Karnataka, India
Tel.: +91 (80) 66700600 – Mobile: +91 9538897330
Reema Moudgil is the editor and co-founder of Unboxed Writers, the author of Perfect Eight, the editor of  Chicken Soup for the Soul-Indian Women, a  translator who recently interpreted  Dominican poet Josefina Baez's book Comrade Bliss Ain't Playing in Hindi, an  RJ  and an artist who has exhibited her work in India and the US and is now retailing some of her art at http://paintcollar.com/reema. She won an award for her writing/book from the Public Relations Council of India in association with Bangalore University, has written for a host of national and international magazines since 1994 on cinema, theatre, music, art, architecture and more. She hopes to travel more and to grow more dimensions as a person. And to be restful, and alive in equal measure.