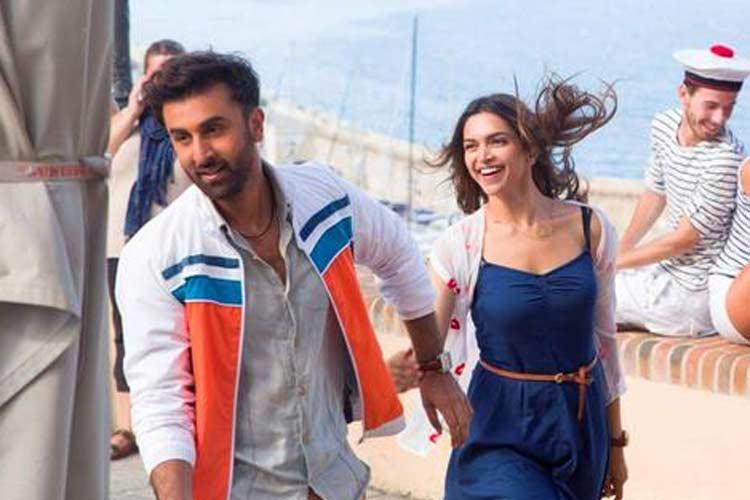 While watching Imtiaz Ali's latest film Tamasha, Eckhart Tolle's bestseller, A New Earth came back to me. He writes how accumulated memories of angst, humiliation, denial, emotional suppression and anger form an invisible pain body within our body. In most people, this pain body remains unreactive till a trigger presents itself. And then there is a chemical heaving and the pain body takes over our words, our carefully cultivated poise and breaks us down spectacularly along with the illusion that we have made peace with everything that happened to us in the past.
**
Tolle writes that love is the most elemental of triggers especially when we are attracting another pain body like ours or someone who is forcing us to look deep and confront ourselves and own our truth. I am presuming that the nature of the truth that emerges either makes or breaks a relationship. Either we break out of the pain body or we crawl back in, afraid of the sunshine.
**
There is a vague awareness of this in Tara (Deepika Padukone) when she apologises to Ved (Ranbir Kapoor) for pointing out the dichotomy between who he is and who he pretends to be. She is sorry that she perhaps touched a raw nerve, some embedded complex that she should have perhaps left well alone. Because now, it will unleash pain, anger, confusion and chaos in his orderly life and all because she is the only person in the world who reminds him of what he could have been. Of the childhood he killed along with his imagination. Of stories he wanted to tell. Of the non conformist itching to shock the world out of its skin.
**
The scene where he cannot handle this insight into unlit corners of his soul while she begs him to give their relationship another chance, is possibly the best moment of Tamasha. As is the use of Dev Anand's mannerisms in key moments because he was the man who created his own hyper reality in a world where actors were supposed to stop acting when the camera switched off. He did not switch off because he believed in the man he had created unlike Ranbir's Ved (Flip him and he is Dev, get it?) who only breaks free occasionally from the reality imposed on him.
**
From channelling Dil Ka Bhanwar Kare Pukar on the narrow steps carved into a mountainside in Corsica to running across the sloping lanes of Simla, Ranbir Kapoor's Ved even walks into his family home with a limp just like Dev Saab did in Tere Ghar Ke Saamne after a long scooter ride to find the love of his life. This Ved ofcourse finally finds the love for his life. His own truth and the courage to articulate it.  The key to his locked up self. And that the way out is always in. Like Picasso, he begins to believe that,"Everything you can imagine is real. "And he begins to live what Rumi once preached, "Run from what's comfortable. Forget safety. Live where you fear to live. Destroy your reputation. Be notorious. I have tried prudent planning long enough. From now on I'll be mad."
**
And mad he appears to be when he makes seductive noises at his boss (remember Jordan's craziness in the office of a music company's owner in Rockstar?) or when he repeatedly talks to himself in the mirror, once even breaking into a spirited rendition of 'Koi Pathar Se Na Maare Mere Deewane Ko' (incidentally filmed on his father Rishi Kapoor in Laila Majnu) even though only a few days ago he had told the same mirror, "Either you become Majnu (post a break up) or you stay cool. I will stay cool." And yet, his broken heart becomes the place where the light finally enters him.
**
Yup, we do get by now that there are people who live their dreams and those who just live. Those who claim their spotlight to take the stage and those who only dream of what could have been. Those who want to change their story. And those who ask others what they should do like Ved does when he meets a story teller he used to visit as a child, "Meri kahani mein aage kya hoga?" till the old man screams, "Apni kahani mein kya hoga, ye mujhse poochta hai? Kaayar!"
**
And Ranbir lives these bipolar (a word that is thrown up repeatedly in the film) spiritual conflicts with a degree of surrender that is frightening. He is many characters living on a rainbow. He is just one boring person in a unidimensional reality and for an actor who has to do most of the histrionic work in the film, he doesn't get tired. Nor does he tire you. Though the film threatens many times to crash under its own weight with its multiple stream of consciousness rambles. And there are many deja vu moments too. The 'let us lose our inhibitions but let us not cross the line' equation from Rockstar. The, 'what place is this, yaar?' line from Jab We Met. The only difference being that the dark lanes of Ratlam have now been replaced by the sun baked streets and meadows of Corsica, just to prove how commercial success can change things around a bit when a film director is location hunting. And we have already seen the price regimentation extracts from the human soul in Love Aaj Kal where Jai grows more and more jaded in San Francisco because his emotional life is dead.
**
Also unlike Before Sunrise where two strangers also hooked up  to make the most of the time they had in an exotic pause between the past and the future, Ved and Tara say nothing to each other in Corsica that is memorable. Some wordless moments linger though. Like when he is playing football and she just settles down on the street with a cup of coffee to watch him. Or when she says goodbye, not knowing why she is doing it. Still, this is a film where love is a performance, a tamasha rather than something that cuts deep and feels real.
**
I had issues also with the constant toing and froing between childhood and youth and early middle age that the viewers are subjected to as Ved juggles the past and the present. Also what is with the staccato dialogues that Imtiaz has a fondness for? Be it Saif's Jai trying to articulate his feelings before Deepika's Meera in Love Aaj Kal during her wedding or Saif trying to confess his love one again to another Meera in Cocktail's (written by Imtiaz) climax or in this film when Tara is telling Ved, "Mujhe pata nahin tha ki aisa hoga, love and all." The basic rule of film writing that each character should speak not in the writer's voice but in his or her own has been sidelined a bit much in Imtiaz's work. Jab We Met was possibly the only film where the dialogue seemed unselfconscious, fresh and organic.
**
Deepika is exceptional in the break up scene where she is desperately trying to reach out to the man she has seemingly broken and just for her and Ranbir and the insights the film offers you into your own life, Tamasha is worth the price of a ticket. Unless, you are going for only entertainment and then you won't forgive the film for its length, its non-linear structure and will wish Imtiaz was still the man who made the layered but instantly relatable Jab We Met. 
Reema Moudgil is the author of Perfect Eight, the editor of  Chicken Soup for the Soul-Indian Women, a  translator who recently interpreted  Dominican poet Josefina Baez's book Comrade Bliss Ain't Playing in Hindi, an artist, an  RJ and a mother. She won an award for her writing/book from the Public Relations Council of India in association with Bangalore University, has written for a host of national and international magazines since 1994 on cinema, theatre, music, art, architecture and more, has exhibited her art in India and the US…and hopes to travel more and to grow more dimensions as a person.And to be restful, and alive in equal measure.