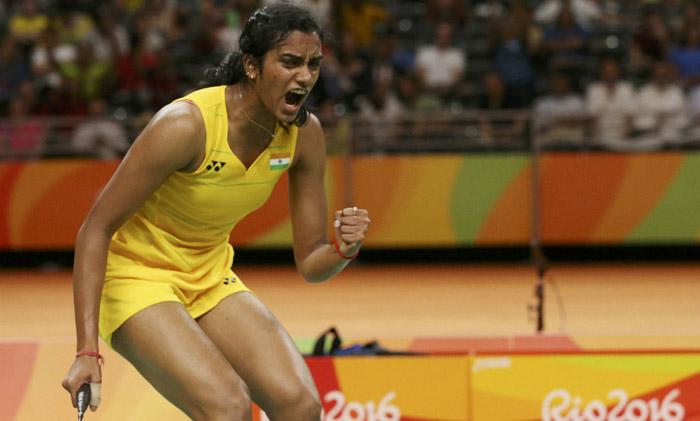 Yes, it is just so hard. To not appropriate her success. So recently there was a Facebook post by Loyola students about how PV Sindhu's father's education at Loyola had something to do with her recent triumph. Another FB page dug out a picture of Sindhu in traditional regalia to show the "feminists" that she could carry the weight of tradition AND wield an Olympic medal winning badminton racquet with equal pride. Don't be fooled by the short skirt and the unapologetic aggression on court, it was suggested. This girl respects boundaries.The kind that really matter. Compare this to the unequivocal admiration and appreciation we shower on male achievers, without trying to dissect just who should claim the major share of their success. Or how proudly traditional or bravely masculine they are. The fact however remains that Sindhu,  Sakshi Malik, Deepa Karmakar and Aditi Ashok are simply put, not here to be appropriated. They are just doing the best they can to realise their ambitions and to excel in their chosen disciplines regardless of the cultural, political and sociological tampering that goes on around their gender.
**
An ambitious woman in any case is an anomaly till she makes it big and then everybody wants a little piece of her. Then she becomes an emblem of something that is obviously bigger than her. The country, culture and conditioning that have impeded her growth now want credit for her success just by association. This is not an Indian particularity. We have been reading about the sexist reporting that female athletes were subjected to in Rio. Many were referred to as wives, as body types and many photographs focused not so much on their achievements as on what their clothes hid or revealed.
**
In 2015, Eugenie Bouchard was asked at the Australian Open to "give us a twirl" by an interviewer. Goes without saying that a Federer or Nadal would never be asked to twirl and show off their tennis uniforms. No one will ever ignore Usain Bolt's records to focus on the length of his shorts. In fact tennis gold medalist Andy Murray shut down John Inverdale, a BBC reporter who asked him, "You're the first person ever to win two Olympic tennis gold medals. That's an extraordinary feat, isn't it?" Without acknowledging that Serena and Venus Williams had in fact won four each already. What is with this reluctance to acknowledge women athletes as singular achievers?
**
And in India, somehow till a girl wins a medal, her birth and her existence do not merit automatic celebration. So the message is, "Don't kill your daughters not because they have as much as value as your sons. But because they may some day become potential medal winners."  And while we are praising one winner, let us not forget to belittle another. Recently when  Saina Nehwal posted a picture of her broken bone, a troll asked her why she hadn't yet congratulated her team for its performance at the Olympics and if to gain sympathy, she was going to also now post her medical bills.
**
But let us not nitpick. Look around you.The story is being retold by women everywhere. The Fair & Lovely idealisation of women is increasingly looking banal and obsolete. Women are refusing to be defined by impositions of entertainment, advertising and cultural constructs. We are finally, collectively beginning to look beyond the systematic undermining of women as lesser beings who are meant only to look and be a certain way. Look at the way a Serena Williams celebrates her mocked and derided body and revels in her strength and her success. How Sania Mirza has risen above the constant scrutiny of her personal and professional life to be a champion. How sexist tweets, song lyrics, advertisements and films are being called out by young bloggers and watchful media observers for reducing women to either sexual baits or tireless domestic goddesses.
We are learning that there is more to women than we give them credit for. And that more and more women will continue to push beyond the roles assigned to them to claim spaces that cannot be appropriated by our  straitjackets or limited by our rule books.  And that the likes of PV Sindhu are not ours to claim. That they alone are responsible for their milestones.  That we are just spectators. Not contributors to their life's story.
**
Reema Moudgil is the editor and co-founder of Unboxed Writers, the author of Perfect Eight, the editor of  Chicken Soup for the Soul-Indian Women, a  translator who recently interpreted  Dominican poet Josefina Baez's book Comrade Bliss Ain't Playing in Hindi, an  RJ  and an artist who has exhibited her work in India and the US and is now retailing some of her art at http://paintcollar.com/reema. She won an award for her writing/book from the Public Relations Council of India in association with Bangalore University, has written for a host of national and international magazines since 1994 on cinema, theatre, music, art, architecture and more. She hopes to travel more and to grow more dimensions as a person. And to be restful, and alive in equal measure.