You saw her first as Sonia. Clad in no-nonsense rolled up trousers, a tucked in shirt with hair pulled back in a stern pony tail and a pair of glasses perched on her nose. She lingered over a book in the lawn of a sprawling Simla bungalow, looking on wistfully as life passed her by. She simmered quietly as a glamorous cousin (Azra) went clubbing or splurged on an expensive coat.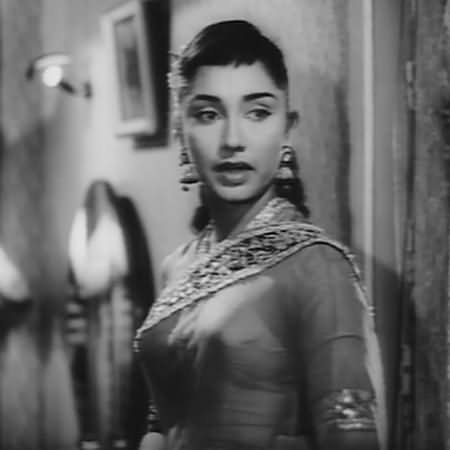 Things come to a boil when a young suitor is thrown into a mix and one day Sonia decides to stake her claim on love and life and is transformed with a flick of scissors into the woman we came to love as Sadhana Shivdasani. This was her debut and the film was 1960's Love in Simla. Though Filmalaya's other prized protege Joy Mukherjee played the eligible bachelor in the film, the story revolved around Sadhana's Sonia. It is Sonia who brings home to us, an angsty teen being suppressed and ignored by her aunt (played by Kajol's grandmom Shobana Samarth who even tells her once, "duniya mein sabhi khubsurat nahin hote") and a haughty cousin who taunts her, "Tadap tadap ke marne ke liye bhi tumhe ek mard ki zarurat padegi."  It is Sonia we root for when she turns into into a beautiful and vengeful pixie with unapologetic charm and goes on to destroy the ego of the woman who had slighted her as unlovable. Never mind the gender politics the film thrived on, it worked because Sadhana was so compellingly charismatic.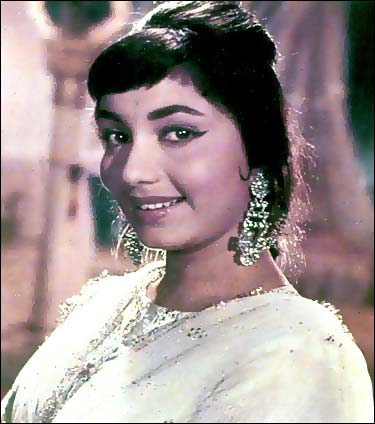 The debut created a sensation and made a bonafide star out of a girl who had been happy to be a chorus girl in Shree 420's show-piece song, Mud Mud Ke Na Dekh. Named after her father's favourite actress Sadhana Bose, she was destined to grace the silver screen. And not just because she bore an uncanny resemblance to Audrey Hepburn. She did not have the melancholic gravitas of many heroines who had ruled the 50s but she rang in the 60s with a smile that seemed to mock traditions of melodrama. Watch her teasing Joy Mukherjee's Dev as he tries to climb a snowy mountain with a, "Buck up boy, buck up…you are doing wonderful!" Not many heroines before her had dared to demystify a hero but she was spunky and much before Madhuri Dixit coyly walked a trolley laden with food towards Salman Khan in Hum Aapke Hain Kaun, Sadhana made Joy Mukherjee plead and beg and sit and stand and turn around and dance for a morsel of the jalebi she had cooked especially for him (Love in Simla).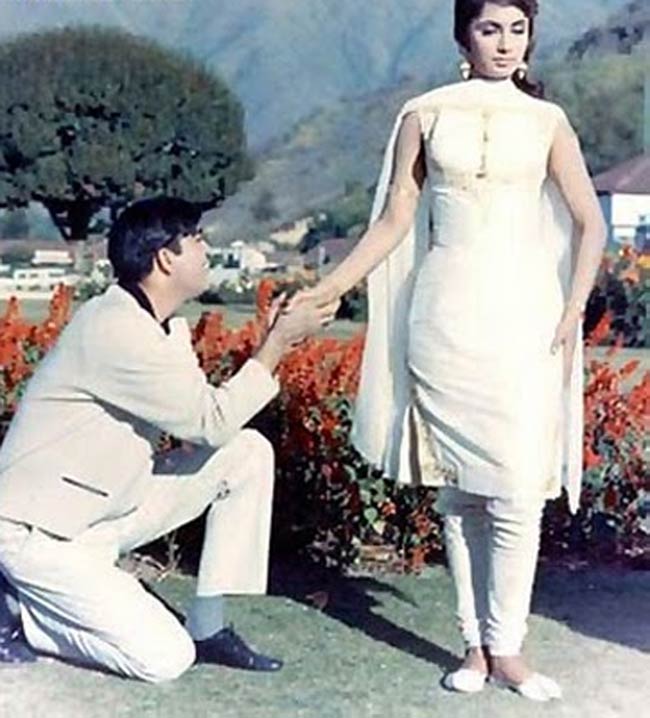 She even made him steal the helmet of a home guard soldier, take her for a rickshaw ride and play the fool because she could. All the impishness aside, there was an unearthly radiance about her that was showcased to perfection in films like Mere Mehboob where her close-ups stopped heart-beats and time. In Waqt, she played the definitive Yash Chopra heroine. When she played a piano in a saree bejewelled like a Diwali night and sang a Sahir song, everyone from Sunil Dutt to Raj Kumar fell helplessly in love with her. It was in this film that she with her dress designer Bhanu Athaiya, recreated the churidar kurta in a bolder cut and carried it off with such elegance that almost all her contemporaries copied the design and wore it in film after film.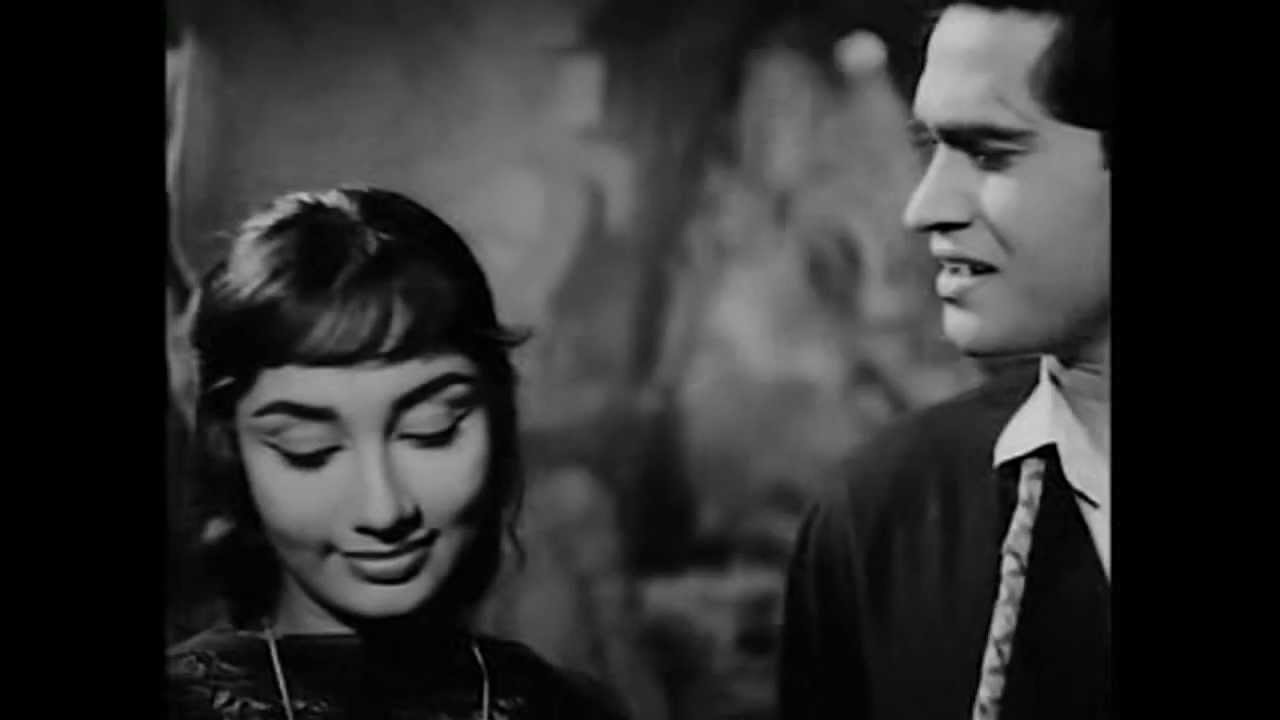 Be it the mysterious stranger in Ek Musafir, Ek Haseena, the subdued yet compelling presence in Parakh and Prem Patra, the gentle and caring woman who heals the disillusion and angst of a rich industrialist in Asli Naqli, she always walked the line between reality and magic with ease. When she sang out her love to the sheltering, palm-fringed moon, she imprinted our memory forever with the lilt of, "Tera Mera Pyar Amar.''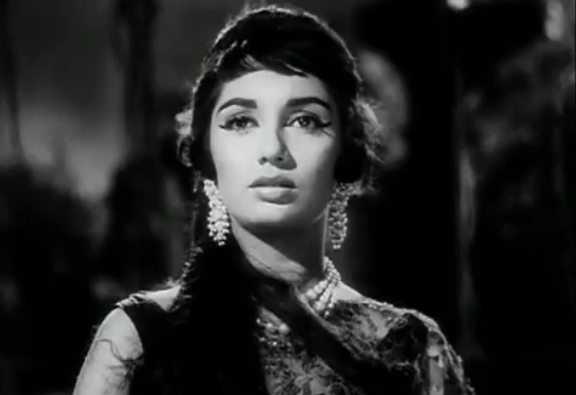 There was a glow about her that was not cosmetic. She was effortlessly ethereal and her performances were light on the nerves, unpretentious and soulful. Even when she was playing the sinuous temptress in 1967's Anita at the fag end of her career, she worked the red gown, the eyes smouldering with pain and the tear stained face with supreme dignity. It was impossible for her to look crass even if she was playing a nautch girl in Mera Saya and singing 'Jhumka Gira Re.' Whether she was playing a devoted girlfriend in Hum Dono who comes back like a beloved memory every time a cigarette lighter bursts into an unforgettable melody or a rebellious tribal princess in Rajkumar or the haunting face of good and evil in Woh Kaun Thi or the vindictive manipulator of Inteqam, she exuded unassailable grace, class, femininity, refinement and integrity. When she was struck by a life-long disease, tragedy and loss, she chose to stay out of limelight and wanted fans only to remember her as she was. A woman unmarked by darkness.
When recently she was coaxed out of anonymity to walk the ramp for designer Shaina NC, you saw faint glimpses of the smile that could dazzle  hearts and the agate eyes, now faded behind a pair of glasses. She never won awards except one lifetime achievement IIFA trophy but then she did not need accolades to be remembered. We will remember her for the way she said, "Nahin..nahin..nahin..nahin" when Dev saab sang, "Abhi Na Jao Chod Kar." We will remember her for the beauty that inspired Dharmendra to sing, "Mehbooba Teri Tasveer…Kis Tarah Main Bannaoon." We will remember that impish smile when Joy Mukherjee sings, "Mujhe Dekh Kar Aapka Muskurana." We will remember the pair of eyes that transfixed a student of the Aligarh Muslim University in Mere Mehboob. We will remember her for her unbearable agony in Lag La Gale.
**
Sadhana Shivdasani was a trendsetter. She was Nargise Mastana and Phoolon Ki Raani..Baharon Ki Mallika and when she got up to go and the hero sang, "Woh dekho mujhse ruthkar meri jaan ja rahi hai," you understood why. She was that kind of a woman. Someone who inspired sublime passion and poetry and lifelong adoration. Someone who away from the clamour of fame, lived the meaning of this song, "dukh aur sukh ke raste bane hai sabke vaste..jo gham se haar jaoge to kis tarah nibhaoge…ki tum se main juda nahin..mujh se tum juda nahin." 
**
Just to remind us that in the end, despite what seemed like a charmed life, she was like all of us. Human. Rest in peace Sadhana Shivdasani. And thank you for the effortless magic.
**
Reema Moudgil is the editor and co-founder ofUnboxed Writers, the author of Perfect Eight, the editor of  Chicken Soup for the Soul-Indian Women, a  translator who recently interpreted  Dominican poet Josefina Baez's book Comrade Bliss Ain't Playing in Hindi, an  RJ with Timbre Media and an artist who has exhibited her work in India and the US and is now retailing some of her art at http://paintcollar.com/reema. She won an award for her writing/book from the Public Relations Council of India in association with Bangalore University, has written for a host of national and international magazines since 1994 on cinema, theatre, music, art, architecture and more. She hopes to travel more and to grow more dimensions as a person. And to be restful, and alive in equal measure.