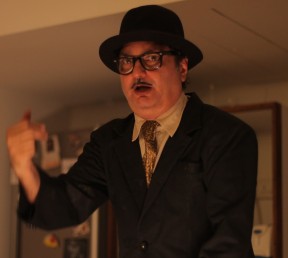 After performing Piya Behrupiya to a fabulous response from press and public at the recently concluded Rangashankara Festival, The Company Theatre is back with "NOTHING LIKE LEAR". This is a devised theatre performance based on Shakespeare's King Lear, is directed by Rajat Kapoor and performed alternately by Atul Kumar and Vinay Pathak.
For any information..contact
Sachin Kamani
Production Manager
Nothing Like Lear
Mumbai
M: 09820192778
Nothing Like Lear
A Devised Theatre Performance
Based on Shakespeare's King Lear
The Company Theatre & Cinematograph Production
Directed by Rajat Kapoor
Performed by Atul Kumar/ Vinay Pathak
Language English
Duration 80 minutes
Rangashankara J P Road
29-30 Nov at 7:30 pm
1-2 Dec at 3.30 and 7:30 pm
Synopsis                                                                                    
Ever thought what a clown does when he is depressed?
It sure is tough being a clown.
Here is one who hasn't stopped crying for days..
And he has plenty of reasons for it.
The one he loved the most has left him and gone away… for good.
And now he has NOTHING.
Then, he is not getting any younger. In fact- he is old.
But more than anything else, he is depressed because he has been
forced to perform this play.
He wasn't supposed to play it tonight but circumstances have forced him
to do this play about a king and his daughters..
written by, what's his name- the great English writer,
you know, bald.. bearded- who says "thee-thou-thy", you know..
That guy, whats-his-name, "the show must go on.." guy;
You know, the 16th century English writer.. oh well.
The clown is now in a spot. He must perform.
No wonder he is depressed!