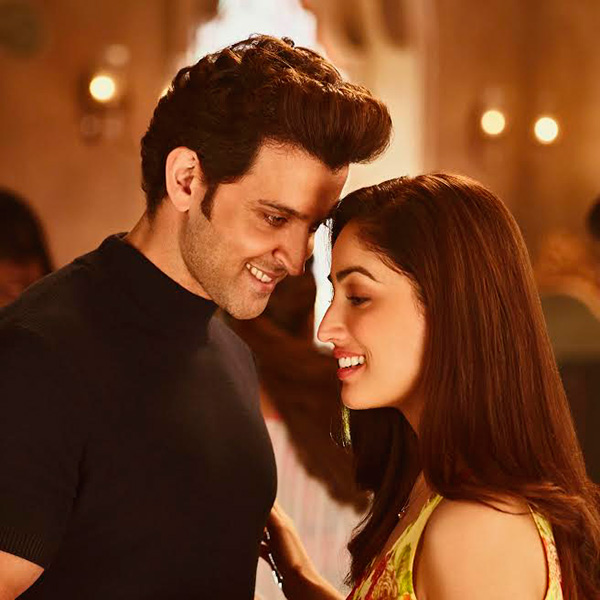 Ordinary people do not interest Hindi cinema anymore and that is why even if Mani Ratnam's artifice free protagonists from OK Kanmani (who did not think it was necessary to interrupt their love story to endorse Vero Moda, Coca Cola and Anita Dongre's wedding wear) are channelled in Ok Jaanu (a Karan Johar production), they will be styled to perfection and will be curiously conversation challenged.
**
The girl will also appear in a Gujarati hotel suite (that incidentally looks like a hashish fuelled pink fantasy)  wearing a pair of mirror worked shorts and you won't see much of her face but a lot of her legs. Not only that, she will screech this inanity about BV Doshi, a living legend of Indian architecture,  "He is number one!" This, because Bollywood cannot think beyond numbers and the script translator from Tamil to Hindi did not possibly know much about Doshi's contribution to the study and practice of modern yet rooted Indian architecture.
**
The only swathes of real emotion appeared in the film when Naseeruddin Shah as a doting husband was seen struggling to cope with his wife's fading selfhood. Whether he was washing dishes and asking that his sleeves be rolled up or drying his wife's hair or breaking into a smile when she calls him by a familiar endearment, he made you realise that you were watching an actor who can infuse life and empathy even in a film that was otherwise a collage of  multiple shots of the lead pair snuggling together with pop corn and designer pillows.
**
Or maybe we are looking for intensity and realism in the wrong decade. Love today is not meant to be about the stuff of life. It is supposed to be a long series of goodbyes and hellos, vodka and coffee dates, pranks, bike and jeep rides on the edge of the ocean and general merriment.
**
Okay Jaanu suffered from the malady of cosmetic inauthenticity that most Hindi films ail from today including Sanjay Gupta's Kaabil. Gupta is known to give every film of his a certain varnish. If Jazbaa had a green haze, Kaabil has a soft focus perfection in the happier first half that even turns a casual moment on a beach into a picture postcard that the protagonists seem to be posing for. You can admire them from a distance but can't relate to them because they are so perfect regardless of their visual impairment. If you were lucky enough to have seen a beach song (Tumhe ho na ho) from 1977's Gharonda, you will remember how much fun, informality and casual romance was packed in the way Amol Palekar and Zarina Wahab revelled in each other's presence. The camera watched their backs as they sat and talked on the same rocks that Yami and Hrithik pose against and you instantly know the difference between intimacy and posturing.
**
Even the awkward moments between Kaabil's couple are staged as when they try to dance together for the first time. Compare this choreographed elegance to Sai Paranjpye's Sparsh where Anirudh (Naseeruddin Shah again) and Kavita (Shabana Azmi) go out for a meal for the first time and he knocks down a glass in uncharacteristic frustration because he is trying too hard and gets upset even further because she refuses to dance with him. Anirudh could not see and was no less "kaabil" than Hrithik Roshan's Rohan but he had rough edges and vulnerability around a woman he had come to like a little too much. He does not talk about love when the moment to do so comes but  instead about just how much he hates needing another human-being.
**
But there is no such subtext in Roshan and Yami Gautam's meet cute and they don't just look like they have walked out of a fashion shoot, they say nothing to each other that stays in memory. Kaabil has its moments of tenderness but from a love story, it soon degenerates into a tacky revenge drama where rape is a plot device and while the wife's violation must be avenged by the hero, an item song is inserted by the makers with lyrics that go, "Har din mujhko better lage…Tu ladki hai ya wine." Because, you can demean women in the name of both honour and entertainment in one film and get away with it.
**
But we are talking about realism so let us stick to the lack of that in the film. The ease with which the heroine is violated more than once in a colony full of her well wishers sickens but what is even more bothersome is that she is not given a chance to fight for herself. Even if you want to create a thriller around a disability, you can do it in a convincing and empowering way. The way it was done in Audrey Hepburn's 1967 classic   Wait Until Dark. Here a lone, blind woman convincingly fought off murder and possible rape through a battle of nerves. No such luck here and forget the loopholes (how for instance did the hero know which watch belonged to which bad guy), what galls is the premise that women have no say in their survival in the face of danger. They are just live baits. In homes and clubs. While the men do the hunting and the protecting and the avenging. Could this not have been a story where both protagonists were equally powerful? But then, the film would have become a slice of life and we would not have had a hero who looks like an invincible crusader from a video game rather than a real person .
**
After watching Kaabil, I for some reason remembered Kadambari, a little known film made in 1976 on a skeletal budget with many continuity flaws which starred Shabana Azmi and Vijay Arora. Based on a story by Amrita Preetam, the film tells the story of Amit and Chetna who have grown up in adjoining homes but are worlds apart. There is a scene where he gifts her a book in a shop and another where they are travelling in a bus and she asks him, "Ghar ja ke kya karoge? Ghoomne chaloge?" And then they have a small but intense conversation in the ruins of Purana Quila and he says, "Jaanti ho Chetna..khandhar sirf imaraton ke nahin..insaanon ke bhi hotein hain." And then tells her a secret about his life that he has never told anyone.  This was not a perfect film but this moment has stayed with me because it was a moment of pure connection between two conflicted people who know they cannot be together. Pain and loss need not always be written in marquee letters and coded in blockbuster cliches. Films can be about everyday life, about people who talk about books, music, about personal stuff that matters to them. People who are not always aware of how they look when they are angry and who have not forgotten the art of effortless conversation.
**
Reema Moudgil is the editor and co-founder of Unboxed Writers, the author of Perfect Eight, the editor of  Chicken Soup for the Soul-Indian Women, a  translator who recently interpreted  Dominican poet Josefina Baez's book Comrade Bliss Ain't Playing in Hindi, an  RJ  and an artist who has exhibited her work in India and the US and is now retailing some of her art at http://paintcollar.com/reema. She won an award for her writing/book from the Public Relations Council of India in association with Bangalore University, has written for a host of national and international magazines since 1994 on cinema, theatre, music, art, architecture and more. She hopes to travel more and to grow more dimensions as a person. And to be restful, and alive in equal measure.