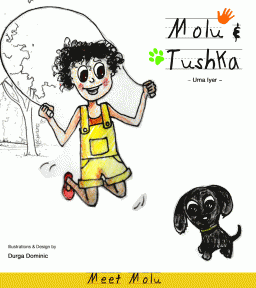 Uma Iyer has dreamt of Molu, a mischievous six-year-old for almost a decade now. She shares with the young readers of Unboxed Writers, 'Meet Molu,' a yet to be published first book of hopefully what would turn out to be a Molu and Tushka series. Agni, or 'Molu' as she is commonly referred to, is a six-year-old girl whose life revolves around her parents, her friends and her puppy, Tushka. The book is a view of the world around her, through her eyes and consists of 12 chapters. This is chapter 12.
Main Characters:
Molu: Six-year-old girl, brown skin, big black eyes that shine and sparkle, curly hair, extremely curious, chatter-box, loves chips, ice-creams, water and Tushka, usually dressed in shorts and t-shirts, occasionally considers wearing summer frocks.
Tushka: Approximately five-month-old puppy, black as the night with brown eyes, of indefinite lineage, tends to cock her head to one side when Molu speaks with her, loves chips, ice-creams, water, balls and Molu, wears a neon green belt around her neck with a bone medallion.
Etc. Characters:
Amma: The mother
Appa: The father
Bibi: The maid
Coco: The cat next door
Binny: The boy next door
Vacations Begin..
Today was our last day at school na, so we had a big party. Vanita ma'am had decorated the class with balloons and streamers and flower cut-outs that we made in art class. We played a game of musical chair and that silly Agastya fell down while trying to sit on a chair and it was so funny that I missed my chair.
Ma'am gave us cake and chips and orange juice. She also gave some sandwiches but I didn't eat them. They had many cabbages in it and no cheese. Millie tried to take chips from Anoushka's plate but I didn't let her and then she pulled my hair and I poured orange juice on her.
Binny told me I should not have done it. I think he is right. Ma'am didn't give me another glass of juice after that. I should have punched her only.
We have one month vacation. Amma told me it is not full one month and it is not my big summer vacation. It is only mid-term vacation. We have Diwali in the middle of it. I like Diwali very, very much. I don't like the crackers because they are so loud and my ears make zzzzzzzzing noise afterwards. Appa told me that little boys and girls are made to work in factories to make crackers. They don't go to school or anything. Also, he told me that the smoke made plants unhappy and the noise scared the dogs (Coco is also scared, last year she hid in the bathroom). We make lots of food… all unhealthy (Amma calls it) like laddoos and murrukku. Only during diwali Amma lets me eat as many murrukkus as I like before lunch. We make lanterns in new shapes and Amma and Bibi and I hang it on the balcony, then Appa comes home and changes everything. This year, we are going to celebrate Diwali in my Tatha-Paati's house in Bombay. Paati makes better murrukkus than Amma. My Poorvi Maami said she will make Mysore Pak and bring for me. So sweet.
Tomorrow we are going to Sowmya's new house in the morning only. Amma said we can stay there for as long as Meena aunty can tolerate us. Appa is going to drop Binny and me. I have to quickly ask aunty if I can get Tushka. Aunty doesn't like Coco very much. Coco also doesn't like aunty too much. Aunty says cats are cold animals. I don't think it is true, I have hugged Coco so many times, she is very soft and warm. I like Coco. She is my friend. I like aunty also, but only because she is Sowmya's mother and she makes strawberry jelly for us.
I asked Appa if Paati would mind if Tushka slept on the bed with me in Bombay and he said she was used to much dirtier animals living in her house.
You think Paati had pigs? How come she didn't tell me? I will ask her when I meet her in three days.
PS: Just in case  you read other parts of the story, and did not get all the words…
Glossary:
Appa – Father, Dad, Pa, Pop, Pater, Pitashree.
Amma – Mother, Mom, Ma, Mummy, Matashree.
Anna – Older Brother, Bro, Bhai, Bhratashree.
Akka – Older Sister, Sis, Behanji, Didishree (?).
Maama – Mother's Brother.
Maami – The Wife of the Mother's Brother.
Maasi – Mother's Sister.
Athai – Father's Sister.
Tatha – Grandfather.
Paati – Grandmother.
Chiku – Brown coloured fruit, sapota, sapodilla (just discovered this).
Murrukkus – God's gift to mankind, full crunchiness, made of rice flour plus secret ingredients and deep fried.
Laddus – They are sweet and round. and can come in various avatars.
Diwali – Festival of lights and fattening food.
Uma Iyer is a writer, a mother and a freelance consultant for marketing communication to several organisations. She was raised in Mumbai and currently lives in Delhi. Her retirement plan includes two dogs, many books and a shack by the sea.