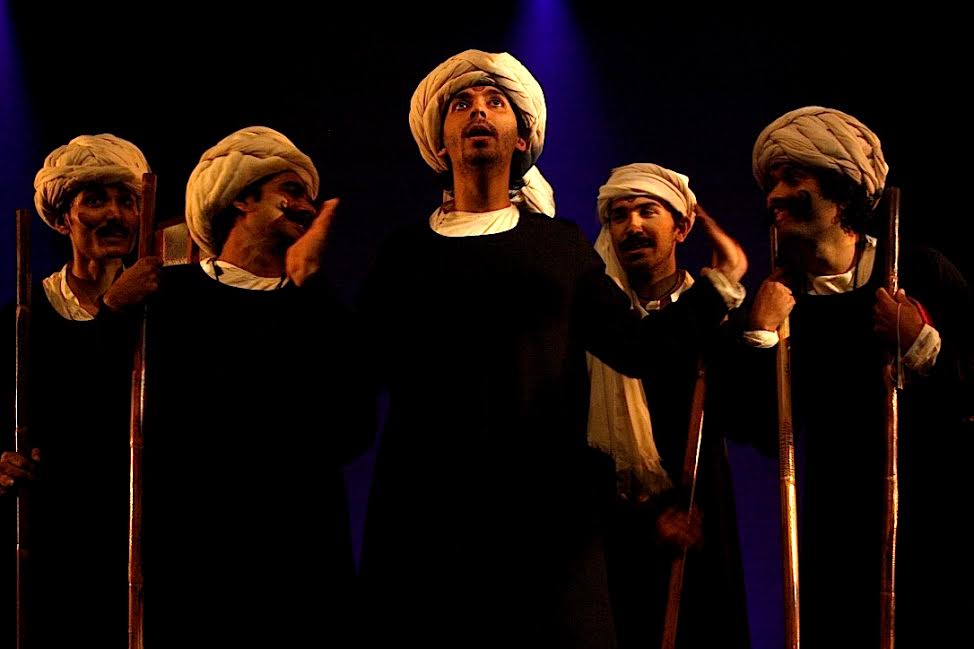 Khwab Sa, a 120-minute, gloriously colourful musical experience comes to a theatre near you! This is an adaptation of Shakespeare's A Midsummer Night's Dream, performed as a collaborative project with contemporary dance and movement, in Hindi gibberish as spoken word and live contemporary World Music- all performed by various professional artists chosen and brought together from all over India. The performance directed by Atul Kumar was rehearsed at The Company Theatre Workspace in Kamshet.
**
Catch it at :
ADA Rangamandira, Bangalore- January 14 and 15
LTG Auditorium, New Delhi-January 21 and 22
Balgandharva Rangmandir, Pune-January 28 and 29
Sophia's Auditoirum, Mumbai-February 4
J L Nehru Memorial Hall, Pune-February 5
Tickets are available at www.bookmyshow.com at the gate on day of the show
Credits:
Director: Atul Kumar
Associate Director: Vinod Ravindran
Adaptation: Rachel D'souza
Choreography: Diya Naidu
Translation: Saurabh Nayyar
Costumes: Atul Kumar & Minty Jain
Original Music:Anurag Shanker
Light Design: Pritham Kumar
Light Operation: Pritham Kumar, Gurleen Jidge, Yael Crishna
Sets: Ameya Ramesh, Bhalerao
Properties, Titas Dutta
About Khwaab-Sa- 'A Midsummer Nights Dream,' William Shakespeare's most popular comedy, was written around 1594. It portrays the adventures of four young lovers and a group of amateur actors, their interactions with woodland fairies and a duke and duchess. Taking place in a mythical Athens and an enchanted forest, there is a handsome fairy king, a misguided parent, star-crossed lovers, a weaver who transforms into a half-donkey, wood sprites and elves. This work is widely performed around the world, and no wonder – it's about the world's most popular pass time, falling in love. But as Puck knows, falling in love can make fools of us all.
About Atul Kumar: Atul is the artistic director of The Company Theatre. He has been involved in the art and pursuit of serious theatre for over two decades now.
Education in French Language & Literature at JNU, Delhi was followed by a prolonged basic training in Kathakali and Kalaripayattu in Kerala for over three years as well as a stint with the master of visual theatre- Philippe Genty in France. Atul Kumar has also worked with Sacramento Theatre Company in the USA. He founded The Company Theatre in 1993 and has directed several experimental plays that have won wide acclaim in India and abroad.
Under the aegis of The Company Theatre, Atul Kumar has been instrumental in organising national as well as international theatre festivals and other theatre related events like workshops, seminars, conferences and international exchanges. One of his recent hit theatre productions include Piya behrupiya that has toured all over the world.
Atul Kumar has also been involved fleetingly in several television projects besides live events and film assignments, which have often helped fund the theatre projects of the company. His vocation however has only been the pursuit of theatre.
About The Company Theatre-  The Company Theatre (TCT) since 1993 continues to work with a singular commitment to theatre. A non- profit registered organization TCT is a theatre ensemble of professional and amateur artists working through repertory performances and professional training. Led by Atul Kumar, TCT seeks to explore interdisciplinary art forms and develop diverse artist and audience communities from all over the world.
TCT conducts nation-wide theatre workshops that involve maximum representation of participants from all backgrounds. The workshops are open to students, corporates, artists and academics. Apart from organizing national & international theatre festivals, TCT has also performed extensively in festivals around the world. TCT started "Theatre at Home" in the year 2000, whereby theatre was taken into people's drawing rooms, terraces, backyards and other alternative spaces. TCT has also organized various seminars and conferences on theatre related issues.
More about The Company Theatre www.thecompanytheatre.net http://www.facebook.com/AtulKumar.TheCompanyTheatre