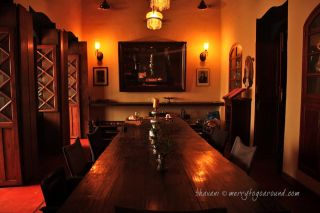 The website says this is a homestay, but it's not; it is a heritage hotel… but not the fancy kind like the Neemrana property near Jaipur… not the kind where I would be embarrassed to walk in with my chappals and sit cross-legged at the dining table!  Vivienda Dos Palhacos is simple, elegant, welcoming and warm. The attention, space and homely food are just like a homestay. Even if you are the homestay traveler, seeking that local experience, don't make this revelation change your mind. It is a beautiful place; personal and inviting. And of course, Mr. Toby ensures you are sufficiently happy and your ego is brilliantly massaged. He sat at our feet during lunch and followed us about the entire time! Yes, one could say he wanted some stuff off our plates and even though we didn't give him any he never lost interest.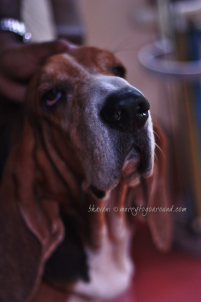 This is an old Portuguese home that has been restored beautifully, just down a tiny lane off a junction near Majorda beach.  There are no signs, there are no boards, if  I didn't have GPS , I wouldn't have reached there without a couple of frantic calls. As I parked the car and looked at the place, it was instant chemistry between me and this bungalow.
**
Set in a small plot of land, with a lawn in front, tall plants swaying in the monsoon breeze, large flowers hanging low from branches, a front porch that had cement seats built-in, two dogs with tails wagging away to greet me and a sloping roof with Mangalore tiles, and bamboo plants (my favourite)… it was beautiful! Quiet, and silent as it was,  I didn't know if we should wait for someone to invite us in or just walk in. We just walked in… that's exactly how the place wants you to be, at home. The dogs come to greet you and there is no bell to ring and no door to knock on, it is wide open!
**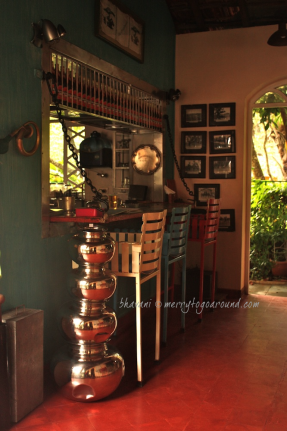 You enter into a small  niche  with a circular table and candle holder and this then leads to a longish room with a  dining table. I can so imagine lavish meals here with friends and loved ones sharing stories, laughter and lives. Then comes a small verandah and to the right of that is an open bar, that overlooks the kitchen. it's a lovely place to park yourself and have a long chat with the chef or the server or just drink in all those brilliant smells wafting out from the frying pan.
**
Every corner and every niche is lovely, but it looks lived in and not artificial. All the furniture has been tastefully chosen and has the vintage air to it. The bathroom has matrimonial ads from old papers stuck on an entire wall  with a few frames of a family marriage in the centre… brilliant touch! The rooms are large and pleasant and each is done up differently…so choose wisely where you wish to sleep. They have a small swimming pool set in a tiny garden in the backyard. The old well still lies deep in the corner of the garden.
**
There is this large book that Mr. John, the manager, will show you.  It shows the entire restoration process picture by picture. It makes for a marvelous read on what this house was, and what it is today!
**
Vivienda Dos Palhacos also opens its door for a lunch / dinner reservation, you just need to book in advance.  For more details contact them at their website: http://www.vivendagoa.com/
**
Bhavani  is a traveler by choice, photographer by interest and writer by desire. She crafts tours at Audiocompass.In and blogs at merrytogoaround.com.