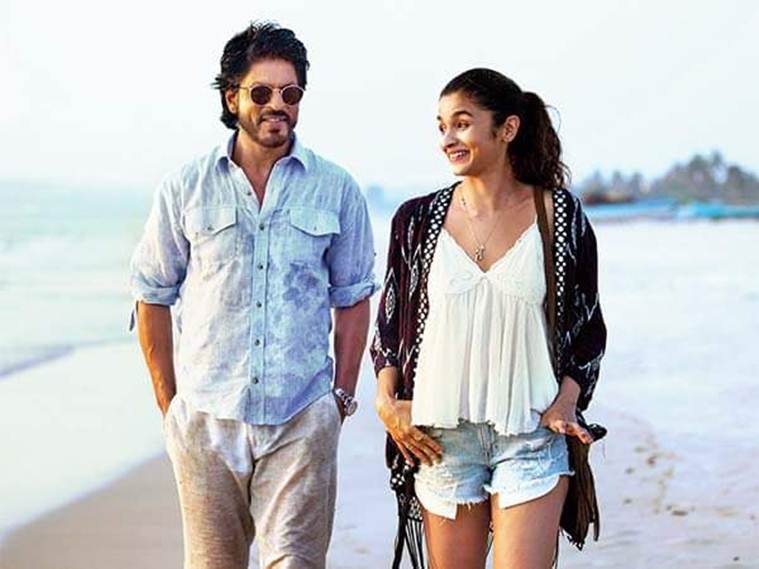 The patchwork  of unfinished relationships, replaceable snapshots, the short-lived high of opening a new package, restless online scrolling, things that we don't need but must buy, a flurry of vodka shots, a life lived from one plane hop to another, one missed connection to another. It is easy to dismiss Gauri Shinde's Dear Zindagi as a tribute to the generation devoted to the 'I, me and myself' bubble. A generation that has no political views, no idea about what the world is like beyond what they need, want, can't have. But then as the film begins to peel layers of numbing gratification that Alia Bhatt's Kaira is wrapped in, we begin to see what we often miss when we meet people. The places where they are broken. The naked nerve ends. The stories they have never told anyone. The memories they have suppressed. The anger and the fear they guard themselves with. Dear Zindagi is a brave film also because it dares to take its time with its protagonist. Because it dares to show a woman whose sexuality, ambition, flaws, humanity are not gender contained. It is brave because it is not in a hurry to fix her love life or her by telling her just what is wrong with her. This absence of judgment towards the woman protagonist means also that she is not a 'recognisable type.' Unlike films like Cocktail and Fashion that treated the Vodka downing woman at the club as a cautionary tale who must break down totally before she can be "set right", here the woman who has possibly done everything she is not supposed to, sees a therapist on a whim and also because she cannot sleep at night. And then the tangled threads begin to unspool.
**
So yes, the film does emphasise the importance of addressing and healing faultlines before they can expand and swallow the present. And the future possibly. But it does so without choking you with a heavy hand. Why the film feels so light and spirited despite its subject is also because of Alia Bhatt who unlike a lot of "serious" actors, does not ever get stymied by the material of a film. Even if the film is as dark as Udta Punjab, her spiritedness shines through. This spark that is not studied or cinematic but is instinctive is the most precious thing about any actor and one hopes she will not be made to do one big hysteria scene in every film to prove just what a gifted actor she is. This is the third time she has been made to scream her angst out in a film and even though her reserves may be endless, film makers need to let her explore life beyond the dysfunction. She may however already be the definitive female protagonist of her generation. Flawed, fearless and full of life. Familiar with the  rancid, stale taste of pain. And unafraid to be raw. But thankfully, there are quieter moments when her luminous face reflects the inexpressible like the time when she is trying to push back the wave of hurt caused by a news about the potential love of her life Raghavendra (Kunal Kapoor). Or when she is biting back the embarrassment after daring to ask her therapist out for coffee. There is also the spunky Yashaswini Dayama who chews the scenery every single time she is given a dialogue. We must see more of her please.
**
That said, somebody should remake Sofia Coppola's Lost in Translation with Bhatt and Shahrukh Khan. Like the Coppola classic, Dear Zindagi also shows us that chemistry is not just always about romance. Sometimes, it is a human connection. A gaze of empathy. A cup of tea. A bike ride. A walk on the beach.  A conversation so real, that it can set us free. The film made me recall Lost in Translation's last scene where Bill Murray and Scarlett Johansson  say goodbye…with Murray whispering something in her ear that we cannot hear, in a crowded Tokyo street. Possibly one of the most poignant moments ever filmed. Dear Zindagi does not end on that note of loaded emotion but it gives us two protagonists who have the emotional depth and creative heft to explore Coppola's narrative about disjointed selves finding their missing pieces during a few moments of shared insight and mutual validation.
**
Khan is glorious in the film in a way that is most unlike his usual cinematic outings. He is a man who is fine with silence, with being talked over, with being ordinary, normal and yet there is unmistakable star power at play even when he is just riding a bike or sitting quietly and listening, with eyes full of empathy and warmth. What Shinde has done is to peel off the vestiges of stardom to reveal a genuinely generous actor, a man who has possibly found his center. Someone who can blend wisdom with wit, insight with laughter. Someone who is in tune with life and can repair or recycle things that don't work. Someone who knows what a gift life can be if we stay present and don't wander back to the past or worry too much about the future. And yes, there is that bit about normalising therapy in a country where the need to seek psychological support is often overlooked. And pointing out that sometimes therapy is just about hearing yourself talk in a safe space before someone who won't judge, who will point out patterns, validate you because you have never been taught to value yourself, open doors that have been closed for too long and shut a few that have remained open for too long.
Dear Zindagi is a good looking film (cinematography by Laxman Utekar) but it is also thoughtful. Not overtly clever but reassuring like a warm hug that you give yourself on a cold day and smile because you know that it is all going to work out. One way or another.
Reema Moudgil is the editor and co-founder of Unboxed Writers, the author of Perfect Eight, the editor of  Chicken Soup for the Soul-Indian Women, a  translator who recently interpreted  Dominican poet Josefina Baez's book Comrade Bliss Ain't Playing in Hindi, an  RJ  and an artist who has exhibited her work in India and the US and is now retailing some of her art at http://paintcollar.com/reema. She won an award for her writing/book from the Public Relations Council of India in association with Bangalore University, has written for a host of national and international magazines since 1994 on cinema, theatre, music, art, architecture and more. She hopes to travel more and to grow more dimensions as a person. And to be restful, and alive in equal measure.