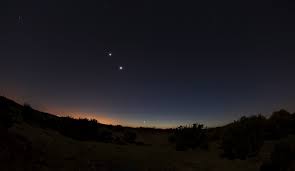 Stretched on soft and supple grass, connecting the sparkling specks in the resplendent sky into an invisible heart, with him next to her, she knew she couldn't get any richer.The faint scent of his cologne awakened her senses but she restrained the surge of passion. She knew it was dangerous to give in to inconvenient yearnings.
She resisted the thought of embracing him and held on to the silence between them for a change.
He smiled as if he had read her mind and broke the silence finally, "You haven't changed a bit after all these years…"
She looked at him. A dab of silver was visible on his sideburns and the laughlines around his full lips had grown deeper.
She echoed his last words in her mind a number of  times … "all these years..so many years…"
She allowed the pain that this realization brought along with it, seep into the void within.
"How's your wife?"  She asked mustering all the courage from within.
"She is fine.  She was asking about you a while back over the phone."
She managed a little nod, feeling just a tad jealous.
She added,"She is a nice woman; she has taken good care of you."
This time he nodded and looked straight into her eyes. She was a marshmallow by now.
He took her hands in his and sat silently, letting the wind do the talking. She had tears in her eyes and they flowed freely.
He had always been a friend. He loved her dearly… only not in the way she had wanted. He had been hurt too when she had left him all those years ago without a word. And they had not reconnected. Till now.
He wiped off her tears. She hugged him then and held him for long in her arms, feeling his heart beat against hers. The warmth of his breath was upon her ears as he whispered the words,"missed you." Her heart melted.
"I left.. because I wanted to be more than just friends…" she moaned inwardly.
"I wanted you forever. I wanted your love," she wanted to say this aloud but pride stopped her. She finally tore herself apart from him like she had done a decade earlier. He lit a cigarette and said, "I don't know what is unfinished between us but I do feel I need your presence in my life."
She remembered how she had died a million deaths all through school and college when he refused to treat her as anything other than a casual buddy. She wanted him to want her too but he had always chased some faraway dream.
He continued, "Be my friend, stay this time…"
She looked at him and the starlit sky above. She absorbed the vastness and possibilities it promised and then she looked at his face and asked, "Why do you want me to stay? You know my feelings for you…don't you?"
He lit up another cigarette and looked deeply into her eyes and said, "I know all of that and yet I want you to stay."
After a long silence between them, she asked, "For how long?"
He pulled her close, "Stay..until it starts making sense."
"And, then?"
"Then, we will decide. This time, we will decide..together."
Shreeja Mohatta Jhawar is a partner in Think Unlike Events where she  organises creative and life-style transforming workshops. She is also a freelance writer, web and graphics designer as well as a social activist who runs 'Kritagya,' a group aiming to serve old and destitute people.