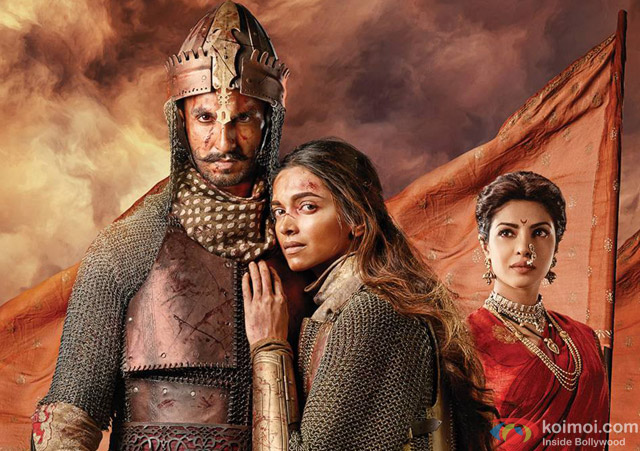 That scene in K Asif's Mughal-E-Azam? Where Nigar Sultana stealthily puts on the bejewelled crown of the future queen of Hindustan? Well, you know exactly what was on Bhansali's mind when Priyanka Chopra tries on her Peshwa's warrior helmet to preen before a mirror. Like Nigar Sultana's Bahaar, Priyanka's Kashi Bai in Bajirao Mastani can only aspire to be the reflection in the mirror, never the flesh and blood woman by the side of the man she loves. This is established when she watches the Peshwa's reflection beamed into her room by a home spun projector. There are many more moments when Salim and Anarkali's epic romance is revisited.
**
The Janamashtmi sequence where Madhubala serenaded her Nandalal is recalled in a Kathak sequence here as Deepika Padukone unspools her long limbed beauty before a transfixed Bajirao. The proclamation of Pyar Kiya Toh Darna Kya is interpreted with Mastani pirouetting in a million little mirrors to sing, ''Mash'hoor mere ishq ki kahani ho gayi."  The difference between Mohabbat and Aiyyashi was also first elucidated by Dilip saab's Shehzada Salim when he said, "Mohabbat jo dar jaati ho woh mohabbat nahi aiyyashi hai , gunaah hai" in that scene where the oppressively fearful Prithviraj Kapoor storms into a private meeting and the lovers hold on to each other instead of falling apart.
**
Tanvi Azmi's forbidding matriarch recreates that moment here in the glorious Aeena Mahal (Yup, more mirrors) to really establish that Bhansali has knowingly or unknowingly created a mirror image in his film of Mughal-E-Azam. Only, the nationalist fervour has a Maratha flavour instead of the pride that Shehenshah Akbar exudes when he talks about his Mughal Sultanat.  The cultural milieu is contextually different here but we still see how politicised belief systems regardless of their origins and religious roots, suppress individual freedoms. The Peshwa here like Salim is just a pawn on the battlefield and is expected to impose his authority on a country fragmented by little and big rebellions.
**
And just when he is getting used to a life of perpetual war and occasional peace, a woman walks in and turns the hardened soldier into a lover. Mastani however is not the intoxicating but lifeless marble sculpture that K Asif's Salim first falls in love with. Like Khuda Gawah's Sridevi, she is a warrior who can soldier on in a playing field  even if it is divided unfairly between warring men and has no place for women like her unless they are given away or claimed as rewards.
**
She starts off as a woman who cannot take 'No' for an answer, can fatally wound a man's body and heart but then once love strikes, she decides to accept any degree of humiliation to be able to survive somehow on the fringes of his life. She can be a courtesan, a favoured concubine  but not the wife or the beloved. She is repeatedly referred to as a "rakhail" not unlike the unfortunate Anarkali, the ''adna qaneez'' who had done the unthinkable by falling in love with the heir apparent. So even though Mastani says that it is the flawed human perception that accords religious connotations to even colours like green and saffron and taints human relationships with labels, she remains the hated and hunted outsider. And just like Anarkali, she is tied up in chains and strains against them ineffectually, hopelessly till the end. In the climax (shot with fluid artistry) , just as Salim watched frightening dark shadows approaching to tear him apart from Anarkali and screamed with mindless terror, "Kaun hai..saamne aao," here Ranveer Singh's Quixotic Bajirao dives into a river to battle fate as its deathly messengers approach him to keep him away from the woman he can love but not live with.
**
Despite the obvious soul and body connection between the protagonists, the moments that really stand out are when they are alone, battling a world intent on separating them. Mastani when she is battling assassins alone with her child in her arms, her face reflecting her fear, desperation, courage, hopelessness and then relief. Or Bajirao sparring with unforgiving bullying priests, his mother and his brother who all want him to conquer the Mughals but not fall in love with a woman who comes from their stock and has their blood coursing through her veins.
**
Bhansali however very firmly refuses to infuse swarming saffron flags and chants of Har Har Mahadev with an opportunistic religious subtext or a populist divisive agenda. He very clearly conveys that what Bajirao was battling to conquer was a kingdom of men, not the religion they belonged to. And when he falls in love with Mastani, it is because she is his mirror, yes, that word again. The fact that she belongs to a different religion is not an issue with him. How he will segue this relationship with the bond he shares with his first wife is more of a concern.
**
The transition of a clear-sighted warrior into a man torn between his heart and his duty is expressed with deep emotional insight by Ranveer Singh who pulses with revulsion as the stark ugliness of regimented social and religious mores reveals itself to him.  This actor in his thirties is with great authority traversing territories that overmarketed superstars in their fifties are too lazy to explore. Watch his stride in the introductory sequences, his utter and complete authority over the inner and outer universe of this character that he has internalised heart, soul, sinew, bone and marrow. His Marathi diction is impeccable. His energy is that of a man who knows his power and is unafraid to demonstrate it. It is when he is trying to battle the ruptures in the fabric of his own personal universe, that you see a man who is vulnerable, in deep soul pain. A man who is angry and rebellious and afraid for the woman he wants to protect from his own mother and brother and hectoring priests.
**
Ranveer is on his way to becoming an acting superstar and Bajirao Mastani is just an insight into the staggering discipline he is willing to impose upon himself to not just play a character but be played by it. Deepika is immensely moving and stunning when she is using her silence to express herself. Her preparation for the role must have been a gruelling process if her introduction scene is anything to go by. She is a blood, sweat and tears actor but her dialogues, maybe because they are written in a superficially dramatic way, do not cut you deep. So no, the script does not have the literary lyricism of a Mughal-E-Azam and Pakeezah though it successfully layers one gorgeous spectacle upon the other starting with the sets that glint and glimmer with gold and shafts of sunlight and moonlight.
**
Priyanka Chopra is like a beautiful prop in her Shaniwar Vada where waterfalls tumble down, oil lamps and lanterns glow in the night and every moment she makes is studiously orchestrated with an invisible brush stroke. She has some great lines, a few commanding moments but as always, you end up wondering why a woman with such imposing talent has altered her face so much that it gets in the way of the integrity of an emotional moment. She is a fine, fine actor though and a welcome addition to an ensemble cast where strong actors like Tanvi Azmi, Vaibbhav Tatwawdi and yes, even Milind Soman leave a lasting impact on the scenes they are given.
**
Whether Bajirao Mastani is praised for its sweeping visual power, its acting heft or its compelling war sequences or the obvious patience and passion invested in it by Sanjay Leela Bhansali or is critiqued for its ultimately powerless women and its curiously dissatisfying love story, this is undoubtedly a film that needs to be seen. Atleast once because in our industry where cinema is increasingly becoming a marketing stunt, this is a sincere and fearless labour of love.
Reema Moudgil is the editor and co-founder of Unboxed Writers, the author of Perfect Eight, the editor of  Chicken Soup for the Soul-Indian Women, a  translator who recently interpreted  Dominican poet Josefina Baez's book Comrade Bliss Ain't Playing in Hindi, an  RJ with Timbre Media and an artist who has exhibited her work in India and the US and is now retailing some of her art at http://paintcollar.com/reema. She won an award for her writing/book from the Public Relations Council of India in association with Bangalore University, has written for a host of national and international magazines since 1994 on cinema, theatre, music, art, architecture and more. She hopes to travel more and to grow more dimensions as a person. And to be restful, and alive in equal measure.