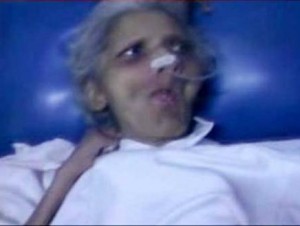 She was no  Nirbhaya….
Not born in the age of fast news;
No voices, no candles, no protests,
Grieved for her!
She hadn't gone out with a friend;
No jeans; no mobiles;
No reason for fingers to be pointed!
Being a woman, her only fault!
Half the world missed her story…
A story….
Of infinite agony;
Of unlived life;
Of unseeing eyes;
Of darkness and nothingness!
She breathed on…
Disowned and abandoned!
She was not 'killed', you see….!
And she was not even 'raped' they say…
Then…
What had happened with her
What took the very life out of her
And turned the memory into a blank void
Why did she suffer for four decades plus two
Curled-up like a fetus;
Groping for the touch of life
That eluded her!
And yet…
This lifeless, harmless frame
A mere bundle of bones,
Threatened the powers that be
Shook the very foundations of justice.
Now, that she says adieu
To the world that wasn't hers
To a life that she didn't live
Eulogies pour aplenty
From the corridors of power!
Is it grief
Or a big sense of relief?
Narinder Jit Kaur is a retired Associate Professor from Patiala,who taught English Literature for 31 Years in various Government Colleges of Punjab. A writer and a translator, she has five books of translations, from Punjabi to English, to her credit Including Voices In The Back Courtyard(Rupa & Co.) -An Anthology Of Short-Stories By Punjabi Women Writers. She writes articles, poems and short-stories in English, Punjabi and Hindi. You can read more from her on narinderjit.com