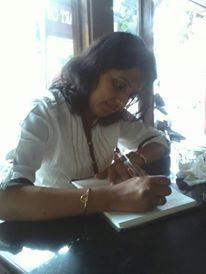 At the 2004 Rock Hall of Fame induction ceremony, Prince played a guitar solo next to the likes of Tom Petty, Steve Winwood, Jeff Lynne and others. The song was While My Guitar Gently Weeps and as the song progressed, something magical began to happen. It was almost as if the guitar in  Prince's hands took over the proceedings and began to pulse, grow electric, thrum and leap. As if a force beyond his control had taken over him and all he could do was to follow its command. His eyes, hands, body just played their part in channelling this life force and even though it was obvious that he was lost in its currents, yet, there was a lucidity, a clarity that comes only when you are in a zone swept clean of thought debris, of mind clutter, of petty distractions.
**
All creative spirits  experience this zone atleast once in their lifetime. Olympians float above impossible odds to set world records. When Pandit Bhimsen Joshi sang, his listeners spoke about how electric currents ran through their spine. You see this zone take over dance performances, theatre monologues, even great speeches given by world leaders. And yes, writing. When a passage, a turn of phrase, a poem, a Shakespearean soliloquy gives you the shivers, punches a window in a dark place, you know that something extraordinary must have happened while the writer was writing the words or perhaps the words were writing themselves.
**
It is this zone that most writers hope to step into at least a few times in their life. Yet, there is nothing intimidating and inaccessible about the thing that we deify as 'inspiration.' It does not really come only to a chosen few. Inspired home cooks experience it almost everyday. So do avid gardeners or anyone who does anything creative. Be it making a crochet cap, icing a cookie like a lacy kerchief the way Judit Czinkné Poór does in her Hungarian cake decorating shop Mézesmanna or like Russian confectioner Olga,  baking cakes that look like marbled mirrors. Or changing the furniture around to get a new pocket of space. Painting a wall to make a room pop. The idea is to listen to an idea. And act. That is what I try to do in an Unboxed writing workshop. To make people aware of their untapped potential because the only thing that separates writers from non writers is that writers write down inspiration and non writers don't. The finesse and technique come later.
**
As erstwhile Olympic diver Greg Louganis says, "Inspiration comes naturally, just open your eyes and look around you."  When you start noticing things, stuff begins to happen. Promise. And like all things creative, an Unboxed workshop almost always becomes what it is meant to be, almost as if it too is guided to serve a specific purpose.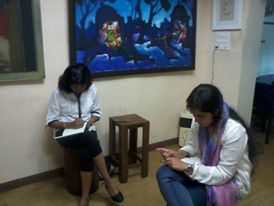 The last workshop almost did not happen because the queries inundating my inbox when I was on a ten day break did not materialise and yet when was this ever about numbers. I do believe that those who needed to be there that day, were there and what would usually become a regimented session became an extended conversation about self-worth, about womanhood, standing in your own power and finding your voice.
**
There was a warmth and a connection that brought forth fears, insecurities, triumphs and much more… both in the conversations and the prompts. And hopefully, cleared the way for inspiration to walk in with the hope that it would be heard. Not just once or twice but always. And just to prove that serendipity works and brings together those who are meant to meet..two participants who did not know each other realised at the workshop that they both lived in Indira Nagar, had a passion for writing despite being in technology oriented careers and had similar writing journals!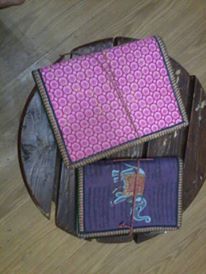 Some testimonials:   
Akshata Gadigi:  (Who I will remember always as the girl with a steady gaze, unflappable poise but a sharp, ticking mind and great observational skills. She asked the most incisive questions about the male and the female voices in a narrative among other things)
I have been following Reema and her page 'Unboxed Writers' for quite some time now.  I really am impressed by their articles and a lot of opinions shared by them resonated with me. So when they announced this workshop, I immediately signed up for it.  Reema promised me a 'kick-ass' workshop and it was one! She was very attentive, understood our preferences, style, worked through our personal strengths. This was one of the most educative and productive workshops where no Do's and Don'ts were shared. It was a more personal and collaborative discussions. What stayed with me in the end was her professionalism and commitment to the sessions and her participants. Thank you for the wonderful session. Oh, and I should not forget the wonderful Continental lunch by Leena and her team at the Leanin Tree Art Café. 
Praisy Joseph: (this one I will remember for her pure passion for writing and the way she burst in, apologetically because she was afraid she was too late!)
I was late yet again. I didn't want such a start for a journey which is very dear to me. A journey towards the person in me who loves to express and was suppressed for various reasons. I finally arrived thinking I would be surely disturbing all the creative minds as soon as I enter.  But then I saw a cup of tea and a beautiful diary resting in the hands of a participant. I connected instantly, the diary was similar to what I had tucked in my purse. The workshop helped me connect with her and to Reema. I personally admire people who are emotionally balanced. Passion is one thing, but to be able to be normal while being so creative is a balance that not everyone can hit. Reema, you do that perfectly. When we speak of artists, we have the movie version of them, always lost in their own imaginary world, but you are so rooted to the present while you still manage to live that extraordinary life of imagination. Thank you for all the books you suggested. And I was so thrilled to find that we both love the novel, Rebecca. That was an instant connect. 
Want to be a part of the Unboxed workshop for a group, a corporate space, school, a college?  Write to us at reemamoudgil@gmail.com
Reema Moudgil is the editor and co-founder of Unboxed Writers, the author of Perfect Eight, the editor of  Chicken Soup for the Soul-Indian Women, a  translator who recently interpreted  Dominican poet Josefina Baez's book Comrade Bliss Ain't Playing in Hindi, an  RJ  and an artist who has exhibited her work in India and the US and is now retailing some of her art at http://paintcollar.com/reema. She won an award for her writing/book from the Public Relations Council of India in association with Bangalore University, has written for a host of national and international magazines since 1994 on cinema, theatre, music, art, architecture and more. She hopes to travel more and to grow more dimensions as a person. And to be restful, and alive in equal measure.