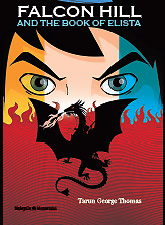 When I was 11-years-old, I was whining to my mummy about how bored I was and then whining some more at her dozen suggestions to solve the problem. At the same age, Tarun George Thomas decided to write a book – which he finished when he was 12. (He's now all of 14.) Now that's what I call putting one's youth to good use. Never mind that Falcon Hill and the Book of Elista is a riff on Harry Potter and that the story is a bit unwieldy; there is so much imagination at work that these blips won't matter to a young reading audience.
Falcon Hill is not something to climb, he's a young boy caught up in a world which he must, with friends, enemies and some assorted ETs, save from annihilation. All Good Things Come to an End is the beginning of the tale, where Falcon  starts off envying humans who strive to be couch potatoes while he is fighting for his life, and theirs. "If you're reading this right now, you must have survived the war" he throws in, sucking you right into his universe from the first page on.
In Falcon's world, they have their own language, words like cruts and brungs, or types like time walkers and plasmadopians and Figura Mutantes (shape-changers, get it?). While that adds to the thrill of the ride, there is a bit too much Americanese for my taste, with characters saying "nah, I'm good' or 'lighten up' but hey, that's just me.
There's enough swashbuckling heroes to wield weapons made of Immortal Gold at the Swordplay Coliseum and sidekicks with attitude to keep everyone interested. And monsters to fight, whether they're under the bed or in your head. It helps that Falcon & Co also come equipped with magical powers. Falcon is Lord of the Wild who can speak Other, that is communicate with different species. And if you think that's like Harry speaking snake, Falcon has a pet adder, too.
His counterpart Drake, meanwhile, is dealing with talking lions and elves called Nibblicks when he's not reading minds and controlling the sky. A teleportation girl adds to the X-Children theme.
So you get the nuances here? Whether young or old, we all want the same thing: To make a difference on the planet and have the power to change any unjust status quos we may come across. It's like a treasurechest of wishlists come to life through fiction, which is as close as we'll get to reaching our heart's desires. Feeding a hundred burgers to a dragon which is flying you and your friends from Point A to Point B? Check. (As Thomas himself would say.) Chanting spells to ease the way? Check. Some humour thrown in? Done and done. Falcon, for instance, introduces himself with a stammer to someone and the person says, Right, so it's F-Falcon. The dragon munches through a hundred burgers and then admits it's bees that give him energy.
Even when they fight the "war of the ages" and Falcon's father speaks of how proud he is of his son, reading between the lines you know, in the end, whether in our imaginations or in our real lives, all we want is validation. I think Tarun George Thomas has got his.