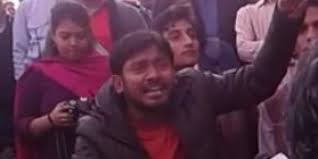 "They said, for the sake of the country…
But the country isn't the earth beneath our feet, it is the people. Have any of you ever spared them a glance? Oppression for the sake of the country is oppression of the country. But you won't understand. Travel as far on the road as you can yourselves. I am willing to acknowledge all of you as leaders and march behind you. But when you trample over the freedom of the poor and brandish your flag of victory, I will oppose you even if I have to die for it," argued Tagore in his novel 'Home and the World.'  He asked why we need a brand of nationalism that demands scapegoats, "the raw alcohol of a passing enthusiasm" and whipped up frenzy (Excerpted in Scroll.. http://scroll.in/article/803819/the-country-isnt-the-earth-beneath-our-feet-its-the-people). As news anchor Ravish Kumar said recently, we need to first understand the implications of a blanket term like nationalism that was used to gas millions of Jews in Nazi Germany. And if nationalism can be severed from the well-being of its own people?
**
This question is especially relevant in India today when we want to arm twist 'ungrateful' Muslim superstars by stoning their cars. And are fine with the public beating of student leader who says, "I'm ashamed that in this country, the mothers of the poor and Dalit farmers are not part of Mother India' by lawyers who say, "Do laatein jadi mast waali… mukke maare saale ke muh pe (I kicked him twice… punched him in the face)."  Are men who troll women online to say they will be raped if they say anything anti-national, exemplify nationalism? Are leaders who say that farmer suicides and the compensation they get are part of a 'trend,' the true representatives of all of this nation or are they representing only a few privileged sections?
**
Why are nationalist symbols more important than living, breathing Indians? We want all universities to 'instil nationalism' in their students. How? By hoisting the national flag in the campus. The same universities where over the past one year, we have seen violence against students that was physical, administrative and ideological and caused a Dalit scholar to take his own life.
**
Recently, a young biker in Bangalore met with an accident and his body was slit in half and passersby were taking pictures instead of helping him. What an immense tragedy and one that in a way sums up the state of this nation. Instead of addressing root issues, we are busy photoshopping infrastructure, throwing around catchphrases like Make In India, applauding selfies with international leaders, stadiums filled with patriotic NRIs, spending crores on towering statues.
**
The Chhattisgarh government recently cancelled tribal rights over forest lands. In the Goa Winter Assembly, as designer Wendell Rodricks put it, a scandalous farce was afoot, an Act permitting the felling of coconut trees without the permission of the Forest Department. Then we learnt that this was being done to make way for a brewery plant after the butchering of almost 500 trees. Real estate and hospitality giants also needed Goan land "cleared for their projects." Look around and observe what is happening to farming land in every part of the country. To tribal land. To wildlife reserves. To farmers. Soldiers.
**
Harsh Mander, a human rights activist wrote in a national daily sometime back, of farmers and landless workers in 11 states," crushed by drought, often for three years in a row, but if you scan newspapers or television screens, debates in Parliament, the drought seems like a figment of imagination."  Everytime, someone asks inconvenient questions like these, we bring out the nationalism card and shut them up. Like Ravish Kumar said, "If a mob comes together and brandishes a flag, will it become more patriotic than you and I? There is a huge difference between' nationalism and love for your nation." Because, in our heads today, India is a monolith, a shining slogan heralding prosperous days. Not a country made of up Rohit Vemualas and millions more like him who have to battle caste and religion centric bias at every step. Not a country where we unleash police violence against unarmed students. Not a country where basic amenities like education, drinking water and sanitation are unavailable to more people than we care to think about. Kanhaiya, if you think about it, could be the Krishna at the heart of another Mahabharat. A Mahabaharat that is fought not with weapons but with questions,  roses, banners, peaceful but relentless protests against hate steeped jingoism and divisive politicking.
**
To shame dissenters, baying patriots often cite the example of soldiers who die everyday protecting our nation. The truth is that we do not care about them enough to pay them proper wages or allow them the dignity of retiring with adequate pension. From slogans of Vande Mataram, Inquilab Zindabad  and then Jai Jawan, Jai Kisaan, we graduated to Mera Bharat Mahaan and then to an India that shines only for a few privileged classes. And a tricolour that must fly at 207 feet, not an inch less or more, to show that the happy days everyone was waiting for have finally arrived.
Reema Moudgil is the editor and co-founder of Unboxed Writers, the author of Perfect Eight, the editor of  Chicken Soup for the Soul-Indian Women, a  translator who recently interpreted  Dominican poet Josefina Baez's book Comrade Bliss Ain't Playing in Hindi, an  RJ with Timbre Media and an artist who has exhibited her work in India and the US and is now retailing some of her art at http://paintcollar.com/reema. She won an award for her writing/book from the Public Relations Council of India in association with Bangalore University, has written for a host of national and international magazines since 1994 on cinema, theatre, music, art, architecture and more. She hopes to travel more and to grow more dimensions as a person. And to be restful, and alive in equal measure.