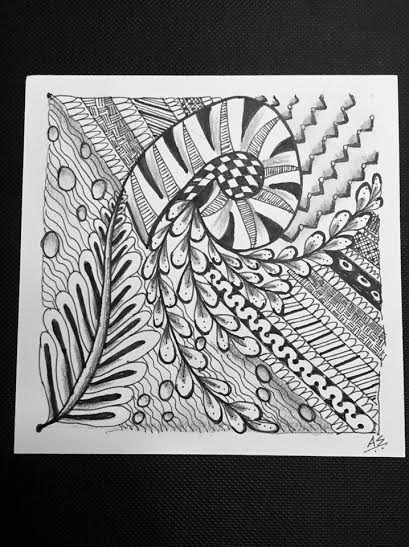 Do art and religion have a connection deep enough to keep our minds calm and rooted? This is a question that has crossed my mind very often lately.
The human mind is probably the most complex to decipher despite it being the supposed vessel of logical reasoning. Somehow, this very basic virtue of logical reasoning is lost in today's times wherein a father does not pause before killing his four-year old daughter for not covering her head, women over the world are being raped in the most beastly manner, innocent children are being abused and  "honour" killings are rampant. The list of such ghastly atrocities is endless.
With such unrest and toxicity in our environment, what role can the arts play? I have been toying with this question for a while now. Can the arts become a way of life? Can they become a religion on their own where one finds a harmless yet satisfying form of self-expression or an outlet to deep frustration? I do wonder if the human mind can function, even in angst,  and create something beautiful..
Personally, any form of art, performing or otherwise, satisfies the fundamental need for self-expression. I have found myself dabbling in various forms of art like dancing, painting, architecture, drawing, etc. and have loved every one of them. The early years saw me doing these with great energy, attempting to fulfil and satisfy the ever-seeking and restless mind. As life took me on its roller coaster ride over the years, I have come to appreciate the same forms in ways that form deeper connections to life itself.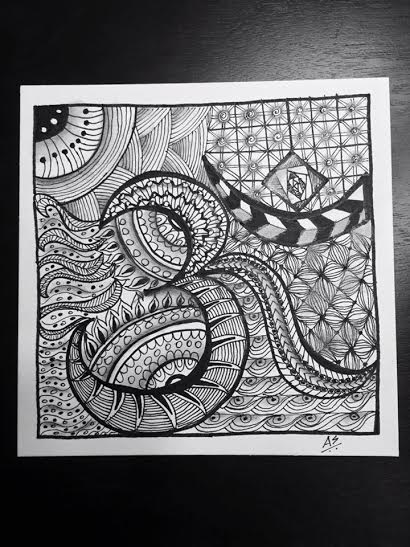 Exploring emotional and spiritual connections between Bharatanatyam and architecture fascinated me enough for me to pen my thoughts here http://unboxedwriters.com/2011/03/dance-of-creation/#.ViCWMbmFPIU) and in my graduate architectural thesis.
And then during one of my runs to the craft store a few months ago, I chanced upon a book called The Joy of Zentangle. It piqued my curiosity and before I knew it, I had spent several minutes reading through the first few pages which explained how this easy and relaxing art technique came about and had inspired people regardless of their age, gender, qualifications, religion, drawing abilities, etc. It seemed like a technique so simple but yet so powerful that people from various strata of society and faith found the confidence in themselves to create beautiful pieces of art. The excitement of learning a new art technique inspired me and the book found its way in to my shopping cart and finally home!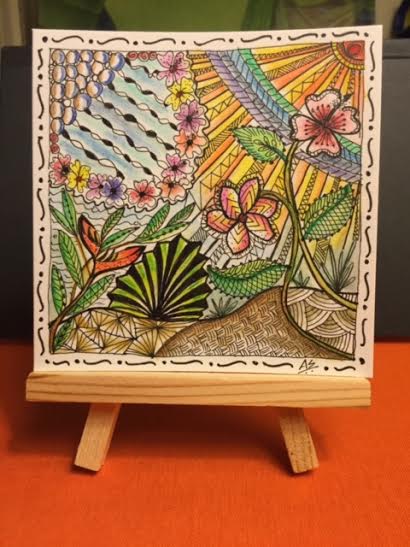 In the coming weeks, I read up more about Zentangle at the library and various articles on the Internet. Come summer, I bought the necessary tools which were simple 3.5 X 3.5 white paper tiles and Micron pens and started to tangle (draw). I loved it! The satisfaction of creation and its ability to relax my mind and keep it focused, just blew me away. I started to look for patterns everywhere around me; in physical tangible forms and in the intangible realm of human behaviors and thought processes.
Zentangle was created by Rick Roberts and Maria Thomas (www.zentangle.com) in 2005; one a monk with years of meditation and the latter, an incredible artist and illustrator. It has grown into a world-wide phenomenon gaining popularity especially because of its simple techniques that beckon one and all. The repetitive strokes call the mind to attention and focus while simultaneously making it a fun and relaxing experience.
"Anything is possible, one stroke at a time," is its main principle and it is such a beautiful expression and lesson in patience and compassion. It leaves the artist stress-free to create at will and feel content with the final result.
"Life's mistakes cannot be erased," is another life lesson that Zentangle incorporates in its technique wherein the artist is not allowed to use erasers and is required to draw patterns with pens. Misplaced marks on a Zentangle tile cannot be erased and it is upto the artist to own the "mistake" and figure out how best to incorporate it in the design just like  in life where one's acceptance of mistakes teaches one to work around it to move on!
While many have the opinion that it is basic doodling which has been packaged well and given some fancy name, I beg to differ. Yes, doodling is the basis of any Zentangle pattern/tile. But, it goes a few steps further and deeper than that. Zentangle sharpens focus with every repetition of a stroke, creating patterns and designs that are manifestations of the tangled mind. Intricate patterns and details, use of colours, etc make for some wonderful Zentangle-Inspired Art (ZIA). Every stroke is purposefully drawn and it works around the previous ones, keeping the artist completely and fully engaged and engrossed in creation. One can create their own patterns or use those that have been laid out by certified Zentangle practioners.
Zentangle, with dancing and drawing, has definitely become an integral part of my life in a ritualistic way. And it is very liberating to Zentangle my mind one knot at a time.
Amisha Shah is an architect currently based in California, USA. Her other  passions apart from architecture and design include Bharatnatyam and playing the violin.