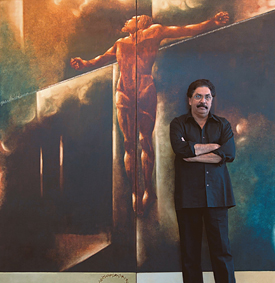 I cannot recall the exact number of times I have interviewed or spoken to Yusuf Arakkal in the past 21 years. Possibly one of my first stories with him was when I interviewed him and his son Shibu Arakkal (a celebrated photographer) for a Sunday edition of a national daily. I remember meeting his disarmingly warm wife Sara some time later who told me that she had liked the piece. I went on to cover many of his exhibitions and spoke to him numerous times on phone and visited him once in his sloping roofed studio where he was then painting a towering image of Christ. I still remember that afternoon. The sense of utter ease that he induced in anyone who connected with him and the charcoal sketch he gave me that has travelled with me from home to home like a precious heirloom. Some young artists were at his house that day, taking the help of his carpenters to frame and pack their paintings. This is the kind of a man he was.
**
He made gestures that counted, wasn't calculating and had a big, jovial heart. He always answered mails, always accommodated requests for quotes, always wrote a one liner after each interview, " Rima, it was nice talking to you." That is how he spelled my name and I never corrected him. He did not remember you only when he needed something, he made time to see how he could be of help and was one of the three artists who told me they would not mind donating a painting to raise money for the displaced residents of Bangalore's Ejipura slum even though that idea finally did not take off because I could not do much with it. He even wrote a piece for a Chicken Soup anthology I edited.
**
His wife was no different. When she opened a beautiful gallery, instead of being curious about the kind of piece I was going to write, she was busy plucking passion fruit from a resident tree and giving it to my son. These two were made for each other and that is why during a certain turbulent period of his youth, her arrival was the beginning of calm in his life. I remember her sharing how once during a trip to Jerusalam, she was so overwhelmed that she said to herself, "I am where I wanted to be and I have my Yusuf..I want nothing else from life."
**
From someone who struggled a lot to be able to commit himself to his art as a young rebel to a mentor and a sheltering presence in Bangalore's artistic scene, Arakkal came full circle in his life time. And his art though sensitive to the dispossessed forgotten in urban crevices, also spoke of the tapestry of light and darkness, of triumph and hope even in gloom. I cannot imagine not sending him a new year wish, not being able to hear his chuckle after every sentence over the phone and to think of his kindness and grace in the present tense even though over the last few years, I did not cover art as much and was not actively in touch with him or Sara.  His innate kindness is a quality that is becoming difficult to find with each passing day as we step out of our homes and run headlong into Gods of opportunism and self-promotion. Yusuf Arakkal was not just one of our greatest contemporary artists, he was a man who shared the space he had made for himself with others. And that generosity of spirit is why he was peerless and in a class of his own. Thank you, Mr Arakkal  for teaching more than just art. Thank you for being a genial presence so many people could count on.
**
Reema Moudgil is the editor and co-founder of Unboxed Writers, the author of Perfect Eight, the editor of  Chicken Soup for the Soul-Indian Women, a  translator who recently interpreted  Dominican poet Josefina Baez's book Comrade Bliss Ain't Playing in Hindi, an  RJ  and an artist who has exhibited her work in India and the US and is now retailing some of her art at http://paintcollar.com/reema. She won an award for her writing/book from the Public Relations Council of India in association with Bangalore University, has written for a host of national and international magazines since 1994 on cinema, theatre, music, art, architecture and more. She hopes to travel more and to grow more dimensions as a person. And to be restful, and alive in equal measure.