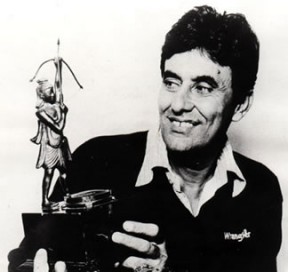 It was a dank wintry evening of November 1993 and we had had our fill of Bengali sweets. My girlfriend and I were stepping out of a confectioner's in Gol Park, Calcutta when I noticed a lanky, slightly slouching, man on the pavement fishing out a cigarette from one of his overloaded trouser pockets. He had a weather-beaten look about him. He lit the cigarette and let a disinterested gaze swoop over the teeming. He could do so, for he stood tall enough, albeit with that unmistakable slouch. But the crowds did not notice him; in fact, no one did, except I.
He looked familiar. The last time I had seen him was on television, a good 10 years earlier. That was during the retribution tour of India by Clive Lloyd's Windies. There were many reasons to remember him, one being his astute cricketing mind that was belied by his mellow voice. It was his voice that one had heard more. And if you were there (I mean, watching cricket on television in 1983-84) you would be cringing and laughing out aloud more often than not at the way he pronounced names – Rogers Binny, Larry Gawmes (as in gawk), Michael Hallding, Winston Da-vees.
If his name had a recall value – it was  for flamboyance and style.
Yet, if you looked at him, he was anything but that. At first blush, of course. His dress was shabby, but he wasn't exactly shabbily dressed. He appeared the kind who might still starch his clothes even if they might be in tatters. If you looked still closely, you couldn't fail to see style straining to tear out through that weather-beaten fabric. He did not look his 60 years either.
All that flashed through my mind, as I pulled my girlfriend and whispered excitedly, "Doesn't he look like Salim Durrani?"
The man looked blankly at us as we approached him. She asked if he was who we thought he was.
"Yes, I am," he said as he exhaled the smoke languidly, his hitherto impassive countenance slowly changing into a half-smile. His eyes glinted fleetingly.
He wondered if we could introduce ourselves. We did. He was visiting Calcutta, and was, in fact, put up in a flat right above this same confectioner's. Why don't we join him for a cup of tea, he invited us. We were too eager to oblige.
Over tea and an animated chat where his host too joined us, I wasn't sure who was more glad. He, for being recognised in that thronging crowd, or we, for meeting in person a man who for us was a cricketing legend.
From Salim Durrani, he soon became Salim bhai. We met him each day of this week-long visit of his. Of all things, he promised us an interview with Clive Lloyd, who was due in the city for the semi-finals and final of the Hero Cup. Lloyd would be hard-pressed for time, and was much sought-after. Nonetheless, it wasn't a big deal for him for he had known Lloyd since the 1966-67 Indian tour.
Salim bhai was amused that I was born in 1966. But he was visibly moved by the fact that I knew about his blazing century at Port of Spain in 1962 against a West Indian attack comprising Wesley Hall, Lance Gibbs and Gary Sobers.
For four days he kept us on tenterhooks. It can happen any time, Salim bhai kept assuring us. But the interview never materialised. It did not happen for many reasons, one being that fact that veteran sports journalist Shyam Sundar Ghosh of The Statesman kept scuttling all our own efforts to get through to Lloyd. And for his part, Durrani could not do anything for his clout was all in his mind.
In his heydays, Salim Durrani could be a match winner either with the bat or the ball. He was one of those few who, as Partab Ramchand writes, could turn the course of a match either by a few lusty blows or by a couple of quick wickets. Durrani was an aggressive left handed batsman who could flatten the best of bowlers; one who hit sixes on demand. He was Indian cricket's original showman who often ended up throwing his wicket because he wanted to please the crowds. Those days the only way you could see a six was if you were in the stadium.
And from the height that he bowled, the lift and turn he extracted could trouble any batsman. That he did in the landmark 1971 victory over the West Indies at Port of Spain where he snared Clive Lloyd and skipper Gary Sobers (for a duck).
But that was during his heydays. Now, he was a pale shadow of his illustrious self. His host, a well-known name in Calcutta's elite, treated him like a non-entity, and all the ex-cricketers who bumped into him seemed more than anxious to see his back. No one gave a damn for Salim Durrani. And the interview with Clive Lloyd never happened.
But there was one with Salim bhai himself. More than recollections about his cricketing years, he was more keen on letting out his bitterness about the way the Indian cricket establishment had treated him. The acrimony showed through in the interview (written by my girlfriend) that was published shortly after.
A series of incidents involving Salim bhai's distinguished but nefarious host left a bitter taste in our mouth, much like the bitterness that had clouded Durrani's mind. We met only once after that.
As far as I know, Salim Durrani doesn't have a source of livelihood and is kept going by old friends and fans. He was once spotted doing the rounds, handing out invites for his own benefit match. It is disgraceful that a man in his 70s has to do that, a man who is India's first cricketer to be given the Arjuna Award.
For a man who could do anything to please the crowds, it is such a shame that no one noticed him in the Gol Park crowds of 1993. Today's crowds probably haven't even heard of him. What a bunch of ingrates we cricketing fans are.
PS: This piece was written in 2007. This year,  Salim Durrani became  the latest recipient of the CK Nayudu Lifetime Achievement Award.
Subir Ghosh is a New Delhi-based independent journalist and writer. He has worked with the Press Trust of India (PTI) and The Telegraph, and handled publications/communications for the Centre for Science and Environment (CSE), the Federation of Hotels and Restaurant Associations of India (FHRAI), and the Wildlife Trust of India (WTI). He specialises in Northeast affairs and is an advisory council member with the Centre for Northeast Studies (C-NES). He is the author of 'Frontier Travails: Northeast – The Politics of a Mess' published by Macmillan India, and has won two national awards in children's fiction. His subjects of interest include conflict, ethnicities, wildlife, human rights, poverty, media, and cinema. He blogs at www.write2kill.in