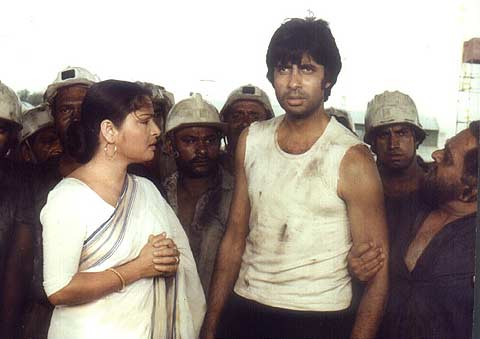 Jab Tak Hai Jaan..a prophetic title in retrospect. Perfect for a man who worked till the last year of his life with the medium that he loved, and had shaped and redefined. Call it a coincidence but for some reason, I started watching my favourite Yash Chopra films in the past one week and marvelled once again at just how sophisticated his cinema sense was. And I do not refer to his matchless aesthetic sense when I say that. It was something more. Something bigger, finer than visible beauty. Yash Chopra in a nutshell was a man who believed in love. In humanism. In what can only be described as tehzeeb that translates into a certain restraint even in the most trying moments. His characters seldom if ever lose it to the point of ugliness. That scene in Trishul when Shashi Kapoor's Shekhar discovers accidentally that his car keys have been stolen by business rival Vijay (Amitabh Bachchan)  and that he is also now trying to steal his girl-friend, there are no angry accusations. Just a disbelieving look that someone can stoop so low and a laugh and a joke to cover the discomfort the moment has caused.
**
Or that scene in Kabhi Kabhi when Shashi Kapoor's Vijay Khanna realises that the poet he has always idolised is his wife's first love. He is shocked, a bit shaken and then a loud laugh later, he ponders over a drink, "woh aurat jo aapke bacche ki maa banti hai..bees saal aapke saath iss tarah guzaarti hai jaise paani khusk aur banjar zameen par barasta aur phir mard ye soche ki usska koi maazi tha ya nahin..kisi si mili thi ya nahin..aisi baatein soch kar mard apne aap ko gira deta hai." His overwhelmed wife cries and says later, "Tum insaan ke roop mein devta ho ya devta ke roop mein insaan" and he says, "Iss duniya mein aadmi insaan ban jaye toh bahut badi baat hai."  Aah the art of conversation..no one crafted it better than Yash Chopra.
**
In Silsila, a film that could have degenerated into a nauseous tale of infidelity, the protagonists remain courteous, almost to a fault. Sanjeev Kumar and Jaya Bhaduri play spouses who know they are being cheated and yet no fingers are pointed, no accusations made. After a particularly indiscreet Holi flirtation, what ensues in both homes is a dialogue about badtameeji ki hudd and how certain colours when played around with are hard to wash off. None of the wronged people in the narrative lose their dignity because in a Yash Chopra film, the most elemental emotions are tackled with grace.
**
And who better than Chopra understood what a single line of effective dialogue could do and that confrontational dialogue  did not need to be hysterical to cut deep. With Salim Javed, Yash Chopra mounted lavish films where one liners and monologues and dialogues brought the house down and made history. Again. And again.
Deewar: Two Brothers, one on the wrong side of law..compare who has achieved or lost more. The argument is settled with one historic line,"Mere Paas Maa Hai."
Trishul: The illegitimate son arrives in the city to decimate his father's thriving building empire.
And the lines he drops in his wake!
When asked to change the bandage on his injury to speed the healing, he says, "Mere zakhm jaldi nahin bharte."
Or when he is told he is taking  a "najayaz" route to revenge, he says, " Kya jayaz hai aur kya najayaz..yeh baat mujhse zyada aur kaun jaan sakta hai."
Or when he confronts his father in the end with the memory of his dead mother , "Main sab kuch jaanta hoon Mr RK Gupta kyonki mein uss abaaghin Shanti ka beta hoon aur aap mere najayaz baap hai."
Deewar again: A man reminds his mentor of a shoe shine boy and says, "Main aaj bhi phenke hue paise nahin uthata."
Kaala Patthar: A coal miner who wants his wound cleaned without an anesthetic,"Why don't you understand doctor..this pain is my destiny and I cannot avoid it."
Kaala Patthar again: The village doctor and the man she is healing are talking. She asks, "Tum sapne nahin dekhte?"
He answers, "Main jhoote sapne nahin dekhta."
So many films, So many dialogues.
**
Everytime I watch Kaala Patthar, am swept away by its superlative script sense, another gift that Yash Chopra had in abundance. The film opens with the tired amble of its hero Vijay (AB) from a coal mine towards his room. He is woken by a nightmare and an emergency siren and he runs again to save a life. The fact that he is a man on a mission segues into the arrival of the happy-go-lucky Ravi Malhotra (Shashi Kapoor) and then one character after another is established and introduced. The spunky scribe (Parveen Babi), the village doctor (Rakhee), the dream seller (Neetu Singh), the sikh truck driver (Parikshit Sahni) and the trouble maker (Shatrughan Singh). Against the backdrop of death and gloom, how these characters collide and discover each other is a delight to watch and the dialogues crackle like nobody's business. And small touches that newbies borrow these days from Yash Chopra. Touches like "Tadbeer se bigdi hu taqdeer bana le," playing in the background when a few coal miners play cards.
**
A lot of people think of Yash Chopra as a one-dimensional romantic. Yes, he understood romance like nobody else did but he also understood issues like communalism (Dharam Putra) that confronted rabid fundamentalism head-on. In Dhool Ka Phool, he explored pre-marital sex and lovingly summed up the identity of a child born out of wedlock with a timeless Sahir line, "Tu Hindu banega na Musalman banega..insaan ki aulad hai insaan banega." The post independence fracture in idealism cannot be summed up better than the two brothers in Deewar. One wounded by a corrupt, cruel grasping system but ultimately becoming a pawn in its hands and the other upright and incorruptible. Two faces of India at war with each other.
**
There were many sides to Yash Chopra. Look closely and you will find traces of Joseph Conrad's Lord Jim in one episode of Kaala Patthar and even Peter Keating from The Fountainhead in Trishul.  And none of his love stories are random strolls in the alps though we would like to believe otherwise. There was the chemical need of Silsila. The restful, healing soul connection of Kaala Patthar where after Vijay (Amitabh Bachchan) has poured his heart  and its toxic secret out, Sudha (Rakhee)  reaches out and kisses his forehead as if to seal closure. The playful camaraderie of Shekhar (Shashi Kapoor) and Sheetal (Hema Malini) in Trishul . The two play golf, do yoga together and are inseparable from the time Shekhar tells her, "Hamare khayalat kitne milte julte hain." The lyrical love of Amit (AB) and Pooja (Rakhee) in Kabhi Kabhi and the domestic bliss of  Vijay (Shashi Kapoor) and Pooja where the former woos his wife with a heartfelt but pedestrian, "tumhari aankhen aisi hai jaise kisi gareeb ki jhopde mein jalti hu laltain!"
**
There is the Yash Chopra who loved Sahir, waterfalls, meadows and tulips and bonfires. Who loved poetry and 'nafasat'…the Yash Chopra who made me cry loudly during Veer Zaara in a cinema hall because he brought home to me suddenly that in a world that had lost its innocence, it was okay to aspire to a love as pure as he had conceived. Yes, he was a dream merchant, a show man but at the core of his being was a simple man who thought life was beautiful and romantic and as long as he lived, he brought our hearts and our jaded senses to life, with his unerring sense of music and poetry and his insight into human emotions. From him, we learnt that love was beyond words and was a thing of inexplicable magic.
**
We will miss you Yash Chopra and words cannot sum up the gifts of hope and humanism and love  you gave us because "Jo baat lafzon mein ada ho jaaye woh baat hi kya." So just a  heartfelt, 'thank you.' Rest in love.