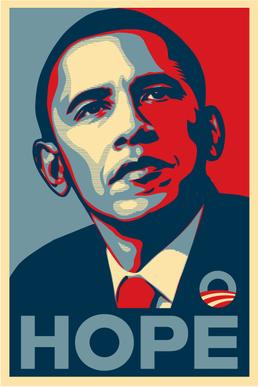 Symbols matter. Symbols sum up ideals that are bigger than phraseology and represent the best of humanity. And no one knows how an intangible idea brimming with something vast and indefinable, gets distilled into a symbol and comes to belong to all of us. When artist Shepard Fairey created the iconic Barack Obama poster emblazoned with the word "Hope" in 2008-2009, it came to represent everything that not just a large section of American voters felt at the time but something that the rest of the world connected with.
**
A sense that power was about to tilt towards the idea of equality and that the weight of racial oppression inflicted on millions was about to lift. That an ideology based on solid human decency was about to change politics and governance and over the next eight years, Obama tried to live up to that promise of hope by fighting for gun control, gay rights, for the protection of abused women, healthcare for all and more despite waves of hate that came from the deeply entrenched racism in the veins of the country he was running.
**
Politics can never be about perfection and neither was his government and he was the first to concede that despite the Sandy Hook massacre fresh like a raw wound in America's collective memory, he was not able to see through any semblance of legislated gun control. We expected him to fix the world but sadly the refugee crisis did not get resolved, the wars around the world did not stop, global warming did not stop, hate crimes against the black community did not stop but then some of these issues were up to him to resolve, others were not and as he once said with a great deal of regret, anytime anything tragic like the Syrian refugee crisis unfolded, he felt personally responsible.
**
Yet power to him till the last day of his Presidency was about being an instrument of change, of making things better and that he tried and succeeded in many unprecedented ways cannot be denied. Not that he was ever given his due. His work for the unheard, unacknowledged minorities like the LGBTQ communities ironically fanned the hatred of the right wing supremacists and his hugely symbolic gestures like welcoming black artistes into the White House added to their resentment and thirst to claim "their" country back and to make it "great" again because a man of colour had compromised it with diversity and the idea of inclusion.
**
Not surprisingly, the very walls he tried to break down during his eight year long Presidency sprang back up with a vengeance during the elections. The  detractors did not need logic to vote against the idea of Obama. They did not need statistical data to relearn what he had done for the economy. The campaign that was designed to dismantle his legacy was surprisingly easy to formulate. Call his biggest health care reform as his biggest failure. Disperse fake news about how much he and his family had spent on vacations. How "divisive" he had been for race relations. There was no need to answer the "How" to explain how any of the supposed charges against him were justified. There were no facts. The perception was enough.
**
As also the fact that he was black and had been given eight years in the White House that he supposedly had turned into a ghetto and the time had come for a change of guard.  Nor were there any facts to explain how a white billionaire supported by  right wing propagandists and fake news dispensers like the Breitbart News Network, KKK outfits and anti gun control lobbies was going to make America safe and proud and rich "again."  And just who had not been feeling rich, proud and safe in Obama's America? There were no clear answers except that the white middle class had been neglected and needed jobs and validation. And oh yes, ISIS was going to be wiped out. A wall was going to be built to keep out the bad hombres and deportation or imprisonment of  2 to 3 million undocumented immigrants was going to be a priority. In the end, the voting was swayed by identity politics, the need for a figure who would validate political incorrectness, misogyny,  hate for minorities and grandstanding based on nothing but the belief that America belonged ONLY to certain kinds of Americans. Notice any parallels, here?
**
Trump also openly proclaimed that women who underwent abortions needed to be punished. Even his  predatory sexual behaviour  could not alienate him from his conservative voters. That was the sign of real manhood. And America needed a real man in power. And really, Hillary was no match. She was a woman weighed down by labels like Killary, Crooked Hillary and did America want a woman President after enduring a black one for eight years? No sir, it needed and got itself a white man who in retrospect nothing could stop. Not even charges of the Russians hacking into the election to support him. Not rumours about his indiscretions in Russian hotel rooms. And today he was sworn in to run the United States of America though the country is perhaps more divided today than in any other time in history.
**
What will this Presidency symbolic be of? The world waits and watches in fear while closer home, many Indians have somehow found the Trump rhetoric resonating with their idea of India. That is why NRIs invited him before elections and made their children dance to Hindi film songs in his honour.  And why a self-styled entrepreneur took out a front page ad proudly proclaiming herself as the Ivanka Trump of India and congratulating Trump on his Presidency. Notice also the similarities between how idealism is being slowly erased by entitlement and appropriation in both US and America.
**
The symbols that we have come to recognise as representative of us all at our best as a nation are in the process of being taken over. From the Charkha on a poster to the books our kids read in schools to the way right wing mouthpieces without qualifications  are  appointed in educational and cultural institutions, to the building of a towering multi-crore statue in a state where farmer suicides have reached frightening numbers, we are witnessing the rise of an ideology with its roots in exclusion and a revisionist agenda intent upon rewriting the idea of India.   But as most of us in India are finding out, so will Trump's followers soon enough that while elections can be won with empty rhetoric, a country cannot run on empty. It needs competence and a plan of action. Not just gestures of flamboyance. And that there comes a point when you cannot blame everything on those who preceded you in power.
**
 Eight years ago, I watched the moments when Barack Obama was sworn in as the President of the United States and an emotion I cannot describe had welled up within. It suddenly felt that racism, the politics of  skin colour and oppressive rhetoric were things of the past.  As it turns out,  they were not. We in India also know what it means to have a country built on the foundation of an inclusive Constitution, now excluding narratives that do not fit into its narrow perception of national identity. The way out for us all as  Obama said in his final speech to the White House Press Corps is simply the belief that, "there is more good than bad in people." Maybe it is that simple.
**
Maybe all we need today is to keep believing that the balance of the world cannot be shaken by a few. And that truth, freedom and dignity always recover and flower like hope when trampled into the dust. It has happened many times in history. No reason to believe that it won't now. Maybe from this tumult will rise forces of peace and conciliation like Ken E. Nwadike Jr, an activist, motivational speaker, and video journalist also known as the man behind the Free Hugs campaign who went into the heart of a violent street protest in Washington, D.C post Trump's swearing in ceremony and tried to help trapped car drivers out of the melee. Maybe such powerful empathy will finally show us what true power stands for. Maybe it is not the leaders of nations who define the course of history. Maybe we do.
**
Reema Moudgil is the editor and co-founder of Unboxed Writers, the author of Perfect Eight, the editor of  Chicken Soup for the Soul-Indian Women, a  translator who recently interpreted  Dominican poet Josefina Baez's book Comrade Bliss Ain't Playing in Hindi, an  RJ  and an artist who has exhibited her work in India and the US and is now retailing some of her art at http://paintcollar.com/reema. She won an award for her writing/book from the Public Relations Council of India in association with Bangalore University, has written for a host of national and international magazines since 1994 on cinema, theatre, music, art, architecture and more. She hopes to travel more and to grow more dimensions as a person. And to be restful, and alive in equal measure.