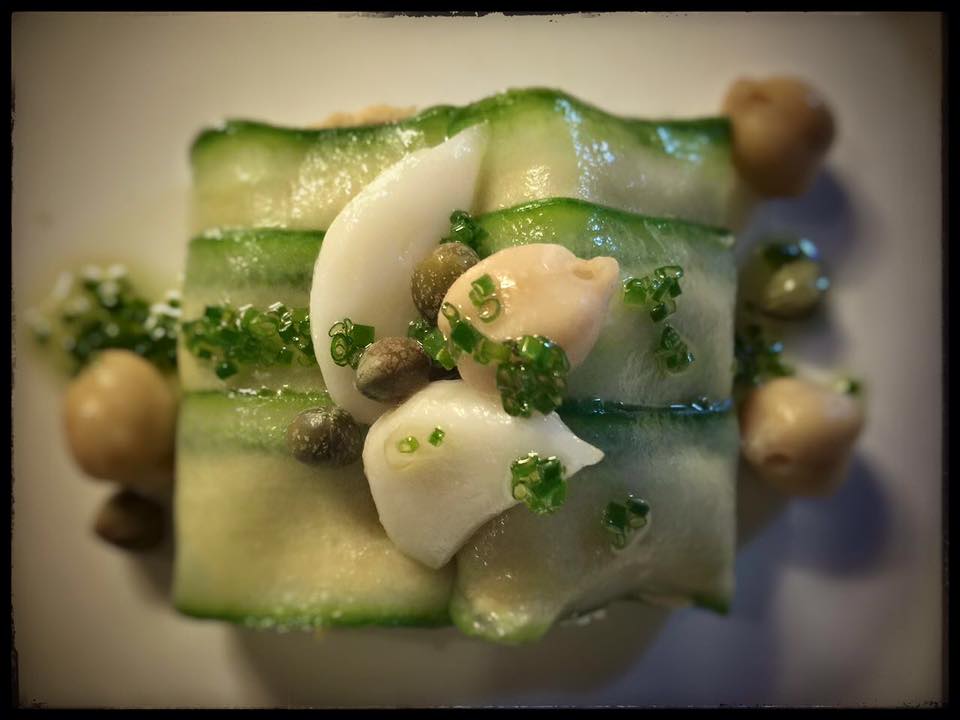 Creativity has been an intimate part of the way I interact with the world. It isn't forced. It either "clicks" or it doesn't and when it does, beautiful things can happen. My earliest memories are of abstract ideas that just appeared out of the smallest parts of my surroundings, allowing me to view things in many different ways. This variety in my surroundings led to a permanent and relentless sense of curiosity. Food is the medium within which I have chosen to express myself creatively. I believe good food is far more than a stimulating gastronomic experience; it must encourage thought, intrigue and a sense of wonder much like any great piece of art. The intensity with which people create things that "stand out", regardless of the medium they choose, is something that draws me in and throws me right into the depths of their being.
**
It instills a similar desire to "do" and is why I have always been drawn to this field. There is always more to learn, more to perfect and of course, more to eat. I believe there are stages in every creative endeavour. The ability to translate any potential ideas, however disjointed, into cohesive and tangible expressions is what I seek.  I want to be able to create with the same passion and effortlessness that Jimi Hendrix had when playing his best solos, and with the same fluidity that hawkers in Indonesia churn out Nasi Goreng by the boatload. I want to express this intense passion by creating something that triggers a deep response that goes beyond just the food itself and transcends into an experience.
**
At the conclusion of my formal education, I intend to gain as much knowledge as possible from every source possible- be it at legendary restaurants run by families using the same recipes for generations, or chefs at the very cutting edge, bringing radical new techniques to the forefront. With the experience I gain, I hope to work in a private fine dining setting, interacting closely with my peers to create an experience born out of a collective vision. I intend to be a part of something grand. My ultimate goal is to start a restaurant that experiments with its menu and constantly pushes the boundaries of what is known and what is possible. The inspiration behind this idea came from learning about a restaurant in Spain called elBulli. It served over 50 seasonally changing courses spawned by chef Ferran Adria's vision and the incredibly talented team he worked with. It was named the best restaurant in the world five times over and is one of the pioneers of molecular gastronomy.
**
What I have learnt from several beginner-level baking workshops is to meticulously analyze every variable involved, no matter how seemingly insignificant, to yield desired results. I have also attended short cooking courses at several reputed restaurants across my city and one in particular stood out. To paraphrase what was said; Insight may found everywhere. There is always more to be learned, no matter how accomplished you may think you are.   With this particularly accomplished chef in my city, I had the privilege to observe his kitchen's workflow and to be part of some basic prep work. Each part of a dish was prepared simultaneously in accordance to a strict schedule; at the end of which any element needed could be plated or further prepared as per the day's requirements. There was very little waste. The kitchen was almost silent and dishes moved through various stages of completion like clockwork. What stood out the most was the meticulous attention to detail. Each guest's requirements were documented and followed. Each plate had a carefully measured number of elements. From the number of asparagus shoots on a plate, to the size and positioning of the herbs, added as a garnish to some courses. No detail was left out. The courses themselves consisted of one or two main elements complimented by subtle flavours. The inherent qualities of the main elements served were never compromised upon.
**
All ingredients used were of the best quality and for the most part, locally sourced. At the end of my time there, I gained something invaluable. I knew that I could be a part of the field, but more Importantly, I knew that I could use it as a means to manifest my creative vision. I am passionate about all things technology and find that there are endless creative possibilities when it is merges with the world of food. Sous vide for example has been made so much more accessible to the masses with the advent of cheaper, more advanced immersion circulators. Furthermore, the use of chemical compounds such as lecithin adds a degree of complexity to dishes in the form of foams and gels. These can supplement simple techniques and create something truly
unique.
**
There is however, a certain raw beauty in cooking as our ancestors did, with simple implements over an open fire. My time spent traveling across coastal India has enriched me with insight and exposure as far as various cooking techniques, flavor profiles and ingredients are concerned. The influence of early Portuguese migrants on Goan cuisine has resulted in the use of various curing, smoking and pickling techniques that have slowly evolved over hundreds of years to result in something utterly unique in the context of Indian cuisine. I have also been fortunate enough to learn about various international cuisines at a very young age, the most fascinating of which was Japanese. Their liberal use of fermented ingredients like Miso and Umami-rich flavouring agents like Kombu and Bonito Flakes have created a one-of- a-kind flavor profile not seen elsewhere. The cuisine and the philosophy behind it stuck with me over all these years. The meticulousness with which Japanese food is prepared, served and even consumed fascinates me. It is almost ceremonial and this I think makes it more appealing and stays with people forever.  It is something I want to inculcate in the culinary experiences that one day I hope to create for other people.
Pic courtesy Grasshopper
Aryaman is an 18-year-old, lifelong student of food