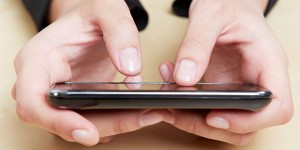 The Empty Nest syndrome had frightened me even when my boys were studying. As I live in a small town that doesn't enjoy the luxury of MNCs and a corporate sector, I knew the little birdies would very soon take wings to scale unknown heights. And the impending 'retirement' too had been staring me in the face. What will I do? An impulsive talker, what I dreaded most was the thought of having no one to listen to my incessant natter. Husbands pretend to be all ears; but in reality, they are never listening to what you are saying! So it was time to pull  my socks up and learn to run along with the fast-paced world! And so, I decided to become smart just like my phone! 
Thanks to this new technology, I or rather my fingers stay busy the whole day.  I 'talk' with my fingers now that my tongue is enjoying a voluntarily retirement. I now have hundreds of my 'friends' ensconced cozily in this small magical contraption in my hand! Every morning, what shakes me out of my sleep is 'Hmm….What are they all up to?' And the fingers, conjure a web of magical communication. Being an English teacher all my life, I revel in the written word so the new-fangled vocabulary is a bit of a dampener with a surfeit of  'Wow,' 'Hmmm,' 'Lol,' 'Rofl' and counting. I take all this with a pinch of salt but truth be told, I don't find anything great in 'gr8'; nor do I believe 'dat' is that good! I would like to keep 'ltr' away for later consideration! And I wouldn't like to disrespect you by slashing you down to a meek 'u'! And look, what glory the thumb has been enjoying! Who doesn't crave to see the thumbs-up symbol in response to his/her pictures and posts! 'How many likes? 20? 30? Wow!' And remember there was a time when it was universally derided and discarded just as a mere 'thhengaa', signifying nothing! Well…every little imp has its day!
And what happens when there is a slip of the fingers?   Typing errors can send a completely wrong or amusing message. 'Bhenji' (sister) can become 'Bhengi' (cock-eyed). And if a letter on your keyboard plays truant, 'Wish your family a happy Diwali' becomes 'Wish our family a happy Diwali'!
All said or rather typed, I am in a very happy space today. People may not converse as much. Or meet. But they are 'connected.' I may not talk as much. But my fingers do.
Narinder Jit Kaur is a retired Associate Professor from Patiala,who taught English Literature for 31 Years in various Government Colleges of Punjab. A writer and a translator, she has five books of translations, from Punjabi to English, to her credit Including Voices In The Back Courtyard(Rupa & Co.) -An Anthology Of Short-Stories By Punjabi Women Writers. She writes articles, poems and short-stories in English, Punjabi and Hindi. You can read more from her on narinderjit.com