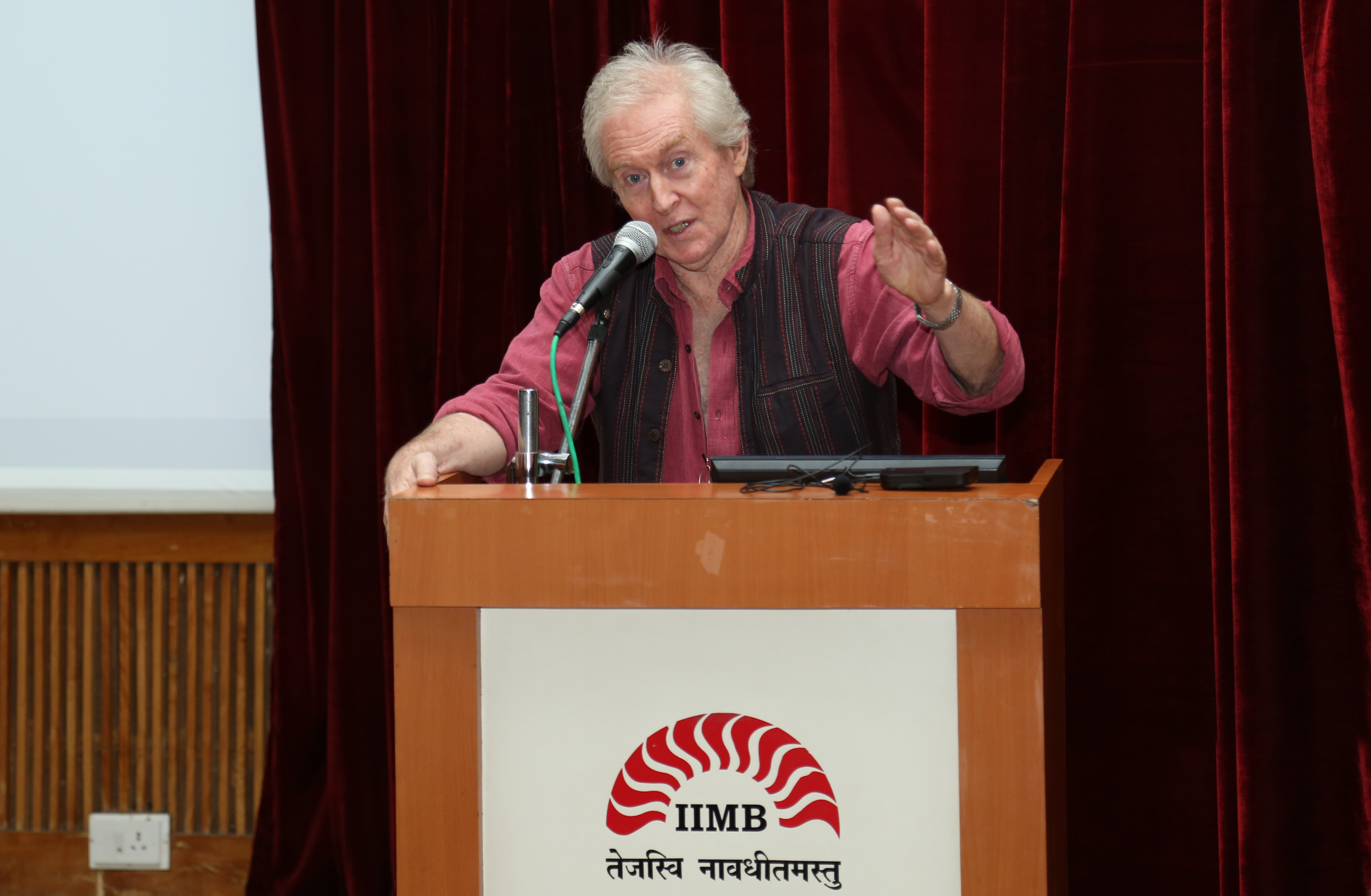 It was the afternoon of September 16, 2015 and I was in the lounge of Indian Institute of Management, Bangalore, sitting next to a childhood memory. We had just finished a long chat and I was feeling what I always feel when am in the presence of pure authenticity,  unpretentious goodness and for the lack of a more complete word, greatness. Uplifted. Cleansed and grateful beyond measure to life. I was sitting next to Tom Alter and he had just made my day by telling me, "You have done your research..we had a wonderful conversation." And to think, I had almost missed the opportunity to have this interaction but as I have discovered time and again, fate  always intervenes when you are meant to meet someone.
**
On  September 14, I had received a mail  that the students of IIMB's Executive Post Graduate Programme in Management (EPGP), were hosting Padma Shri Tom Alter. Would I be keen to have a candid conversation with  the " multi-talented, veteran actor, writer, sports journalist and a cricket player" who would be delivering a talk on 'Sports & Arts in Modern India'? I was working for a newspaper then and though I lived close to IIMB, my office was situated at the absolute other end of town and to manage a face- to -face interaction with him meant I would leave the desk  in the middle of a frenzied page making session, commute for over an hour to meet Tom  briefly and then rush back to work. But an email or phone interaction could not be arranged and so I headed towards IIMB at the designated hour. The moment Tom walked into the lounge, radiating warmth, I knew I could not have missed meeting him.
**
Tom Alter with his blue eyes and the pristine Urdu and Hindi crackling in his baritone  was not just a fleeting but unforgettable presence in the Manoj Kumar, Raj Kapoor and Dev Anand and Satyajit Ray and Manmohan Desai films I had grown up on. He was someone who had come to represent Hindustaniyat to me. Someone I had watched in wonder and awe,  as he sat, a few years ago,  in the shadows of KL Saigal's life, playing a Sutradhar on stage while actor Uday Chandra channelled the soul broken singer and his life.
**
Tom  had never been just a token gora saab of Hindi films. As a theatre actor and director, he had brought to life the idealism of Maulana Azad and Gandhi, the poetry of Sahir Ludhiyanvi and Bahadur Shah Zafar and Ghalib and so much more.
**
Tom Alter, the son of American Christian missionaries, understood what India stood for. He understood that India was not its symbols, its faultlines and divisions, its occasional but frightening spirals into undemocratic and dark and bloody absolutism. He understood that India was its diversity, its music, its sabrangi languages,  its poets, its cinema that veered from the wildly rambunctious to delicate and visceral,  its mad passion for cricket, all the millions of ideas and thoughts that coalesced and unified into the idea of India and the sense of hope we had won our independence with. The hope that we would never let hate win, that we would build a resurgent, strong, united country based on rational thought, social equity, secular values and scientific temper. I remember him saying, "I was there when India won its freedom. I cannot describe to you the idealism and hope that was invested in the building of the free India. "
**
The difference he said was that then we were led by statesmen, not political opportunists. He knew things had changed though the lynching of 
Mohammad Akhlaq was still a few days away. He recalled how he knew for sure that the idea of India , in atleast some hearts and minds, had shifted from inclusion to majoritarianism  when he took a play about Gandhi to Gujarat and it could not be staged because not enough tickets were sold.
**
He had said, "
Recently I was in Baroda with a play written by Syed Asghar Wajahat. It is called 
Yadi
..and imagines what would have happened if Gandhi had lived. He would have, the play imagines, met Godse in jail and asked, "Why did you want me dead?" We were not able to sell more than 30 tickets and had to cancel the show. Imagine, a play about Gandhi has today no takers in Gujarat. Gandhi's spectacles though have been used to spur the
 Swacch Bharat Abhiyan
. This was an 80-year-old man who was killed by a right wing ideologist while going to a prayer meeting where all faiths were represented and he was shot to death. By whom? Not by the British. Not by Pakistanis but us. And we are still doing this. Nipping dissent in the bud. Silencing people."
**
As a former student of FTII, he was also deeply disturbed by what was happening there and had said, "
 For three months, there have been no classes at the campus, young students are on a hunger strike but our PM has said nothing. And there can be only one reason for this. That  FTII, the premier film institute in India which has produced 200 national award winners over the last 50 years was a Nehruvian dream. This is not the first time a politician has kept mum. Narsimha Rao said nothing after the fall of Babri Masjid. There was a time when Gandhi refused to be the PM because he was not a politician but a leader of people. And yet, how much time was he able to spend in independent India? Five and a half months! We need to introspect and seek forgiveness for this because unless we do, we will keep repeating the same error. But I have hope. Today's politics is about winning over minds and minds are fickle. When you win hearts like Gandhi did, then your legacy survives. As a nation we have done a lot right and many wrongs but we will go on.  In the meantime, I wait for a leader who will win our hearts and lead the way."
**
  Just over two years later Tom Alter is gone. And am glad that I thanked him, while I had the chance, for exemplifying  the heart and soul of India even though technically he was an "outsider." In retrospect I think, that is what gave him a vantage point we do not have. The fact that devoid of historical baggage, he was able to understand all of India with an encompassing vision. Without prejudices and preconceptions that so many of us are raised with. He
loved India more than all those who profess to love it in bits and pieces as they rip the very fabric that they are made from. He LOVED us. And he GOT us. In ways that even we don't when we bicker over religion and caste and what language must be imposed on the other, who must eat what, and dress how or when we decide how much glory there is in hate and how much shame in love. When we turn our back to all that we are and remain oblivious to who we can be if only we saw each other not as the "other."
**
Even in the throes of the pain of watching the idea of India disintegrating around him, his eyes blazed hope and light with only flecks of gentle exasperation as he narrated Sahir, mourned Gandhi and longed for what Nehru stood for. He was an Indian to the core, regardless of what his skin said about him. He showed us how to bridge the illusion of separation and to come together s
o thank you once again Tom Alter for loving India the only way  it is possible to love it. Without filters.
**
**
Reema Moudgil is the editor and co-founder of Unboxed Writers, the author of Perfect Eight, the editor of  Chicken Soup for the Soul-Indian Women, a  translator who recently interpreted  Dominican poet Josefina Baez's book Comrade Bliss Ain't Playing in Hindi, an  RJ  and an artist who has exhibited her work in India and the US . She won an award for her writing/book from the Public Relations Council of India in association with Bangalore University, has written for a host of national and international magazines since 1994 on cinema, theatre, music, art, architecture and more. She hopes to travel more and to grow more dimensions as a person. And to be restful, and alive in equal measure.