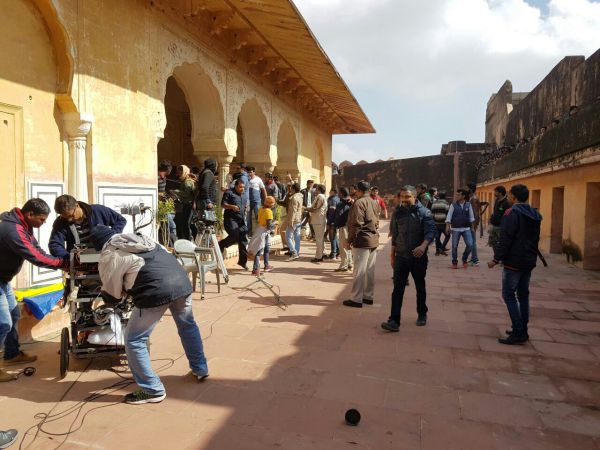 Those who filmed themselves proudly as they broke cameras, vandalised property and beat up Sanjay Leela Bhansali on the sets of Padmavati know nothing about the culture they claim to be protecting. So let us begin with a slice of history. With the story of a man who was a devout Muslim and a bhakt of Ma Sharda, who was called a naad yogi, mastered many instruments and musical styles, created many raagas and became the Bishm Pitamah of Hindustani classical music, the founder of the Senia-Maihar Gharana and possibly the most influential Indian musician ever because he groomed the likes of Sri Timirbaran, Ustad Ali Akbar Khan, Annapurna Devi, Pandit Ravi Shankar,  Pannalal Ghosh, Nikhil Bannerjee and many more legends.
**
It is said that even when he was dying, his fingers tapped the final beats of his remarkable story. A story that began when he would often run away from his prosperous East Bengal home as a child to pursue music. And go to a Shiva temple to hear the musical prayers.
At the age of 10, he ran away from home to search for a guru, suffered hunger, long periods of homelessness and abuse. The journey that began with childish rebellion turned him into the venerable teacher who rose above the cloistered guru shishya tradition to inculcate a sense of spiritual search in his students.
**
Why are we telling this story? Well because, the name of this revered guru was Baba Allauddin Khan and no, it did not matter to his students, his followers or his admirers or even critics that he shared his name with Alauddin Khilji, the man whose attack on Chittor in 1303 CE  has spun many tales including an epic poem Padmavat, written by Malik Muhammad Jayasi in the Awadhi language in 1540. And did Padmavati really exist outside Jayasi's imagination? There is no evidence of that but well, rationality is no longer the dominant force in national narratives.
**
So the self styled Karni Sena  brutalised a film maker for retelling a story that has been written hundreds of years ago just because they believed it  somehow damaged "their" culture.
**
The news for them and for anyone who claims to protect a culture as if it is walled in well and not a free flowing river is that culture does not belong to one religion, one perspective, one idea. It cannot be protected because it is bigger than us. It encompasses chapters we have never read and generations that are yet to come. And while we may be able to rewrite text books and history , we cannot write the future because it sure as hell will write itself.
**
As for the much reviled Hindi cinema and its disregard for history, if the culture sainiks could care to explore Hindi film music, they would learn a thing or two not just about how it represents the best of Ganga Jamuni tehzeeb but  also how poets like Sahir, Majrooh, Kaifi, Shakeel and Nida Fazli wrote songs about nationalism, socialism, faith, love, humanism and an India that belongs to everyone who loves it. They also taught us what to learn from history and what to reject.
**
Anjaan saab wrote in a 1978 hit,"Woh Sikander kya tha jisne zulm se jeeta jahan.." gently teaching us that a  tyrant need not be associated with a name for posterity. That the meaning of a name could be changed. That one could rule not dominions but hearts..with love and not fear.
**
We also watched Amar Akbar Anthony without turning a hair. This was of course then. Not now when we think of even baby names as 'patriotic' or 'unpatriotic.' When we think that unless a story, a film, a book, a painting, a human-being fits within our narrative, we must attack them and defend our culture with weapons, with divisive political mandates, with hate. How ironical that we think that renaming our streets, vandalising film sets  and pouring scorn over a newborn's name qualifies us for patriotism rather than "doing" anything for the country we profess to love. Over a 100 deaths of folks queuing for their own money in the past few months that nobody is taking responsibility for but yes, let us conjure an emperor from the past to berate him for his cruelty. And beat up a film director for making a film. Because of course our own perception of history matters more than our present day reality where we are building monolithic statues at the cost of the living, destroying green belts to accommodate progress, ignoring that growth is not just a photo op but the presence of all Indians on the gravy train and not just a few.
**
Somewhere, somehow we have lost the plot. Detached from ground realities of crumbling small businesses, desperate small towns and rural belts, we now have FM stations singing praises of great governance, comedy capsules on air that mock the political rivals of the ruling party. The other day I heard on an FM station, a mock mushaira which said something to the effect of , "those who support Burhani (Hizbul Commander Burhani Wani ) should eat Biryani in Pakistan" or something similar. I cannot believe that such slant comes naturally and organically in programming, in news reportage, in the way opinions are moulded and influenced.  And if a certain kind of thought group is emboldened to attack and usurp independent, free mind spaces in education, politics and online and offline conversations and yes, cinema, we must ask why.
**
Reema Moudgil is the editor and co-founder of Unboxed Writers, the author of Perfect Eight, the editor of  Chicken Soup for the Soul-Indian Women, a  translator who recently interpreted  Dominican poet Josefina Baez's book Comrade Bliss Ain't Playing in Hindi, an  RJ  and an artist who has exhibited her work in India and the US and is now retailing some of her art at http://paintcollar.com/reema. She won an award for her writing/book from the Public Relations Council of India in association with Bangalore University, has written for a host of national and international magazines since 1994 on cinema, theatre, music, art, architecture and more. She hopes to travel more and to grow more dimensions as a person. And to be restful, and alive in equal measure.