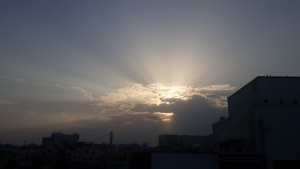 22-August is celebrated as Madras Day. A tribute to the city I love..
The black cow is heavily pregnant. She walks into the lane where we live. Our 400 square feet box is the first house. With a large writing pad on my lap, I am sitting at the threshold. My pen is in mouth, 'complex' maths in my notebook. As the numbers hover over my head, I remove the pen from my ear and start chewing it. I see the pregnant cow walking into the lane. I drop everything, run to my mother. An emergency situation. The cow has to be stopped. It's a narrow lane. If the cow stands there, father cannot ride his bicycle in. If father can't bring his bicycle, then I will miss listening to the mellifluous ring of the bicycle's bell.
Father has to come in. The cow has to leave. She cannot turn because the lane is supremely narrow and she can only walk backwards. It's just the kind of predicament that an eight-year-old cannot handle. Mother is too busy to pay attention. When she finally chooses to listen to me, she asks me to feed the cow because she is pregnant. Mothers!
I step out from the kitchen and shudder more to see the cow trying to enter my house. She doesn't realise that only her head can enter, but she tries all the same. I burst into the kitchen again, come back with a banana, and push it into her mouth. She rolls her tongue around her face. She is pleased. I tell her, "You must leave now. Please. Leave." It takes seven minutes for me to persuade her. But I win. She takes slow, steady steps, and walks backwards. I must be heaving a sigh of relief. But no! To my surprise, I am sad for not scratching her tender forehead.
*****
"Ten rupees for an hour!" says the bicycle mechanic. I am too short to ride Sister's bicycle, so I hire it from a mechanic. My eyes are on the white bicycle. It's the only new one, its seat is not torn, and the handlebar shines. "You are too big for that bicycle," the mechanic dismisses me. I want to cry; I hold back my tears.
The ancient bicycle that I have been allowed to ride seems to have a soul. A lonely, kind one at that. I ride it around the deserted roads of Mylapore. The more I ride it, I realise that the white bicycle is the loser. Here I am, mounted on this vintage bicycle, which can die on me anytime. But it has still got a life. A soul. I don't know the words life or soul. But I know the bicycle loves me.
I come again the next day. Nobody wants the old bicycle. I feel lucky.
*****
The guy who sells pirated VCD's wants to carry Calvin. He is the tiniest dog that guy has ever seen. I hand Calvin to him reluctantly. The ruffian who has a heart of gold baby-talks to Calvin. I begin to buy VCD's only from him.
The vegetable hawker smiles at Calvin. Mother buys greens from her, but the lady is distracted. She drops the greens in Mother's basket with her kind gaze fixed on Calvin, who is trying to doze in my hands. I am too scared to ask if she wants to carry Calvin. But I know she wants to touch him, kiss him, and whisper sweet nothings in his ears. I place Calvin in her hands. She takes him to her bosom and holds him tight. The warmest image. Ever.
Before I go to school, I put Calvin in my bicycle's basket and pedal for a few metres. I look down to ensure he is comfortable. Once I am sure, I pedal harder, the bicycle moves faster, and Calvin's ears dance to the tunes of August's zephyr. The black dog wants me to ride till the end of the world. But important commitments like being on time for morning assembly in school thwarts me. I wish Calvin would forgive me.
*****
A tiny boy. His shoulders are weighed down  by a heavy school bag. His school uniform is torn here and there. His hair is caked with mud. He is one of the most beautiful boys I have ever met. He blows me a kiss. Is it my crash helmet? Is it my two-wheeled Calvin? Or the very sight of an enormous woman on a bicycle? I don't know what has inspired him, but he blows me a kiss. I — a 30-year-old woman whose heart is stolen by a school boy — swoon.
I ride on funeral flowers. I ride on dead fish. I ride on roads where there are no roads. I ride slower to not go faster than the boy who is struggling with his broken bicycle. Maybe, with his battered soul. How can I say? I cross smiling, stray days. I say hello to lazy cattle. I smile at cyclists. I smile at rude drivers. I smile. I smile. I keep smiling. For no reason.
Deepika Ramesh is a reader, blogger, animal-lover, aspiring cyclist, and a sucker for tiny, warm moments. She blogs at http://worncorners.com/