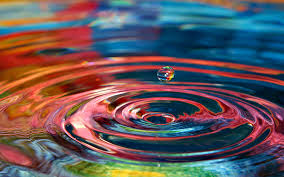 Ripples in the still water …
Some stone I threw in playfully when the calmness created boredom,
The refulgent rays of the sun dances … as the waves spiral…
But the movement disturbs the arrangement…
And I lose the oasis of serenity …
Fading are the Patterns I am used to…
this dichotomy baffles me…
And yet the derangement entertains my spirit…
The chiaroscuro of the ruffled waves agitated by the breeze puts me in sheer mayhem…
What is more dear, the stillness or the undulating adventure?
My heart and mind start another row when my soul whispers to dive in and sit underneath
I observe the play of the circling water from a distance …
The rollicking sunbeams don't escape my eyes…
And yet I watch all the flurry with a placid state of mind…
It is a moment of serendipity, witnessing the light and shadow …
the animate and the inanimate …
the stir and the still all together….as one
Shreeja Jhawar is the President and Zone Trainer at  Junior Chambers International, Kolkata, a certified trainer with Dale Carnegie Institute, Mumbai. She is an NLP practitioner from ANLP and conducts training on wellness and self-development.  Besides she is a Content and PR consultant in 123greetings.com, a creative blogger, and digital marketer.She has also co-authored , Rendezvous With God, a book on the existential reality of God in lives of successful people from all walks of life & diverse religions. She is a key trainer and founder in Life Changer Workshops and  Think Unlike Creative Cocoon which organizes holistic & developmental workshops and seminars across the country. Kritagya Foundation is her dream project wherein she wants to create a community of volunteers to aid the old age homes and orphanages.