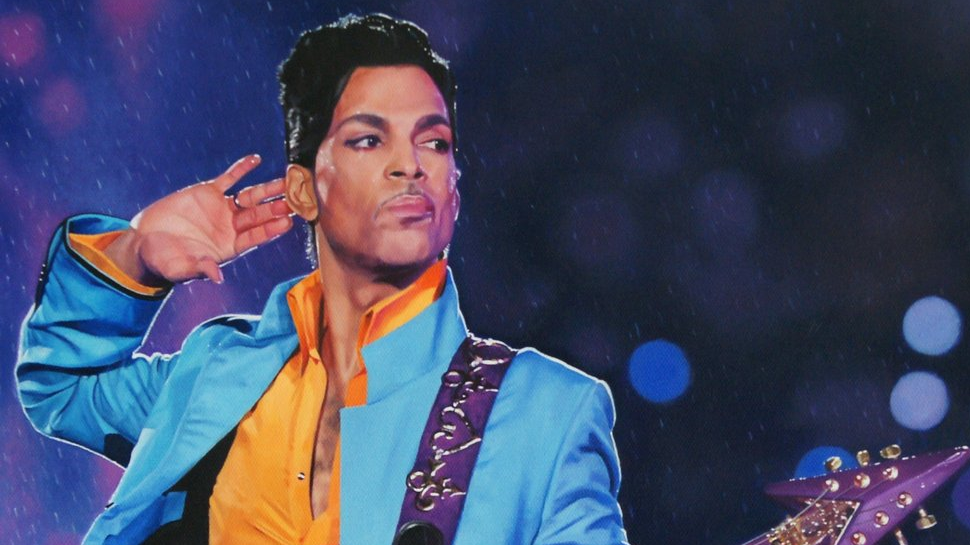 Prince frightened the hell out of me when I first discovered him as a teenager. His compelling androgyny baffled me. His charisma seemed almost reptilian. It drew you in its silky coils and never let go. It was dangerous. Erotic. His breathy voice leaving little shivers in its wake. And because this Prince inhabited a universe that also had Michael Joseph Jackson at the peak of his powers in it, loyalties were sharply divided. Especially because his 1979 song I Wanna Be Your Lover and MJ's Off the Wall, again a 1979 release, had an eerily similar energy.
**
But what Prince evoked was not love but a strange fascination and a frustrating, grudging admiration because you knew he was not playing to your gallery but to something beyond you. You also could not dismiss him  because you knew he was not a wannabe fading into a has been. He was not aiming for the numbers though he sold millions of records. Or awards though he won many. He maintained a certain distance from fame. In the end, what made Prince survive success and its challenges better than Jackson was the fact that he did not give a damn about whether he was loved or hated or ignored. It made no difference to him. He did not care about proving anything to anyone.
**
He went on from being Prince to an artiste formerly known as Prince to a Jehovah's Witness to a vegan to someone who cared not a whit about politics or the Internet and remained oblivious to criticism and derisive laughter. He had an off-centre take on life and music and he never worked towards being a king of anything. And though his name did convey a certain predilection for self aggrandisement, the fact is, he was born as Prince Rogers Nelson in 1958.
**
He was a multi-instrumentalist, a damn good dancer, a showman on stage and a deeply committed artiste in his studio but never marketed any aspect of his persona as 'the' definitive keynote of his music. The low cut vests, the sequinned trench coats, the swinging hips, the high heels, the often risque lyrics and kohl rimmed eyes were hooks to interest the audience. And though there was a phase when he styled his stage performances to be overtly sensuous, when it came down to making music, it was only about the music. And this music was intense, honest, propulsive, powerful. And what it conveyed was indescribable like when he performed Purple Rain in the 2007 Superbowl half time when the skies parted just in time to provide accompanying vocals. His music was just like that. A moment where everything just came together.
**
He was not created by the times, by a pop culture trend, by the media, by his fans. And though he was marketed as a prodigious Stevie Wonder at 17 and compared later to James Brown and Hendrix..he became his own man with every new album and song. He did not want success at any cost. He wanted it on his own terms and that is why when Warmer Brothers signed him, he, a teenager who had never been recorded before, insisted that he would have full creative control over his material. That one condition would remain unchanged through his musical career. And it was easy for him to assume this control because like his manager once said, "He wrote everything, played everything and sang everything."
**
I remember an Oprah Winfrey special on him, years after the frenzied success he had enjoyed in the eighties. The interview was shot in his home and he sat in an oversized chair like a… well, little Prince, a little shy of the camera's gaze on him and only fleetingly making eye contact with Oprah. And the moment that comes back is when he said that all he ever wanted to be remembered for was his music.The rest was nobody's business. He was clear about that.
**
A lot will be written about in him in the days to come but to me and a lot of people who were not natural born fans of American pop culture, Prince represented a breakthrough moment in our lives. A moment when we saw and heard and experienced something that scared us as much as it fascinated us. When we saw an artiste who was not familiar, reminiscent of a shore we knew and trusted but of turmoil, raw emotion and an invitation into the unknown. He was not an influencer. He was change in flesh and blood. And when his music fell on us like thundering sheets of psychedelic rain, we changed too. Forever.
Reema Moudgil is the editor and co-founder of Unboxed Writers, the author of Perfect Eight, the editor of  Chicken Soup for the Soul-Indian Women, a  translator who recently interpreted  Dominican poet Josefina Baez's book Comrade Bliss Ain't Playing in Hindi, an  RJ  and an artist who has exhibited her work in India and the US and is now retailing some of her art at http://paintcollar.com/reema. She won an award for her writing/book from the Public Relations Council of India in association with Bangalore University, has written for a host of national and international magazines since 1994 on cinema, theatre, music, art, architecture and more. She hopes to travel more and to grow more dimensions as a person. And to be restful, and alive in equal measure.