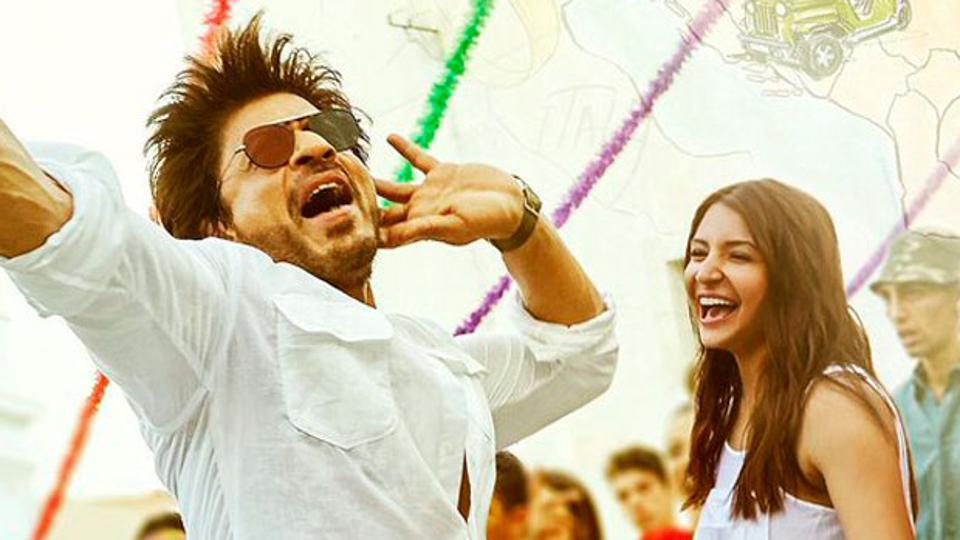 The most interesting thing about  Imtiaz Ali's Jab Harry Met Sejal is Shah Rukh Khan and the reimagining of Raj, the lover who knew he could not fail at life or love. The film shows us what would have happened if Raj had lost Simran after that fateful train journey through Europe and shrunk into the template that Imtiaz Ali routinely crafts for his jaded, joyless, cynical, lost heroes who look unseeingly  at the mirror day after day  as they knot their tie like a noose around their necks, watch their lives waste away in the cold clutches of routine (Why..WHY don't they ever have satisfying jobs?) and wait to be rescued by chirpy women who have no clue just what they are going to do with THEIR own lives.
**
What is absorbing (to some extent ) is how Khan is stripped clean of his invincibility and the veneer of the romanticised, fabled lover every Yash Chopra and Karan Johar heroine waits for. Here, he is hollowed out, his eyes so full of life and hope in his earlier films are like unlit windows  and he is famished for a life that he thinks he can never have. The irony of a lost tour guide is of course rubbed in as are tales of his soulless interactions with women one of whom throws him out of her house though we never really see the root of his bad Karma except when he makes a pass at a white woman without her consent even though he knows she is with someone else.
**
We never get to see though just what has spawned so many ghosts that keep tormenting him about his past in a Punjabi village apart from a failed singing career and possibly a lost love. And this is such an indistinct film that it routinely blurs into the genre exemplified by  Karan Johar and Aditya Chopra. Remember that awful scene from Ae Dil Hai Mushkil where Anushka 'saves' Ranbir from a girlfriend by debasing her? Well, you can find another version of that here too. As also the mindless club hopping and the eternal hair splitting over where friendship ends and love begins.
**
Ali  repeatedly references  Khan's  most memorable screen romance so we have Sejal appearing before him in one scene wearing exactly the same clothes that Simran wore on a drunken night out. A red skirt and tall, black boots and of course, it is Harry who rescues her from the world and from himself. There is a train journey. The wedding invite that reminds us of Raj making a clucking sound and saying, "Main nahin aaonga."  But this is an updated version because here the heroine is the one demanding intimacy and after a contrived chase through a beautiful European city when Sejal snuggles close to him, Harry suddenly connects to the sense of home he has lost. So we see a Phulkari duppatta skimming Punjab's swaying fields, the crumbling walls of a home he had left behind and a montage  that sums up the "ghar aa ja pardesi tera des bulaye re" nostalgia in a new, abbreviated version that began with the unbearable wistfulness of Irshad Kamil's
"Magar Ab Na Main Apne Ghar Ka Raha
Safar Ka Hi Tha Main Safar Ka Raha . "
Anyway, in  the morning, it is not Simran..sorry Sejal who cries at the thought of the unthinkable but Harry who has allowed himself to feel too much and is again caught in the maelstrom he thought he would never find himself in. His  brief cry for something inexplicable is possibly the most poignant moment in a  film that in the end is just  a clueless journey through Prague, Amsterdam, Vienna, Lisbon and Budapest..cities that remind you of Van Gogh's nightscapes or sunlit  tourist brochures where  occasional moments of beautiful human connection occur. Like the palpable sense of intimacy that Ali creates between his characters as they converse about his life and hers or about nothing in particular or when they transcend the physical awkwardness between strangers thrown together by circumstances.
**
But this is also the biggest issue with the film. It is based on a premise, an idea or rather a series of ideas rather than a  screenplay with cogency. So we have the ring metaphor, the idea of a full circle, the Rumi inspired notion of, "What you are seeking is seeking you.' Or the final piece in the puzzle, "My lacks were seeking your lacks." The broken man. The watchful woman who wants to put him back together and holds him to her as he cries, "Mujhe lagta hai tu mujhe bacha sakti hai." Because she wants to be rescued too. Usually from a predictable life. And this is a theme that is getting so old and stale that we can almost predict what will happen next on the screen. Random songs where she will dance in   confetti strewn streets with strangers and he will look at her with longing. They will strain against each other's lacks, bait each other occasionally, break the neutrality protocol, invade each other's minds the way nobody ever has and then in the end, fall into each other's arms.
**
The way this lost and found game plays out ,  can work  as it did in Jab We Met or in bits as it did in Tamasha and in Love Aaj Kal but starting from its title,  Jab Harry Met Sejal is a sloppy, lazy shot at a love story primarily because we never 'get' the characters fully despite heartwarming interludes as when the two are playacting as a committed couple with glasses of wine in a balcony strung with fairy lights.
**
What are their motivations,  and how are we supposed to care for their stories without really knowing what has shaped them ? Why did Anushka Sharma' Sejal  need an awkward Gujarati accent? Why is Sejal obsessed with Harry's  love life right from the beginning, why does she spy on him, stalk him, bait him? Subliminal attraction? Rebellion against a repressive  upbringing? And what is this notion that you can play around with white girls but not with an Indian "porcelain" doll ? How many times are we going to see two people in foreign climes discovering themselves and each other and what in God's name was that infantile furore around the ring and the Indian ganglord and an exotic dancer? And the songs? so many of them without any context or reason? The forced moments of danger to bring the characters closer?
**
The only glue holding the film together is Khan with his eagerness to shed the frippery of superstardom and to plug  into raw, dark places with pain and a loneliness that has not been attended to. He is most watchable when he is wordless. Watch him as  he struggles to not overhear Sejal's conversation with her fiance and tries to hold his emotions in check. But, well, the  gaps in characterisation and narrative are  so cavernous that the kaleidoscopic locations and the leisurely conversations cannot paper them over.  It is time  for Ali to go back to something real and tangible within and find a new story to tell. Love may be a universal emotion but there are more ways  to seek it and to find and to be found than to go on a journey.
**
Reema is the editor and co-founder of Unboxed Writers, the author of Perfect Eight, the editor of  Chicken Soup for the Soul-Indian Women, a  translator who recently interpreted  Dominican poet Josefina Baez's book Comrade Bliss Ain't Playing in Hindi, an  RJ  and an artist who has exhibited her work in India and the US . She won an award for her writing/book from the Public Relations Council of India in association with Bangalore University, has written for a host of national and international magazines since 1994 on cinema, theatre, music, art, architecture and more. She hopes to travel more and to grow more dimensions as a person. And to be restful, and alive in equal measure.