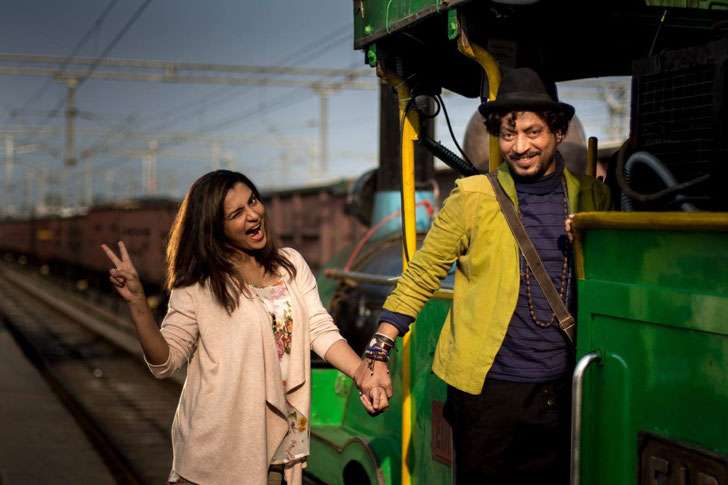 From the time I saw Sahabzade Irrfan Ali Khan playing Makhdoom Mohiuddin in the DD series Kehkashan in the 90s, and singing, "Ishq ke sholon ko bhadkao ki kuch raat kate " , I have believed that we have done him injustice by limiting his profile to a histrionics heavy actor. His eyes and silences are also meant to convey poetry and romance. The kind that does not need a large musical orchestra and Swiss alps to ring true.
**
I also remember a cameo by him in Lekh Tandon's TV series Adhikar (Also known as Aur Shama Jalti Rahi) where he played a revolutionary poet and yes, there was that moment in Maqbool where a Sufiana qawali (Tu mere rubaru hai) has him communicating his angst and repressed passion with just a nod when Tabu is refusing to walk further. Even in Piku, the subtext of his growing feelings for an emotionally beleaguered woman was possibly the most interesting bit of the road trip.
**
There were also moments in the rather underwhelming Rog where he communicated a gnawing sense of existential disconnection with just that wistful smile when he sees a couple celebrating in a cafe.
So when I saw the promos of Tanuja Chandra's Qarib Qarib Singlle, I was rather excited.
For a couple of reasons. For one, our cinema does not know what to do with love stories that deal with people in their thirties and forties. The most ironical moment for me in a film like Jab Tak Hai Jaan was that it had  an almost 50-year-old star playing a young lover while the heroine (who in real life is decades younger) opposite him was shown celebrating the birthday of her 50-year-old father in a sequence.
**
I cannot recall a single film in the past few years where people in their thirties and forties have been treated normally with relatable emotional issues and I was hoping this film would break some new ground. Especially in the ways, single women who do not conform to the unwritten eligibility codes in cinema  are portrayed.
I was also looking forward to watching Parvathy who has a face made for the kind of cinema that steers clear of fluff. The premise of two disparate individuals going on a road trip together may have been done to death but maybe, there was potential in the way they discovered each other as they simultaneously revisited the past and explored the possibility of a future.
But.
Well, let me pen down the good bits first.
The performances.
**
Irrfan gives more layers to his Yogi than the script affords him and there are absolutely heartwarming moments like his interaction with a cabbie and Gazal Dhaliwal's refreshing writing crackles even more when he delivers it in that tactile, casually intimate voice of his.
 As when his eyes notice that Jaya's (Parvathy) furiously typing fingers speak louder than she does. Or his conversations with her in Rishikesh and his sheepish attempts to hide his embarrassment when a past love presents before him the tableau  of a happy marriage and introduces him to her children as 'mamaji." Him walking in a pair of clattering 'khadaon" on the ghats and his inability to keep his poise during a white river rafting adventure.
**
He is at once unlike a conventional dreamboat and someone who can surprise you with his unpredictable charm and  unexpected  empathy as when he holds up Jaya's hair when she vomits in a helicopter or lends his shoulder and an ear to her when she is babbling with exhaustion and is high on a drug during a long cab ride. His kindness that translates into an 'aam ki peti' and a handful of pakoras  just for her.
Parvathy is an insightful actor, free from the artifice that seems to have become a mandatory part of portraying female protagonists and is as real and unselfconscious as possible.
But despite its attempt to tell a new story about the kind of people you never see in Hindi cinema, the film falls back into the cliches of done to death commercial films.
Starting with the train metaphor. What it means when you miss it. Like a thread of thought that goes missing from a conversation.
**
And the portrayal of a single woman. Who is predictably uptight, lacks solid female friendships  except for one nagging voice that keeps reminding her of how passive and unadventurous she is.
A single woman who is addicted to her laptop and has a long term relationship with it. Someone who is caught in a web of silence and can't seem to find meaningful human connections apart from the one she shares with her brother.
Why is it hard for an almost all woman crew to imagine that a woman in her thirties can find solitude meaningful and even joyful ? Or that it is not always about how a man can give a woman the key to her own true self? How about imagining a woman who travels where she wants, experiences life on her own terms and then perhaps runs into a soul mate who mirrors her need for freedom and also meaningful connections?
**
And when..when will we stop using the ruse of intoxication in our films to set a repressed heroine free to express herself? A woman in her thirties must swallow a few pills before she starts babbling home truths about her life and then ends up in the same room with a virtual stranger to wonder , "Main yahan kaise pahunchi?" And why must the mandatory , "I saw you but closed my eyes" scene be inserted in a film about two grown people looking for a connection? For an adult romance, the film lacks any semblance of obvious attraction or physical chemistry between Yogi and Jaya.
Unlike Jaya, Irrfan's Yogi (perhaps  a nod to Mr Yogi, the iconic DD character who spent many episodes looking for 'the one') though older and someone who has been perhaps alone far longer, has fewer hangups and we never see him pacing emptiness like a caged soul. He doesn't need sleeping pills to go to sleep. Despite his baggage, and his constant romanticisation of the past, he is joyful, open to new experiences and able to see the blind spots within and in the woman he comes to like at first sight.
**
There is also a certain amount of laziness in the way even he is etched. For someone with genuine dislike for social media afflictions like Facebook, he is willing to register himself on a site for singles? Why? And he is conveniently rich because he is able to think up food combinations like Kairi Mathri! Really?
Also we never really see the reason why a woman so resolutely protective of her boundaries, that she won't even share a water bottle with him becomes so possessive about him that cannot stand the idea of him getting close to his past girlfriend. Or why does she clam up when he is unable to board the same train as her and flirts with another man in front of him? What have the two shared that is so profound that she falls irrevocably for him and is also equally resistant to him? The transition between her state of mind from Uttarakhand to Rajasthan to Gangtok is hazy and like a friend in the next seat commented, just what exactly leads to that moment when she tells off an opportunistic friend over the phone?
There are missing links in the narration that don't answer the how's and why's. The entire Gangtok sequence from Jaya's meeting with an ex-boyfriend to Yogi's little note outside the dance studio of an ex, is unconvincingly hurried as if the writers and makers have run out of steam.
**
With a stronger second half , the film could have been a satisfying trip even for the viewers but in retrospect, it leaves  you with a curious feeling of dissatisfaction over an opportunity lost. Like that damn train our heroes and heroines keep missing all the time.
**
Reema is the editor and co-founder of Unboxed Writers, the author of Perfect Eight, the editor of  Chicken Soup for the Soul-Indian Women, a  translator who recently interpreted  Dominican poet Josefina Baez's book Comrade Bliss Ain't Playing in Hindi, an  RJ  and an artist who has exhibited her work in India and the US . She won an award for her writing/book from the Public Relations Council of India in association with Bangalore University, has written for a host of national and international magazines since 1994 on cinema, theatre, music, art, architecture and more. She hopes to travel more and to grow more dimensions as a person. And to be restful, and alive in equal measure.