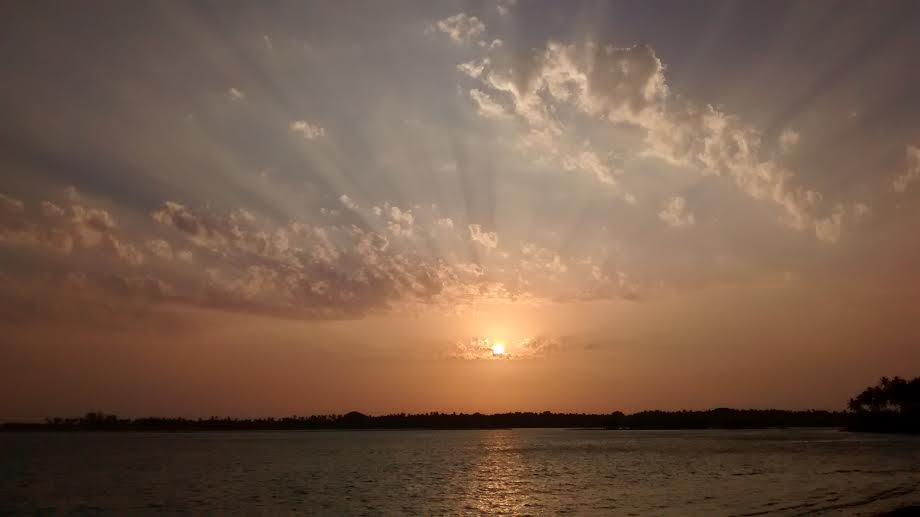 I hadn't expected the bus to arrive in the city so early in the morning. I had hoped for signs of a city waking up— a tea shop to sit at, a street to people-watch on, while I waited. But it was ten minutes past five, dark. A thin film of fog wrapped up the early winter chill. I stood bleary-eyed under the harsh tungsten light of a street lamp feeling utterly disoriented and unsafe. It had become a recurring theme of sorts, an unrelenting feeling of disquiet that comes from trying to fight off all the little voices in your head. This was supposed to be a weekend without worry.
A pack of rickshaw-walas saw me and attacked me with an onslaught of destinations I could go to. None sounded familiar. 'Right, look sharp now. Stop
looking so stupid,' I told myself. I hovered on the side of the bus, fending them off temporarily by rummaging around in my bag for my cigarettes. First the filter, then the paper, just the right amount of tobacco. Roll tight, tuck and seal. This was my little ritual that made being bored or being in unfamiliar territory more bearable. One persistent fellow had stuck around, watching my fingers make that cigarette. I asked him how much he'd charge to get to where I needed to. '500,' he'd said helpfully.
He was having a similar conversation with another driver. I recognised him from the bus. When I'd boarded it, he was sleeping with his mouth wide open, hugging his guitar. His mop of crazy curls framed the face of a person who didn't have a worry in the world. I walked up to him and asked if he was a local, if he could help me not get conned. Could he suggest a place where I could hang out till I could get in touch with my friend?
I know I shouldn't be talking to strangers at five am on a near deserted street in a relatively unknown city. But then I've always broken rules and done things on my terms. Sometimes that involves taking a blind leap of faith. He offered to take me back to his place. "I'm not a serial killer, and even if I were, I wouldn't tell you.I can't think of a less complicated option."
So I hopped into the rickshaw and offered to pay half the fare. We hung out for the next few hours sprawled out on a giant, slightly sticky sofa. It was a bachelor pad, not without its fare share of 'boy-muck'. In swapping stories about our lives, his attempts to make music and write a book and mine about travelling to some wonderfully strange places, it was like meeting an old friend. A life-affirming experience of the essential kindness of the human spirit, which in our times of wanting a lot and wanting it now has become jaded.
How did we get this way? And why is it acceptable to teach children to not talk to
strangers; to not trust; to always conform? Those concepts have always been strange to me, and now after three years in Goa and after some generally tripped out experiences around the world, they seem alien. In my bubble, we wave to the neighbours who snooze on their porches as we drive by. We sometimes stop to help very drunk and slightly lost people. 'Hobbles', the local Anjuna drunk, makes it a point to beam a giant smile at everyone who passes by, like they were his best friends. If you pester him enough, the person who looks after the local grocery shop will even show up to cook for you the most amazing chilli chicken.
Aunties on trains make sure that you eat everything that comes out of their neatly foil-packed boxes. People will escort you from one station to the next if
you look lost. People come and talk to you because you look lonely. Your friends were once strangers too. I wouldn't have old Ginger Cat in my life
right now had I walked back from class alone on that wet autumn day. My life wouldn't have been radicalised had a stranger and I not bonded over sneaking suttas in a corner after training sessions. My evenings in Delhi would have been infinitely duller had another stranger and I both not overcome our initial social awkwardness. And my life would have been so ordinary without the madness and giggles and love these people bring to my life.
We could choose to be strangers in this strange, strange world or we could connect the six degrees that separate us. Take a minute to stop doing whatever
you're doing, thinking, agonising over. And look around you; really look around yourself. You'll notice the yellow hibiscus with a deep crimson centre; feel the
air, heavy with rain, clinging to every pore on your skin. You may find something wonderful sitting around, just waiting to be discovered for all the joy it can bring.
Kayonaaz is a writer who specialises in covering development and conflict related stories.