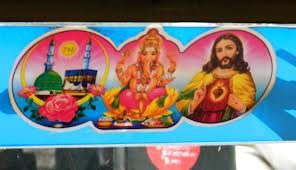 So, I was out in Mylapore this evening. And there was a mela all around. The pavement shops were selling everything from terracotta pots and pans to herbal oils for mosquito bites to cheap plastic toys and knick-knacks.
Fortune tellers sat on the roadside with their parrots picking out fortune cards for hopeful clients. Tender coconuts, musk melon juice,water chestnuts sellers were doing a quick business in the later summer heat. And, suddenly out of the blue came the sound of someone reciting from the Quran.
I stood still for a moment, wondering where the sound could be coming from. It seemed rather incongruous to hear the Quran being recited so loudly, and that too in the middle of Mylapore. As I walked on wondering what was going on, it suddenly hit me that this was Thursday evening and I was in the vicinity of one of the biggest Sai Baba temples in the city. As I stood rooted, listening, the recitation changed from Quran to the Shrimad Bhagwath and some of the most beautiful shlokas from the Geeta could be heard from across the street.
And once again, I realized that this was the reason why I could not get myself to leave this country- Not 22 years ago. Not now. To hell with all the politics,  This is MY INDIA!!!
Asma has done her Masters in Journalism and worked with several newspapers in Bangalore and Chennai. She is at present, a full-time mother, a part-time editor of her own newspaper –Positiv+ and a sometime media consultant with several organizations.