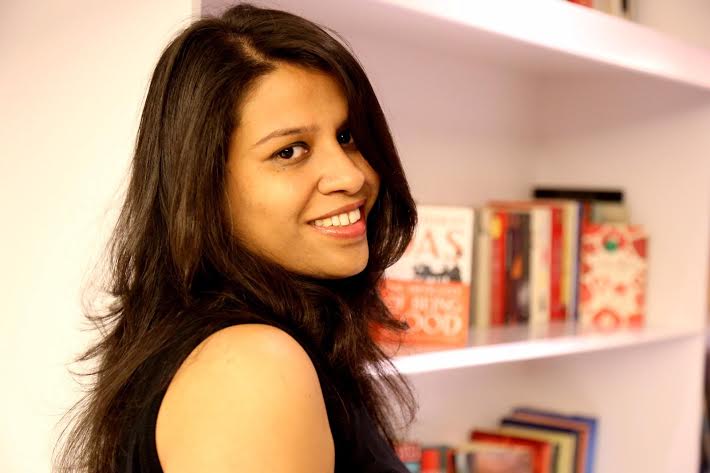 Lavanya Shanbhogue Arvind is the winner of the Commonwealth Short Story Special Prize (2011). Her short story, 'The Crystal Snuff Box and the Pappudum,'  was adapted for radio by the Commonwealth Broadcasting Association and was broadcast in all the Commonwealth countries. Her other works include 'Those You Cannot See' that appeared in the Griffith Review, Australia, 'Blueprint' that appeared in Blink, the year-end fiction edition of the Hindu Business Line and 'The Idiot's Guide to the Indian Arranged Marriage' that appeared in an anthology of New Asian Short Stories being published by Silverfish Books, Malaysia.
**
Apart from a Master's degree in Business, she holds a Master's Degree in Creative Writing (Fiction) from the City University of Hong Kong. She is currently pursuing her Master's degree in Women's Studies from the Tata Institute of Social Science, Mumbai and is working on her second novel.  She lives in Mumbai with her banker husband Arvind Narayanan and their 4-year- old son Arjun Arvind.
**
Here is an interview with the author, who shares her experiences, feelings and opinions about her writing and the life of a writer.
1. The Crystal Snuff Box and the Pappudum, sounds intriguing. Could you share a few things about it and your experience penning it?
The plot is about a woman facing near-destitution when her husband falls terminally ill. To fund his treatment she can either sell a family heirloom (a crystal snuff box that was gifted to her father, a Mumbai dabbawallah, by Prince Charles) or a start selling papad. She chooses the latter. The story ends
with her husband's death. However after his death, she has something to look forward to – her business. It's a story about difficult choices, survival instincts and entrepreneurship. Even with choices we impose a hierarchy, something is a first choice, and something then becomes a second choice and so on. We
rank our choices even in the most difficult of times.
2. The plots in your short stories play out right in front of the reader's eyes. How challenging it is for you to bring out this visualization in your short stories and what inspires you during the process?
I work very hard to get the narrative voice right. The voice that tells the story does the entire job, including making it a visual experience for the reader. Another very important aspect is choice of words. For example, cry is not the same as sob is not the same as weep. Each word has an emotive value. It's
the job of the writer to get the right word. What does "visual" actually come down to? I think it would be a sensory experience. As one of my close writer friend says, "With writing, you're trying to create a 3-dimensional experience in a one-dimensional space." Therefore it's important to get the place/setting right, the sights, the sounds, the smells… you need to work on these aspects to get them right. The tone has to be right. While reading your reader should be able to hear the sarcasm or the despondency in your character's voice. That's what makes it visual. With short stories the canvas is small. The challenge is that you're juggling many things – a good premise, a good pace, interesting characters, and an engaging, credible, evocative story line. So, you have to do a lot with very little.
3. The underlying concept in Those You Cannot See speaks about the evil eyes and how they affect the human psyche. What led you to this idea?
We see a lot of seemingly rational people engage with the occult. (I am not excluding myself here) It's a fascinating aspect of human behaviour to get dragged in whichever direction there's hope, however irrational or however far-fetched something maybe. There's a whole market for the mystical; all
of them masquerade as vendors of hope! The mystical and the occult has become an industry in itself. Also, world over, across cultures, people are huge consumers of mythology from where these stories emerge. There are protective symbols in every religion. I thought it was something worth exploring.
4. Continuing with the previous question, how challenging was it to balance the issue of superstition and the belief that goes with it in the story?
In this particular story it was about what the character believes. It was necessary to bring out the character's obsession with the occult. The woman in the story (if you notice, I don't name any of my characters) has clearly gone through a very difficult time and she has tried everything and nothing seems to be working. She therefore turns to the occult. The challenge was to bring out the fact that she was a regular, rational woman, a lawyer but even someone like her is driven to extreme measures in times of adversity.
5. Blueprint takes on a different theme, yet it is as engaging as your other story. How do you manage to keep the essence of a play/drama intact, though the genres and storylines vary?
With this story, I used a second person voice. It's an experiment I enjoyed. The premise, narrative voice and the conflicts that affect characters are the essence of the story. Without conflict there's no story. These have to be evocative and credible irrespective of genre.
6. Your debut novel, The Heavens We Chase is soon to be released. What can your readers expect from it?
The story is set in pre-partition India under the British colonial rule. One of the protagonists, Satya is what one would call a Brown Sahib or a coconut (brown 'outside' and white 'inside'), that is, someone who is sympathetic to the colonial cause. As the Educational Inspector of Schools of the Bombay Presidency his job is to promote western ideology in education. So, it's Pythagoras instead of Panini, Galileo instead of Aryabhatta, Aesop's fables instead of the Jataka tales or the Panchatantra, Shakespearean kings instead of Emperor Asoka and so on. But, both his children are part of the larger freedom movement. While his daughter Saraswati sings patriotic songs, his son is arrested under a charge of sedition.
**
As an 11-year- old, Satya fled from the temple-town of ShaniShingnapur and his rise as a cold, callous yet vulnerable man is one narrative in itself. The other narrative is the story of Saraswathi. Born with 6 fingers in her right hand she's convinced that she's abnormal and unlovable. She accompanies her father on a school inspection to Lahore and falls in love with a man 19 years older than her but he disappears and she's sure her father has something to do with it.
**
When we think of that era we have an image of protests and lathi-charges and nationalistic fervor running high, the militarization of civil society. But, the ordinary too existed. The mundane existed. Civilian life existed. People went about buying groceries. Children went to school wearing gumboots in the rains. The ordinary and the everyday must go on even when other things around are in disarray and this excites me. So despite the external conflict I want to celebrate the ordinary. Heaven is used as a metaphor for many things here. We're all after something that we believe will complete us, something that we believe will make our lives whole. Our entire lives therefore become this journey to chase down this 'thing,' so as to feel nourished and that would seem heaven-like.
**
7. Any suggestions/advices to those budding writers who want to concentrate mainly on writing short stories?
Although this might be clichéd I would say read a lot, and this holds good for whatever writing one is working on. To my mind, writing without reading is like trying to speak without hearing.
**
Madhusudan M has a B.Tech degree in Textiles and is an MBA. Writing is his passion and so is connecting with anything that inspires the writer in him.