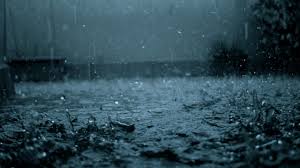 Insides of my skull
Echoing sounds
Of drumming water
On tin window shields
Banging the brain
Into numb submission
Fading slowly out of
Thought, into morass.
Looking out of glass
Like fish in pointless swim
My aquarium filled
With moist air.
Trapped must feel like this
Free must feel like this
Sightless must be like this
Where only Sound prevails.
Time yawning, stretching
Elongating python ropes
Of watery coils
And dripping, dripping, dripping.
Not awake, not asleep,
Filled with suspended disbelief
Watching Nature drag out
The end of the Monsoon.
Mona Ambegaonkar accidentally strayed into the entertainment industry and has been a model, editor, documentary producer and director, writer and award winning actor in theatre, TV and films. She is now working towards writing and directing her own films and is acting in TV soaps and films as well. She has devoted her time in watching life, hers and other people's, has always taken at face value whatever she is told and has always asked and answered direct questions. From this springs the fodder that enriches all her work both on and off the screen. Recently, she has been touring the world with Ek Madhav Baug,  a play about alternate sexuality.