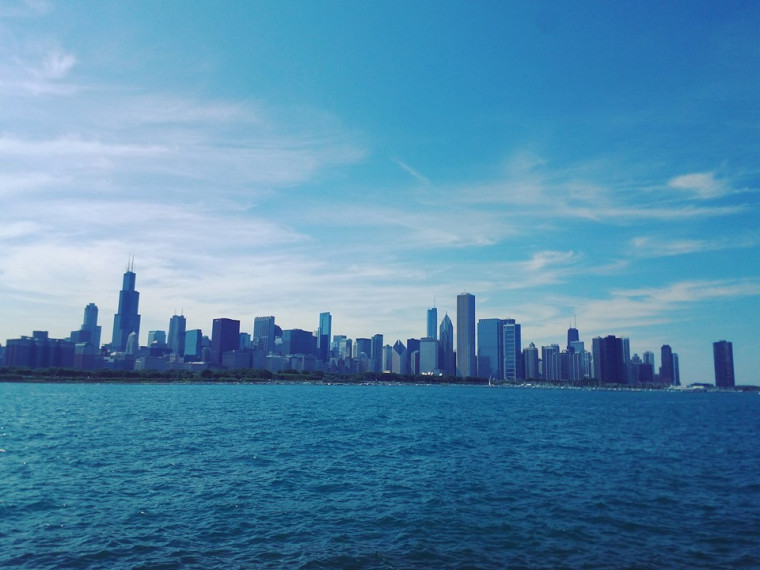 I am sitting by Lake Shore Drive on my last day in Chicago. A woman is sitting by the shore, sketching the long skyline of Chicago. A gay couple kiss each other. A group of girls celebrate their friend's birthday party. And a naughty Baltimore Oriole chases me. I sit there for hours with my gaze fixed on the lake, bobbing boats, and the majestic buildings. This is Chicago. This is me, traveling alone for the first time.
For those few hours, I didn't have a past, a future. In Chicago, my body seemed to shed some weight; my mind seemed to erase memories — pleasant and painful. For those hours, I was there, by the lake, thousands of miles away from everything that defines me. I was just there.
It rained quite frequently during my stay in Chicago. I was cold for much of that time, even though Chicagoans might probably find the weather balmy. Chicago was not just the Windy City, but also the Walking City. I walked through the city, cursing myself for not being geared well. My ankles would feel too heavy, as though I was dragging an iron ball all day. And my feet were sore after walking for nearly 12 hours every day. On the first day, I reach my room well past 10 PM. The deserted roads, the distant sound of men's laughter, and the lazy fall of raindrops fill me with anxiety and this question —Why am I travelling alone? I had no answer.
I thought then, perhaps, I am not seeking an answer. Perhaps, I just have to release the question and see it pass by me, like the clouds over my head, which had just started to clear up. The sky was black, and a tiny star winked at me. I smiled in return.
I spent four days in The Windy City. The first two days, I did all things touristy — sauntered around Michigan Avenue, clicked pictures of the city's massive skyscrapers, met a Chicago Greeter (a wonderful walking historian of Chicago, Peter Orlinsky), and visited The Skydeck, Navy Pier, Peggy Notebaert Nature Museum, and Ernest Hemingway Museum.
I was annoyingly overwhelmed for the first two days. The city was vibrant and friendly. The weather was only marginally inclement. My roommates were enthusiastic travelers. Yet, something was thwarting me from becoming excited. I was a stranger to myself on those days. I was in a new city, traveling alone for the first time, making friends from different countries, and maybe, it would take a while to become accustomed to the new me — a child who is captivated by the carnival.
And I begin to unravel more of the new me. On Day 3, I visit Adler Planetarium (where I touch a meteorite ;)), and then, I am back at Lake Shore Drive, watching the shoreline of Lake Michigan. That's when I see it. Sitting by the great lake, I see the most beautiful blues — the greenish blue of the water, azure blue of the clear sky, and the grayish blue of the city's tall buildings. No photograph can do justice to that surreal view. How can man-made cameras be so naive, arrogant, and presumptuous as to think of capturing the life-nourishing soul of nature?
I had other things to do that day. But my newly developed all-consuming love for the blues of Lake Shore Drive makes me understand that I had come all the way from Chennai to lose myself in them. I did the wisest thing then. I surrendered.
I sit by the lake and read Jack Kerouac's On The Road. There are distractions — the crashing sound of the waves, the chirping of birds, the guffaw of children, the sound of bicycle tires. But I can only welcome them all the same.
This was to be a pattern that would repeat itself for me the next day too. I attend an author's book-reading session, attend a fun party, and share a few drinks with some new friends I meet at the book launch. But it is Michigan Lake that calls me again. On Day 4, I wake up with the pressing thought of visiting Lake Shore Drive again. I still had other things to do in Chicago. I am so lost in Lake Shore Drive that my friend says I should cancel all the other plans and just go to Lake Shore Drive. "That is where your heart is," she says. I go back to find it.
The blues are still magnificently blue by the lake. And I am there, again. A man, who must have sat next to me for a while, stands up and dusts his trousers, pulling me out of my trance. We exchange smiles. Without looking away from the skyline, he says, "It's pretty. Why is it so pretty?" I always trust strangers to say the most profound thing, ask the most enlightening question. He doesn't wait for an answer but walks away. However his question creates a few ripples in my mind. I begin rolling the 'why' in my head. But then again, it occurs to me that the whys do not matter here, and if I try to figure it out, I would only be as naive as the camera.
After I leave Lake Shore Drive, I ask my friend, if I left a piece of myself there or brought a bit of it with me. She says I could do neither. "It is impossible to become again who we were when we were in some places."
I might go to more places, experience all sorts of marvels. But I will remember Chicago for its blues and for freeing me from my prison of thoughts. It doesn't matter if I was only on a parole. But that whiff of freedom can help me travel light.
But why think about that when all the golden lands ahead of you and all kinds of unforeseen events wait lurking to surprise you and make you glad you're alive to see?
― Jack Kerouac, On the Road