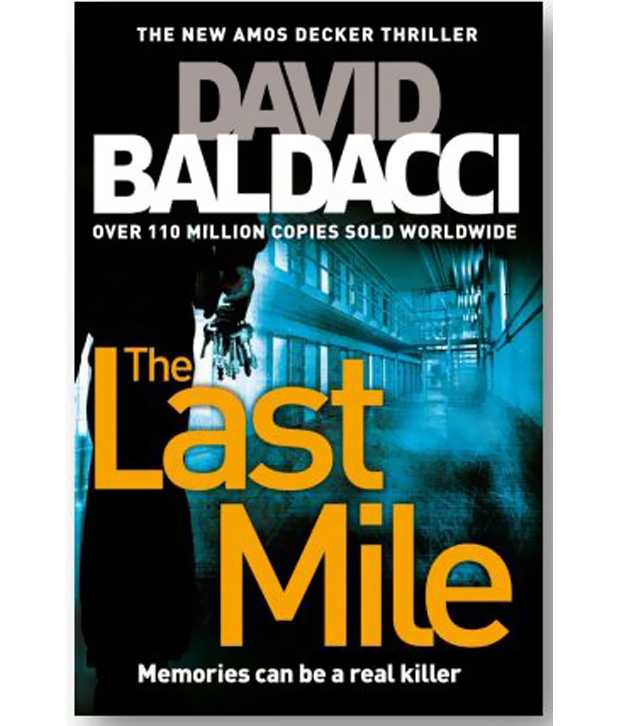 Over the last few  months, I have travelled far more frequently than usual and reconnected with reading in a consuming, famished way that had gone missing from my life since I started writing 21 years ago. I can either write or read because both are all or nothing experiences for me. But when you are travelling, a book can do for you what writing cannot. It can keep your mind engaged through hours of nothingness and feed it sustenance and trigger cross-currents of memories, connections between thought and feeling, a stirring, a replenishing that all writers need when they are not writing.
I need to thank PanMacmillan for bringing reading back into my life because for some inexplicable reason, almost every other month, they send me fat, juicy bestsellers many of whom I gave away initially but something about David Baldacci's The Last Mile drew me in. Maybe, it was because of Melvin Mars, a black man on death row, waiting for the knock on his cell door before he can walk the last mile to pay for a crime he did not commit.
On the surface, the book is a follow up on the #1 New York Times bestseller Memory Man, where Baldacci first created Amos Decker, a shuffling, emotionally wounded detective who can forget nothing, not even the most devastating details of a personal tragedy.  But then the book becomes so much more. Mars has spent 20 years in jail for a murder he did not commit and epitomises a damning, race driven system where a black man can be sentenced to death within or outside a prison by political and law enforcement forces beyond his control. But he is not just a metaphor. He comes alive to us in his quiet defiance as he keeps his mind and body impervious to jail brutality by developing strategies to stay sane and alive till the moment he absolutely has to face the inevitable.
Amos Decker too is a figure both of tragedy and stubborn heroism and as someone who has lost everything of value to him, he knows unlike many others in his profession, the value of human life. Particularly touching are his tentative steps towards normalcy when in trying to save Mars, he begins to save himself too. He begins to claim his overweight, sorrowful body back from pain-numbing food addictions by running, sweating his inner silence away and pouring himself into a seemingly cold case that he senses has more to it than is visible at first glance and also because like him Mars was once a promising footballer and like him again lost his family in a bloody, inexplicable incident.
The book also bitterly critiques how politics and policing and religion come together to often create a society of entitlement and privilege for a few while the rest stay oppressed. There is a telling sequence when Mars and Decker walk in a bar for a beer and things turn ugly. Also significant is how the most  important story in the book is that of a tragic love between a twisted white man who once worked for racist supremacists and a black woman. A love that finally resets the bones of Mars' life after inflicting a vicious injury upon it. We also see just how the justice system and investigative agencies like even the FBI play into the hands of majoritarians.
To dismiss Baldacci as a writer to just read in airport lounges is unjust because his breeziness is complex, layered, structured intelligently and provokes questions about the world we live in. And any man who has sold over 110 million copies and has sustained the quality of his writing across 30 bestsellers and a readership in more than 80 countries, cannot be taken lightly. His plot twists may seem far-fetched at times, the unravelling of plot threads may appear to be cinematic and the dialogue may not drip literary jewels but he is a compelling story teller and I read the book during a journey that ended almost too quickly.
Reema Moudgil is the editor and co-founder of Unboxed Writers, the author of Perfect Eight, the editor of  Chicken Soup for the Soul-Indian Women, a  translator who recently interpreted  Dominican poet Josefina Baez's book Comrade Bliss Ain't Playing in Hindi, an  RJ  and an artist who has exhibited her work in India and the US and is now retailing some of her art at http://paintcollar.com/reema. She won an award for her writing/book from the Public Relations Council of India in association with Bangalore University, has written for a host of national and international magazines since 1994 on cinema, theatre, music, art, architecture and more. She hopes to travel more and to grow more dimensions as a person. And to be restful, and alive in equal measure.