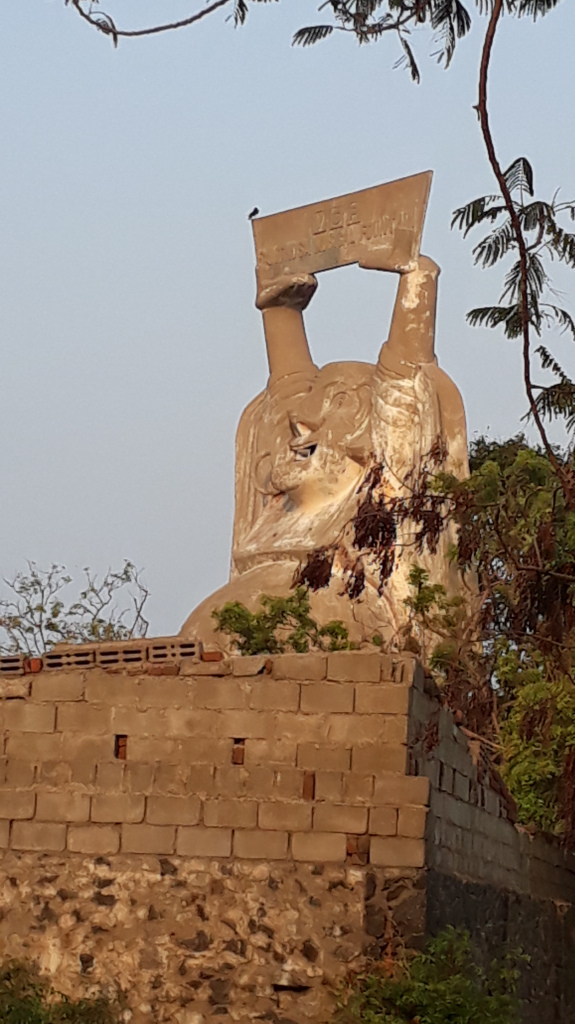 I see this Laughing Buddha every weekend when I go cycling.
Do you see the crow, perched on the board he is holding? Do you see how small it looks? This Laughing Buddha is gigantic. He is at VGP Golden Beach, Chennai's first theme park.
That part, where the Laughing Buddha was installed, of the theme park is now abandoned. The place is just there behind a gate that is weighed down by tiny locks. It is a haven for birds and feral cats. And the Laughing Buddha is forever joyous. He is laughing at his own abandonment. He seems to see the beauty of rundown places. He listens to the silence of his loneliness. No. Perhaps, he listens to the silence of his solitude. He is just there, showing his wide grin and pot belly. And he says hello to you!
Abandonment was the word of the day. On the very same road, I found a mongrel tied to a pole. I inquired and learned that he was abandoned by his humans a few hours ago. Somebody found him loitering in the beach and had the good heart to tie him to a lamppost for he would have been attacked by the strays. When I gathered the courage to look at him, he was whining and cooing. He seemed visibly lost and my heart sank. I couldn't help him. I couldn't bring him home, foster, and find a family for him. But I remember what Pema Chödrön taught us. We can share his pain. So I did. That was all I could do.
Maybe, I was too quick to judge the colour of the day. I exited Bharathi Avenue and saw a family — Father, Mother, a daughter, and a son — walking out from a nursery and there was a sapling in the boy's hands. They kept her in their car. Slowly. Carefully. One whole family had come to take a plant home. There is so much goodness left in this world.
My eyes were fresh from the assault that the abandoned dog's image unleashed. But the happy sapling asked me to make some space for her in my mind. I carried both of them as I rode into this sunset.
Deepika Ramesh is a reader, blogger, animal-lover, aspiring cyclist, and a sucker for tiny, warm moments. She blogs at http://worncorners.com/