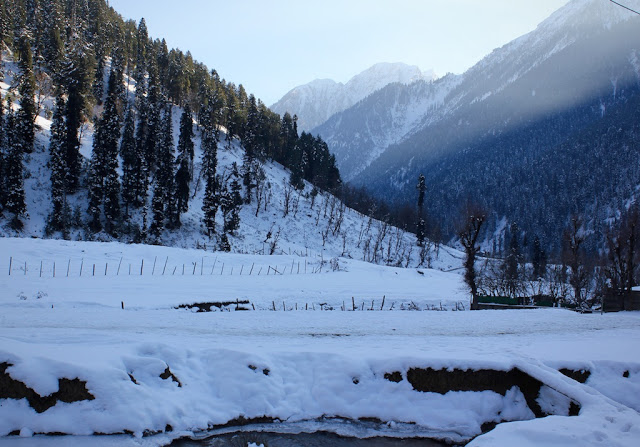 "Agar Firdaus bar rōy-e zamin ast, hamin ast-o hamin ast-o hamin ast."
If there is paradise on earth, it is here, it is here, it is here.That's what Persian poet Amir Khusrau, said of Kashmir in 13th Century.Fast-forward to now and this is what I heard from friends and acquaintances: "There's a constant sense of unease", "I saw ISIS Graffiti on a wall", "They call us Indians". Then there were accounts from other travel writers and travellers– each praising the land's beauty and people's hospitality.
With such mixed reviews and feelings, I went on my maiden trip to Kashmir- a land marred by decades of terrorism and conflict but also wearing a halo of mysticism and unparalleled natural beauty.
I had the company of a friend on this trip. Our tryst with Kashmir started when we decided to take a public bus from airport to the city instead of a taxi. As it turned out, we were the only two women in a 20 seater mini-bus. Rickety as all government buses are, the ride was actually smooth, devoid of any curious glances and awkwardness directed towards us by fellow male passengers. The men, on the contrary, were warm and very helpful.
It was this experience which completely eased us into the city and broke the ice with its people. We decided to make all further rides in a public transport– this was as close as we could be to the local ways of living. What followed in next few days were several shared taxi rides, auto rides and even a train ride.
We met some really warm and friendly locals on the way, got willingly over-charged by a driver on a short service-taxi route, heard stories from star-struck Salman Khan fans, got invited for kehwa and to stay with a local family, some more stories of Salman Khan, got offered kangri when our hands froze and even an unsolicited protective cover from a lady who decided to sit between me and my friend after unseating the local boy sitting between us! There was only one feeling palpable in every salaam and every smile that came our way, "We are really happy to see you in our land."
Having said all of the above, Kashmir is not without its tourist traps. Ten minutes of solitude is impossible on Dal Lakeshikara ride when hawkers are tirelessly trying to sell you handicrafts, jewellery and eatables. Standing quietly on Pahalgam bus/taxi station is impossible without a tout offering you a horse ride in "Switzerland". Walking in peace, upto Gulmarg Gondola ticket counter, is impossible without locals following you for a sleigh ride. But considering the desperation in locals to revive their tourism based business, I am ready to ignore all of these trivial irritants.
Other unique experience came during  a train ride between Srinagar and Banihal, as recommended by fellow travel writer Alka Kaushik. This train starts at Baramulla or Budgam and runs across the stunning Pir Panjal mountain ranges up till Banihal. Me and my friend were clearly, the only tourists in the jam-packed train. With long kurtas over track pants, heads covered with scarf/shawl, no camera in sight, we tried to be as invisible as possible but the bemused security personnel were quick to point us out. One of them was kind enough (after taking down our phone numbers in his diary) to arrange for us, special seats in the engine room, to view the famous Qazigund- Banihal Tunnel in all its glory. In case you're wondering, yes, we did get a follow-up call after an hour!
There also was a snide glance and a short lecture by another soldier who told us that we should always have a man traveling with us.
If I were to sum-up my whole experience of Kashmir- it will be that plate of Kashmiri Wazwan at the legendary Ahdoo's Restaurant- mouth watering aroma, uniquely spiced, large hearted portions with some pungent kick of chillies.
It's been two months since I am back but I still feel hungover by this magical land. It's as if, I have left a piece of me in Kashmir. I am hoping to be back again, to explore areas of Lolab, Chatpal and others that are unmarked on tourist map.
Here's a little thank you note to all the Kashmiris I met on road and who touched my life in a special way!
– Thank you beautiful, chirpy girl from Drass. We met you in the shared taxi at Anantnag. Thank you for breaking the ice and sharing your life. I will always remember how mischievously you talked about Salman Khan and that you watch all his movies at home despite religious restrictions. You were a reminder, human emotions are same everywhere and that any religion can codify and control only so much.
– Thank you little girl for walking upto my friend in the rail coach and enquiring about her red nail-paint. Trust me, if she had a bottle in her handbag, she would have offered it to you that instant.
– Thank you creepy old man for following us on the train station. You were a reminder, as an independent traveller, I cannot afford to drop my guard completely.
– Thank you young man for giving us lift from train station to the city. I know your appreciation of army's relief work during floods was forced. I know you just wanted to make us feel comfortable. Perhaps next time we will have some real chat and you show me around the Old Town like you promised.
– Thank you Jamil Bhai for the soul warming Kehwa and heart warming chat in the snowed-in alley of Aru. Sadly, we did not find you next morning to say our final byes.
– Thank you everyone who passed on their warm Kangri to comfort us during chilly taxi rides.
– Thank you sir, the owner of Cafe M, for reminding us the beauty of language and giving us a little glimpse into your Sufi soul with this musical gift (https://soundcloud.com/richa-gupta-674633894/kashmiri-sufi-music#t=6:50)
Richa Gupta is based in Mumbai, is an avid traveller and also passionate about writing and encouraging responsible and alternative travel ideas. After having worked in the  fashion industry for over six years,  she decided to quit and started with a little not-for-profit initiative to help people with  travels which not only help support local culture, economy and environment but also offer life changing experiences. Her work and blog can be found at http://travels-and-stories.blogspot.in