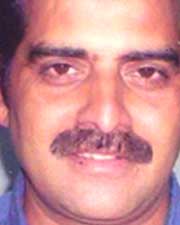 Pradeep Vaidya  is a committed theatre practitioner and has been been working in theatre for over twenty years as a writer, director, music composer, singer, light designer, theatre trainer, theatre manager.  He has, to his credit a META each for Best Light Design in 2007, 2011 and 2016 besides several nominations in other categories. Other prestigious awards for his work in theatre include MIFTA (2012), Zee Gaurav (2008, 2013, 2014) Tanveer Natyadharmi Puraskar (2012) et al. His organisation Expression Lab has been nurturing the theatre eco-system in Pune for years. Pradeep  also  works   with   the   Pune Based   Aasakta   Kalamanch  that   has steadily   risen   to   be   one   of   the   foremost   contemporary   theatre   groups   in   the country.
Here is a candid chat with the man of many parts.
 How does a light designer fit into these many roles? Of directing and adapting and translating plays as well?
Pradeep Vaiddya: My work as a director need not surprise you. I have been directing plays and my plays have been nominated from time to time.  The Marathi play Shillak that  I directed a few years back bagged 11 nominations at META. Price Tag another two act play that I directed a few years back toured US.
The fact is that I am not just a light designer though I might just be a little bit better as a light designer! I have been writing, adapting and directing plays and doing lights and singing and organizing events. If you remember, in the first year of Nattyasattak, a collaborative festival, I was one of the founders.
Your two act play Kajvyancha Gaon had a huge team.  How many members were there on stage?
Well, every play needs what it needs. Plus I have a huge manpower ever ready to work with me. Expression Lab alumni, my interns, my friends from various theatre groups…so when the work needs to be resource rich (in this way) it's never difficult.
However, one needs a lot of scheduling, accommodation and understanding while dealing with  a large team. It gives me better perspective of human beings. I love to study that. When you are working with new people, your basics, fundamentals are challenged from time to time. That way you learn everything every time. I chose the script because it talks about interpersonal relationships, empathy and compassion. I always feel that we need to look at these things repeatedly.
Does emoting come naturally to theatre actors?
I feel nothing is natural to the artist when it comes to acting. Actors have to earn their performances painstakingly with the help of directors.
Tell us why people travelling to Pune should come to Bharat Natya Mandir and watch theatre?
Bharat Natya Mandir holds a legacy. It is one of the historical venues of good theatre. Every month, some activity or another keeps happening here that is worth a visit. In addition, Bharat Natya Mandir offers an intimate theatre experience that needs to be savoured.
**
Deepak Sinha blogs at www.rasaaurdrama.com