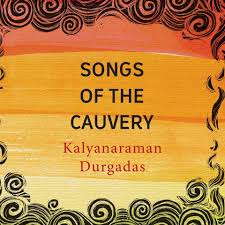 Songs of the Cauvery by Kalyanaraman Durgadas is a compelling narrative.This is how M R Venkatesh describes it in Deccan Chronicle, "Songs of The Cauvery, penned by Kalyanaraman Durgadas, first novel by an entrepreneur nurtured by both IIT-Madras and IIM-Calcutta, is in many ways an understated narrative, eschewing all hype, of how the microcosm reflects the macrocosm."
Kalyanaraman did most of his schooling in Chennai. He studied Mechanical  engineering at the Indian institute of Technology Chennai. He did  his postgraduate studies in management from the Indian Institute Management, Calcutta.  He also trained to be a playwright under Mahesh Dattani. 'Songs of the Cauvery' is his debut novel.
About the book:
The time: the transition years between the nineteenth and the twentieth centuries.
The space: the fertile delta of the Cauvery.
The backdrop: the early stirrings of a freedom struggle against British colonialism in South India.
Nothing can disturb the serenity of Tiruvaiyaru, South India, until Panju, a brilliant boy from an orthodox family, decides to join the revolutionary freedom movement. His actions affect not only him but those he holds close—his sister Janaki who, breaking age-old tradition, aims to become the first local woman with a college education; his father Sambu who finds himself getting waylaid from his spiritual quest; and the beauteous temple dancer Ranjitham who covets Panju.
As Panju's decisions come with ripple effects, Sambu, Ranjitham and Janaki are compelled to make compromises they had never bargained for. Like the Cauvery—who exhausts herself to a mere trickle to enrich those around her—the characters in the novel much learn the true meaning of sacrifice. With a cast of unforgettable personalities, Songs of the Cauvery is a poignant meditation on grace, virtue and renunciation.