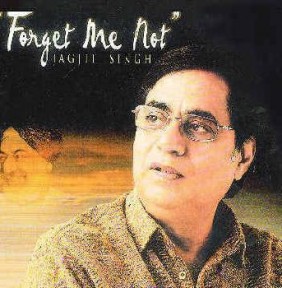 Every lover of ghazal has a Jagjit Singh memory.  My first one is part of my book Perfect Eight and recalls  a cassette my father brought home to play on our first tape recorder. Kal Chaudvani Ki Raat Thi, sang the Sikh who sounded like an Urdu poet and occasionally like a Sufi pir. His was also the voice that introduced me to Ghalib. The reason why till date I can sing Ghalib's signature ghazals like they had been written on my heart and soul and encoded in my being. From him I learnt to sing out  aloud Firaq, Jigar, Josh.
His voice had a certain resonance that was for want of a better word, like a Mausam. The seasons that painted our lives with the colours of spring and autumn, the soul chill of winter and the sunshine of summer and heart- drenching monsoon. When he sang Aah Ko Chahiye Ik Umr Asar Hone Tak, you felt as if a sigh had escaped the night sky.
When he sang, Na Tha Kuch To Khuda Tha, Kuch Na Hota toh Khuda Hota, we wanted to shed our lives like a second skin and feel free again.His was the voice that taught us to long for a certain kaifiyat, a certain mood, a certain kind of love.
When he sang Kabhi Yun Bhi Aa, Meri Ankh Mein ki Meri Nazar Ko Khabar Na Ho,  he was the voice of hijr, of longing.  When he sang, Koi Yeh Kaise Bataye Ki Woh Tanha Kyon Hai, we all  felt alone in the world.
He was the voice of rain and stormy passion when he sang, Apni Ankhon Ke Samandar Mein Utar Jaane De. The voice of endless wait when he sang, Shayad Aa Jayega  Saqi Ko Taras Ab Ke Baras.
When he sang for films, we replayed him like an epiphanic moment and were torn out of the ordinariness of life to experience living in all its fullness. Moments when Tumko Dekha Toh Yeh Khayal Aaya spread like molten sunshine on our senses and Hoton Se Choo Lo Tum was not just a song but a memory that would outlive everything. Even the man who sang it to us.
I cannot imagine a world without Jagjit Singh. Without the hundreds of ghazals still alive in my  25-year-old cassette collection and in my soul. And if am using the words, heart and soul too many times, I do so without making any excuses. Jagjit Singh seeped into the heart and the soul of many generations who needed ghazal to become accessible, tactile, relatable and found in him someone who would pause in the middle of a concert to explain the meaning of dhanak to his audience.
I could not believe the power of serendipity when I found myself at my first Jagjit Singh concert in Bangalore more than 15 years ago and then cried my eyes out because he reminded me with his music of my childhood, my youth, my father who had passed away, the home I had left behind. Of the son Jagjit Singh had lost and had never mourned in public. And then I actually interviewed him and was just a tad disappointed to see that he was just a human being. Not a God. I continued to go to his concerts though where he sang for assorted charitable causes, cracked jokes and pulled up cell-phone junkies mid-concert and played down the fact that he was one of the last surviving revivalists of Urdu poetry. And always and everytime, he kindled wistful smiles and tears.
It is sad that someone who brought so much joy to us all, had to bear so many losses. First his young son. Then his step daughter. Today, with his passing, also passes a certain age of romance, delicacy of thought, manner and sensibility. I can hear him sing, Babul Mora Naihar Chooto Hi Jaye as he makes his way to his new home.
This world seems a bit cold, a bit bereft without him but what he has left behind is a legacy of moonlit nights and true love. And it is just a rewind button away.
Phir Ussi Rah Guzar Par Shayad..Hum Kabhi Mil Sakein Magar Shayad..
Reema Moudgil is the author of  Perfect Eight (http://www.flipkart.com/b/books/perfect-eight-reema-moudgil-book-9380032870?affid=unboxedwri )