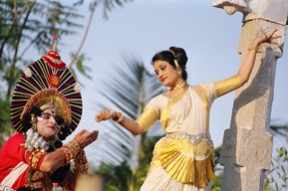 In 1995, I met Bangalore-based danseuse Rashme Hedge Gopi on a routine assignment that turned out be not so routine after all. She was a leading  exponent of Bharatnatyam and for years had travelled to France, Germany, UK, Africa and USA, the erstwhile USSR , performing and representing India at prestigious international festivals. And then just like that, she decided to raise her children full-time. But the need for self-expression could not be denied, nor could the growing awareness that  though, India needed cultural ambassadors like her abroad, it also needed artists like her to champion home spun aesthetics, fading art forms and more, right at home.
She was also deeply influenced by her father Shankar Hegde who was a philanthropist and  industrialist and had patronised the arts consistently.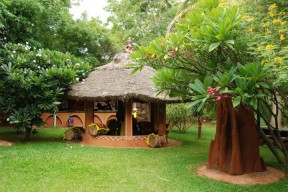 So I found myself  spending a day at Rudraksha, an old, neglected family farm house that Rashme had redesigned into a cultural hub for Bangalore where tourists and expats came to experience rural Karnataka and were charmed by folk and classical arts and music, coastal food and visual aesthetics that included an open stage, a canopied, partially open auditorium, walkways detailed with sculpture and green spaces lush with flowers and coconut trees. At Rudraksha, I spent one of the most  memorable evenings of my life when a group of peace activists from Pakistan came dancing along with tribal percussion artists and then watched mesmerised as Rashme gave an Mohini  Attam performance. The evening ended  with them doing Bhangra next to Yakshagana artists.
A few years later, I walked with Rashme across a weed infested, almost arid piece of land that her family owned and heard her outline another dream. This time,a bigger one of using this space to create a home for all  forms of arts and crafts, of creating amphitheatres, performance spaces, art galleries, flowering grounds green with love and a lot more.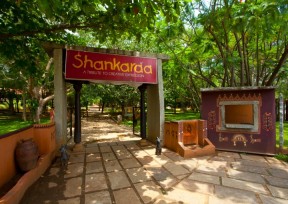 In 2002, Rashme realised that dream when Shankaraa Foundation opened its gates to everyone who loves the arts and wants to experience, learn or teach them. The grounds of Shankaraa speak of years of careful and passionate planning. There are traditional and contemporary sculptures, trees shedding flowers, scented bushes, wild grasses, wall murals,  two amphitheatres, a cafe theatre, a dance museum, beautiful kiosks for craft  fairs and a lot more.  Here, in this space, I have seen Zakir Husain and Birju Maharaj  perform, Rashme choreographing over 200 underprivileged children to present a sumptuous  dance drama, bustling craft melas and much more.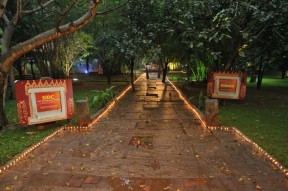 Shankaraa Foundation, in a way is a legacy of thought and creativity, Rashme wanted to leave for her children and for a young India looking to connect with something that is not defined by religion but something indefinable. That indefinable at Shankaraa Foundation is a feeling of inclusion, sharing, a pride that comes from doing things, not owning them and tradition that is not about rigidity but celebrating the best within us. For Rashme, to borrow her words, "Shankaraa is a sacrosanct space where culture in all its manifestations, classical and folk forms in all their purity can exist and thrive. It is an artistic reference point, a cultural nerve-centre for the future."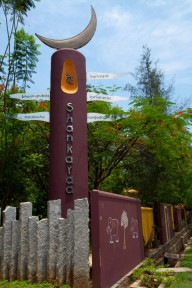 Shankaraa also offers diploma courses in congruence with IGNOU (Indira Gandhi Open University) in various art disciplines. Underprivileged women are trained in life skills and children are initiated by leading artists into the best of arts and crafts via creative workshops and camps.What is however staggering is just how quietly, persistently Rashme has worked to achieve all this while battling immense odds including corruption and land sharks over the years. She has won a Rajyutsava award and many other plaudits but she has never  courted the press.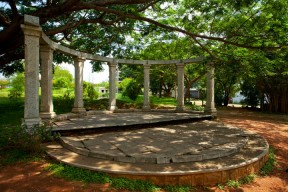 This year, starting from October 1 to October 6, Shankaraa is hosting Soma, a resplendent festival of arts (check the details on our home page) which encompasses theatre, dance, music, ethnic cuisines and more. She hopes to make this a regular annual event and to keep Shankaraa buzzing as a place where families and people from all economic backgrounds can come and savour an India fast disappearing from India.
Rashme's dream is that Shankaraa will enrich, uplift and  inspire all those who step through its gates to experience it. Head for Shankaraa this festive season and rediscover the joy of connecting with your roots.
To know more, join their Facebook page https://www.facebook.com/shankaraa.foundation

visit http://www.shankaraafoundation.com/
Reema Moudgil is the author of  Perfect Eight (http://www.flipkart.com/b/books/perfect-eight-reema-moudgil-book-9380032870?affid=unboxedwri )