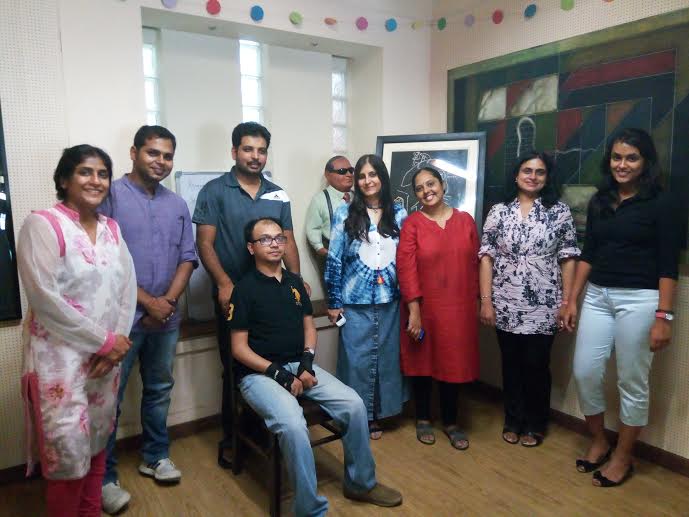 There are many ways to think about writing. And only one way to unthink the jargon. By just writing. And then writing some more. If you were to ask writers who have been published a lot just what they have learnt about writing, they will possibly give you different answers or a response that is unique to their craft and yet there will be one fact common to every working writer's life.
They, almost always, write everyday.
**
Their interest in reading goes beyond the stories other writers tell and it becomes a trigger  instead to think and write and construct their own material in fresh new ways. If you are a working writer, reading becomes about leaving a room you are familiar with and going to other rooms where more doors and windows are open, toys, baubles and pieces of furniture you recognise are arranged differently and there is even stuff that is new. The clock is hung upside down. The window opens to the sky. Perhaps the walls disappear when you touch them. Maybe the floor is made of water.
**
In the end, writers are no different from anyone else. It is just that they process the raw material of life differently. They look at everything and everyone as "writable." They are always in the moment as they experience it but also beyond it, already looking back at it. They are not just talking to a friend, a foe, a stranger, they are studying body language, voice, gestures, the way the eyes meet you squarely or dart away, the way someone tells you without saying, "Till we meet again or maybe not." Almost nothing escapes a writer and nothing is wasted on her or him and every thing is filed away for future use. Be it silence, noise, completion, lack, pain or joy.
**
I am a writer first and a living, breathing human entity later and in my first writing workshop, I wanted to bring with me, what experiencing the world as a writer feels like rather than "teaching" people how to write because every writer figures that one out. I wanted to tell participants that the desire to write presupposes that you are a writer. Or are going to be. What you do with that desire, how do you refine your voice, sharpen the tools, unblock your imagination is what I can help you with because I have been there and survived that to write through many challenges for over 21 years.
**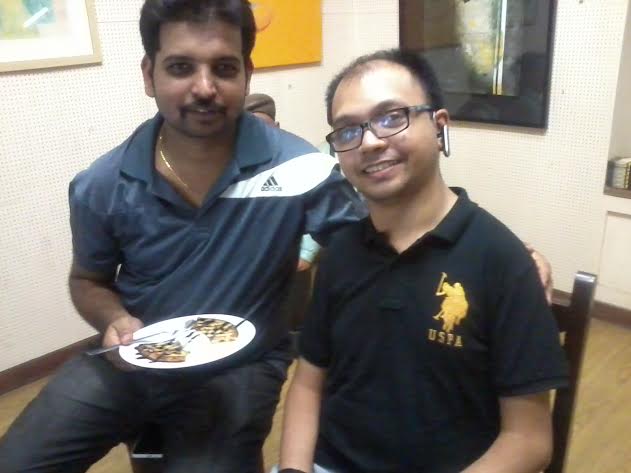 But what I learnt the moment our first participant Ashwin Karthik walked in, is that even when you think you can teach others, life nudges and says, "Don't forget to learn."
On the morning of May 7, when I walked into the beautiful gallery space of Leanin' Tree Art Cafe for the workshop, I was not sure if the experience was going to be worth it. I am not a networker and don't know how to convince people to buy a service like a workshop, considering how much free content Unboxed Writers puts out and has been putting out for five years without being monetised. What if this does not work? What if it does not take off? I felt just a tinge of doubt and self pity and then Ashwin walked in. Sorry, correction.
**
He walked in helped by his best friend Bharath Sharma as he suffers from a severe form of cerebral palsy. But "suffering" is a wrong word here because Ashwin is possibly India's first quadriplegic engineer. This introduction basically cannot begin to sum up his story and I will post an interview with him and Bharath soon because the story of one is not complete without the other. But what I learnt as he spoke and shared his struggles and triumphs and his aspirations and dreams, was just how meaningless my fears were and how much I was romanticising the odds, when a man who could not walk or even eat on his own had come to my workshop on a weekend to show me how to live with joy and purpose and gratitude and positivity.
**
Such cliches these but so hard to live by when you have everything except faith in what you have to offer to the world and what the world has to offer you. So I believe now that I can offer something. And with or without networking, I will find those who need it and most importantly those who can offer me in turn, something I need to see, imbibe and learn too.
**
And so during the workshop, outside the structure of a formal module, conversation flowed about what life could teach a writer, how dreams can sometimes answer life questions and even birth poems, book titles and stories of Oscar winning films! How good writing also meant respecting your work enough to not make sloppy editing mistakes and what drives a writer to be a craftsman like Amitav Gosh or a bestseller churner like… well, never mind. In the end, as I walked out of the workshop with an aching throat and a full heart, I knew what I was taking away with me was a warm glow around my heart and the joy that surges through your unused wings when you are learning to spread them.
**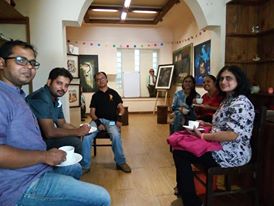 I also want to extend a sincere thanks to Leena Chethan who threw open her gallery space and kept sending us cups of tea, cookies, cool drinks and steaming plates of excellent pasta, cheese toast, fries, salad and dessert with endless warmth and generosity.
**
And Savitha Karthik, who is one of the best editing minds I have ever worked with and brought with her, no-nonsense smarts, clarity and watertight editing tips for her hour long module.
**
I want to also thank every one who attended, especially Sagar Parida and Jayashree Hegde. And ofcourse Ashwin and Bharath.
And none of this would have been possible without Vani Bahl who is not just our design editor and co-founder but also took time off from architecture, farming and a full life in Sunnyvale to design the poster art and picture collage for the workshop.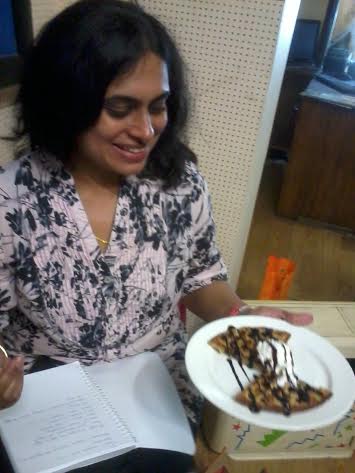 So well, the first workshop flowed along beautifully in an atmosphere of great synergy and now, we are ready to do more. If you think you have a corporate space full of folks who want to learn how to begin a life in creative writing, if you want us to come to schools, or colleges for workshops or just want us to design a specific workshop module for a certain group, write to me at reemamoudgil@gmail.com
Some testimonials we got from the participants:
Jayashree Hegde: "Unboxed Writers is a very good platform for budding writers who have begun their journey as novelists or authors. The workshop conducted by Reema Moudgil and Savitha Karthik was very motivating and insightful. Way-to-go Unboxed Writers, and keep inspiring."
**
Sagar Parida: "It was a fantastic learning experience at the Unboxed Writers' creative writing workshop conducted by Reema and Savitha. They push you to think and write fearlessly. What I also liked was the bit of getting inspired from your surroundings, and using the finer details to add that extra bit of charm to the story. Thank you so much. Special thanks to Leena from Leanin Tree Art Cafe for the wonderful hospitality."
**
Ashwin: I am Ashwin Karthik, an aspiring writer. I have always dreamt of becoming a story teller. Hence I was seeking someone, who could guide me through the nuances of writing. The workshop I attended conducted by Reema and Savitha, was the first of its kind for me. I being a person with disability was a little skeptical, about how I would be accepted by the group in the workshop. But Reema and others in the group made me feel very comfortable. They were very patient in hearing me out and clarifying my doubts and apprehensions. She said many good things, but here is my take.
I believe we need to trust in ourselves to succeed in our endeavours. That is exactly what Reema emphasized on, when she said "There is a writer in every one of us. We just need to let go of our self-doubt and let our subconscious take control when we write."
"It is so easy to quit, just because of one negative review about our writing. We tend to forget what 10 people liked about our work and remember that one negative remark. That is why most people give up writing."
One more thing that was made clear was the importance of discipline. Even the best of talent will not taste success if the talent and inspiration are not coupled with discipline. Hence I would express my heart felt gratitude to Reema, Savitha and Leena (owner of the café), for making the experience of the workshop extremely fruitful.
Reema Moudgil is the editor and co-founder of Unboxed Writers, the author of Perfect Eight, the editor of  Chicken Soup for the Soul-Indian Women, a  translator who recently interpreted  Dominican poet Josefina Baez's book Comrade Bliss Ain't Playing in Hindi, an  RJ  and an artist who has exhibited her work in India and the US and is now retailing some of her art at http://paintcollar.com/reema. She won an award for her writing/book from the Public Relations Council of India in association with Bangalore University, has written for a host of national and international magazines since 1994 on cinema, theatre, music, art, architecture and more. She hopes to travel more and to grow more dimensions as a person. And to be restful, and alive in equal measure.