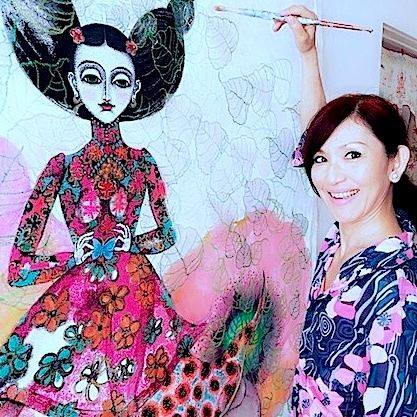 In a world where hate is normalised through conversations, social media exchanges, images, sound bytes, war is a constant news ticker and pain has lost its pungency because it is so pervasive, how do we stay hopeful? By not just noticing beauty, but creating it. By focusing on light. And colour. For Japanese American artist Rima Fujita, this steadfast focus on the infinitesimal moments of serenity and joy invisible to us is a calling that literally called to her in a dream. And that is perhaps why her art has the quality of a dream slowly unfurling into wakefulness. This is a story that has often been told. Of how this Parson School Of Design graduate was mulling fame and fortune when a voice in a particularly lucid dream told her, "You must help Tibet."
**
This was when Rima was not even aware of how the disenfranchised and the oppressed Tibetans were seeking to engage the world's attention in vain. Since then, the fact that she has managed to keep the Tibetan story of pain and persecution alive in her work is remarkable enough but what is even more incredible is just how she has done it.  Sans bitterness, anger or toxic negativity. She has done it by painting the world not as it is. But how it can be. Pristine. Incandescent. Infused with colours too bright to be comprehensible to us, blooming as I remember writing once, in the secret gardens of the soul where fairies and transcendent humans and animals co-exist in unthreatened innocence. Her art, I remember thinking, is not just skill but a feeling.
**
This deep desire to connect everything and everyone through her art is organic because as a bridge between two cultures, she has experienced isolation as a Japanese teenager in New York and also assimilation as a global ambassador of peace, sanity and beauty.
**
That she was guided to this space is obvious to anyone familiar with her journey. They will know how one day in 1993, feeling unwell and exhausted, she landed at JFK after a long flight from Tokyo, and realised she had no money. And was helped by a woman who appeared before her, gave her a few dollars and said, "I know that you need it."  The dollars were exactly the amount, Rima needed to get home. And how, later at a book shop in SoHo, a book about serendipity fell at her feet. Everything she has painted since then is dedicated to the magic that the universe brings to us if we trust it and ourselves enough.
**
Since then she has also established Books for Children, an organization that has donated over 12,000 books to 83 Tibetan refugee schools in India, Nepal and Bhutan. All proceeds benefit the Tibetan refugee children's education, and she donates her royalties as well. It is important to retell these stories to contextualise her art and her impulses as an artist.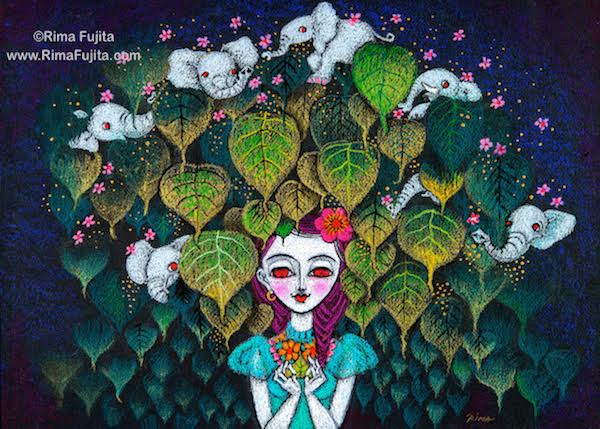 **
Her work is a summary of all that stirs and inspires her. Eastern symbolism, mythology, spiritual texts, dreams, Buddhist motifs, the explosive colour palette of Indian seasons, poetry and travel across continents. Whether she is co-hosting a Peace Summit in the US with the Dalai Lama, Desmond Tutu and Betty Williams, or painting the various forms of Buddha or the Ganesha or sketching Gandhi or reading the Guide to the Bodisattva's Way of Life, the Bhagavad Gita or the Dhammapada or studying Bushido (The Way of the Warriors) or drawing from the monastic discipline of the Samurais who were also her ancestors, Rima is a true example of a global citizen whose work cannot be contained within boxes of identity and race and religion and nationality.
**
In her home, which is an eclectic treasure-trove of Buddhist, Indian and global influences, many patterns and cultural references run free and intermingle. And art is not an end in itself. It pays for the work she does for orphanages and Tibetan refugee camps and though the media is usually more interested in her collaborative projects of peace with the Dalai Lama and movie star Richard Gere, she learns from the mindfulness and resilience of every living being. And to make a difference in every way possible to make this world a bit more compassionate and inhabitable.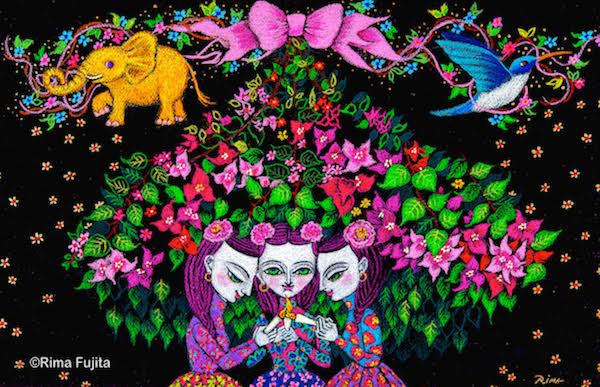 **
Her latest exhibition, 'Pilgrimage- Journey of the Souls' will be on from October 26 to November 1 at Isetan Art Gallery, Shinjuku, Tokyo, Japan and the 30 paintings will not just negotiate zones familiar to her but also break new ground with textured, vivid impressions from a recent Buddhist pilgrimage she was too unsure to attempt earlier.
**
She shares, "I had always wanted to go on the holy Buddhist pilgrimage for many years, but it did not happen because no one wanted to go with me. Why? It is just not an easy journey, period. Many Buddhists explore the four major Buddhist sites but I wanted to go to all the eight."
**
It was when Michelin star decorated French chef, author and television personality Eric Ripert who also happens to be her close friend invited her to go with him that she finally got to live her dream. She laughs, "Another friend, also a star chef joined us, and then two large and strong French chefs and a petite Japanese artist  went on the 10-day journey to visit all the major eight holy sites. Yes, it was crazy. Who but the crazy would go to those eight sites in 10 days? Only people like us. Most Westerners cannot take more than 10 days off from work but for us, it was Now or Never. So we went. There is too much to say about this journey, and I do not know where to begin."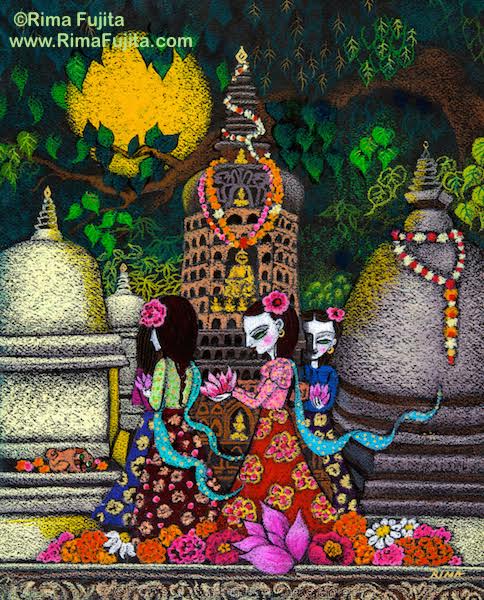 **
And as always the inexplicable and the serendipitous had its way with her.  And she says, "I had several extraordinary experiences that science cannot explain. They were literally like magic had been conjured out of thin air and if I share the stories most people probably would laugh at me. Yet, there were real and really happened. In every holy site, I had magical experiences and the aura or energy or atmosphere was very gentle, warm and sweet. Yet, I never talked about it with the French chefs because I thought it was something personal. One day during lunch, one of them said the same thing, underscoring the inevitability of magic."
**
One of the most unforgettable memories was Lumbini where Mayadevi, the mother of Siddhartha supposedly gave birth to him under a beautiful Sal tree. She recalls, "I found one gorgeous Sal tree, meditated under its shade for over an hour. It was a sunny day and very quiet around. When I opened my eyes and looked up,  I noticed a long branch laden with flowers. I got up and touched it and remembered how a similar branch had reached out to Mayadevi so she could hold on it while giving birth. As soon as I thought of this, a very strong wind blew and the branch reached out to me as if to replay that moment. It hadn't been a windy day at all so it was truly magical." And perhaps she knew then that a birth was imminent. This time of a creative expression.
**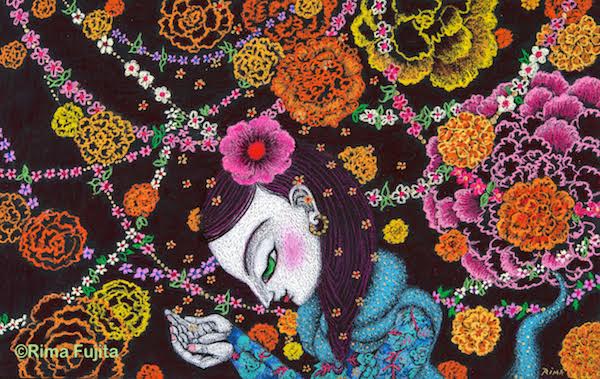 **
This fact was underscored when in Bodhgaya, where Buddha attained enlightenment, one of her dear teachers (a Tibetan Buddhist monk) showed up even though he usually lives in Dharamsala. She recounts, "When we were doing the kora (walking prayer and meditation) together, he told me, 'Rima, there are countless people who cannot come here even though 
they want to. So you must share your experience. 
"
**
This was the seed of 'Pilgrimage' and she says each painting communicates the messages of love, peace, compassion and humility that she lived and experienced at these holy sites. In this series, you can almost smell the fragrance of flowers as they fall on the senses in a shower, hear the whisper of lotus blooms, the quiet but overwhelming joy of connection with a fifth dimension, the expansion of the spirit and its sublimation into the ethereal. Peace is a panacea we all need in these conflicted, divisive times and the paintings remind us that it is possible to not just find peace but to be peace.
**
Reema Moudgil is the editor and co-founder of Unboxed Writers, the author of Perfect Eight, the editor of  Chicken Soup for the Soul-Indian Women, a  translator who recently interpreted  Dominican poet Josefina Baez's book Comrade Bliss Ain't Playing in Hindi, an  RJ  and an artist who has exhibited her work in India and the US and is now retailing some of her art at http://paintcollar.com/reema. She won an award for her writing/book from the Public Relations Council of India in association with Bangalore University, has written for a host of national and international magazines since 1994 on cinema, theatre, music, art, architecture and more. She hopes to travel more and to grow more dimensions as a person. And to be restful, and alive in equal measure.