These recipes were handed down to me by local families with whom I have had an opportunity to stay during my travels. While some were sincerely noted down on a paper, some were mere observations. And before these papers and memories crumble, here are some recipes for you to try. All these recipes were shared with me by
Raquel Amaral
 from 
Aldona, Goa
.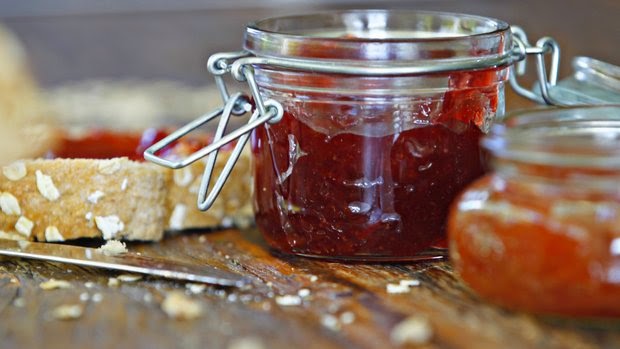 FRESH FRUIT JAM (without any added chemicals & preservatives)
Ingredients:
Fresh fruits and sugar
Method:
– Pick whichever fruit you like. Banana, mango, strawberry, grapes, guava, chikoo- anything. If you like, you may also mix few fruits together to get mixed flavours.
– Put the chosen fruit into a grinder and grind it into a pulp.
– Transfer the pulp into a thick based saucer and add equal amount of sugar into it.
– Now light the fire and cook the fruit and sugar together over low flame, constantly stirring. Cook it till the time it reaches desired consistency (Takes about 20 minutes). A simple test is to take a spoon and scoop out some jam on it, turn it over, the jam should not fall. You can stop when you think you have got what you wanted. Like, I stopped just before it would become too difficult to spread. Let it cool down before popping it into the fridge.
Tip: 
– I personally felt sugar in equal quantity as fruit pulp was a bit too much, so instead of 1:1 , you might want to try 1: 0.75 [ 1 being fruit pulp].
– You may also consider leaving some fruit chunks in the fruit pulp for some lovely texture.
– Please store this jam/preservative in refrigerator, when not indulging in it, as it does not contain any of those harmful chemicals and preservatives to keep it going forever.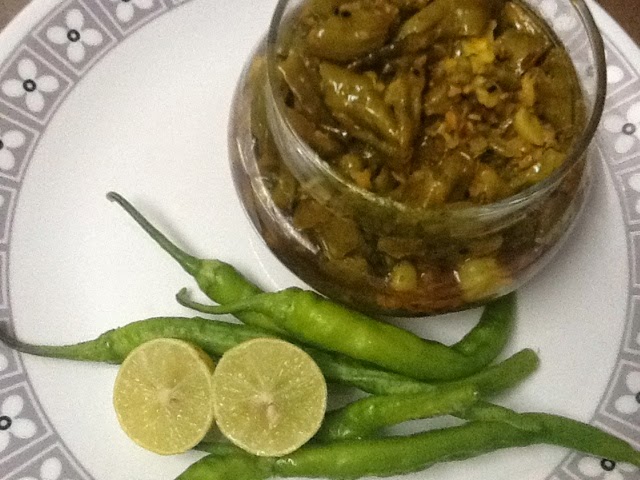 GREEN CHILLI PICKLE (No sun drying required)

Ingredients:
250 gms hot green chillies
2 tsp salt
6 tbsp vinegar (Goan vinegar preferably)
125 ml vegetable oil
2 tsps cumin seeds
2 tbsp ginger-garlic paste
1/2 tsp red chilli powder
1/4 tsp turmeric powder
1 tbsp tamarind
2 tsp mustard seeds
1/4 tsp asafoetida
1/4 tsp fenugreek seeds
2 tbsp sugar
Method: 
– Wash and wipe dry chillies. Remove stems and slit them slightly.
– Apply salt to the chillies and leave them as is while you prepare the rest of spices.
– Crush tamarind in vinegar and add the pulp to the chillies.
– Heat oil, put cumin seeds & mustard seeds followed by rest of the ingredients one after the other. Then add the chillies and cook over low flame for 10 minutes. Add salt and sugar if necessary.
– Cool down and bottle
Tip:
You may consider doubling the quantity of ginger garlic paste for that robust gingery-garlicky flavour.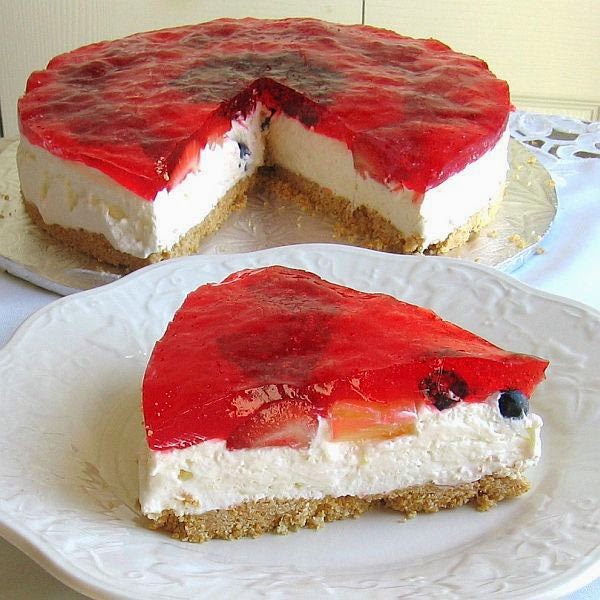 NO-BAKE CHEESE CAKE
Ingredients:
400 gms paneer
1 pkt nutrichoice 4 grain or Marie biscuits
1 pkt jelly of a flavour of your choice
1/2 can or 200 gms condensed milk
1 1/2 box Amul cream cheese
1 cup whipping cream
2 tbsp butter at room temperature
Method:
– Take the biscuits and grind in a mixer along with 2 tbs butter at room temperature.
– Take the  mixture out and spread it evenly on the base serving pan. Press slightly with the back of spoon  to make it dense and compact. The layer can be as thick as you would like it to be. Ideally 1 cm or slightly less is okay.
– Put the pan in the fridge for the base to set.
– Grind paneer in a grinder to form small ganules. Mix Amul cream cheese into it and mix both together.
– Prepare your jelly on the side as per instructions on the packet (however use only half water than recommended on the box).
– Once the jelly mix is ready, slowly pour it into cream cheese and paneer mixture while constantly mixing it.
– Then add condensed milk into the mixture and constantly keep mixing it.
– Keep whipped cream ready on the side and slowly fold it into the mixture manually. If you use mixer/whipper at this stage, the whipped cream may split.
– Let the mixture rest for couple of minutes before pouring it into serving pan resting in the fridge.
– Spread it out evenly.
– You may top the cheese cake with fresh fruit slices, some jelly (however there is a trick to it, otherwise hot jelly mixture will create a hole through the cake and seep down), chocolate chips/ flakes- whatever you like.
– Rest the cake in the fridge for at least 3-4 hours before serving. However, 12 hours will be just perfect.
Tip:
Jelly is for those who are unable find gelatin easily. However if using gelatin, add the flavour in the mixture only after mixing gelatin not before.
Richa Gupta is based in Mumbai, is an avid traveller and also passionate about writing and encouraging responsible and alternative travel ideas. After having worked in the  fashion industry for over six years,  she decided to quit and started with a little not-for-profit initiative to help people with  travels which not only help support local culture, economy and environment but also offer life changing experiences. Her work and blog can be found at http://travels-and-stories.blogspot.in