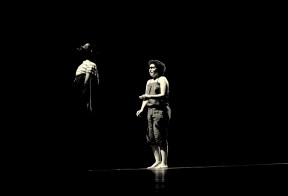 UNSELFED
After an impressive opening run in Pondicherry at Adishaki and in Chennai at Spaces and the Alliance Francaise, Unselfed travels to Bangalore. Unselfed is a new devised performance piece which explores subjective ideas and propositions of parallel/multiple selves.  What if you met another you – a living, breathing other you? Would you have a conversation with her, or run in the opposite direction? Or, what if you found, lying in a corner of your house, your own body – without the breath of life? What would an encounter like that do to your 'sense of self'? Is reality on this side of the mirror, or over there, on the other side? Drawing from these ideas, the director and the group of performers worked together over a prolonged period to create a performance based on experiences of being un-selfed.
Abandoning conventional linear narratives, the work invites the viewer to journey into an evocative landscape of non-stories told through visual and physical segments. The piece has been developed through a collaboration between contemporary dancers and theatre performers.
 Details of shows
Name: UNSELFED
Language: English
17th and 18th November 2012  at Ranga Shankara. 7:30 on both days and matinee on Sunday(18th) at 3.30PM
Produced by:  The Company Theatre and Shapeshift Collective, Mumbai
Play: UNSELFED
Directed by : Sujay Saple
Cast and Crew:
Chandana Sarma
Bhumika Arora
Scherazade Kaikobad
Avantika Bahl
Anaka Kaundinya
Directed by: Sujay Saple.
Produced by: The Company Theatre in association with ShapeShift Collective
Watch trailer: http://www.youtube.com/watch?v=Usg9L9YN088
ABOUT THE DIRECTOR:
Sujay Saple has worked in the theatre for over a decade in various capacities – as a performer, as an assistant director, workshop conductor and as a lighting designer. He started his career with The Company Theatre and Atul Kumar, and he has also worked on various projects with directors like Rajat Kapoor and Rehaan Engineer, amongst others. Sujay won the best lighting designer award at the Mahindra Excellence in Theatre Awards in 2008. He  has also trained with Adil Hussain in Hampi, Karnataka. He makes his solo directorial debut with 'Unselfed'.
The Company: 
The Company Theatre is one of India's best known theatre companies. Besides creating experimental works, TCT has established an international workspace for theatre research and production in rural Maharashtra, their  recent works inlcude Hamlet The Clown Prince,  Nothing Like Lear and  Piya Behrupiya(Twelfth Night) commissioned by Globe Theatre as part of the Cultural Olympiad in London. Unselfed is The Company Theatre's most recent production.