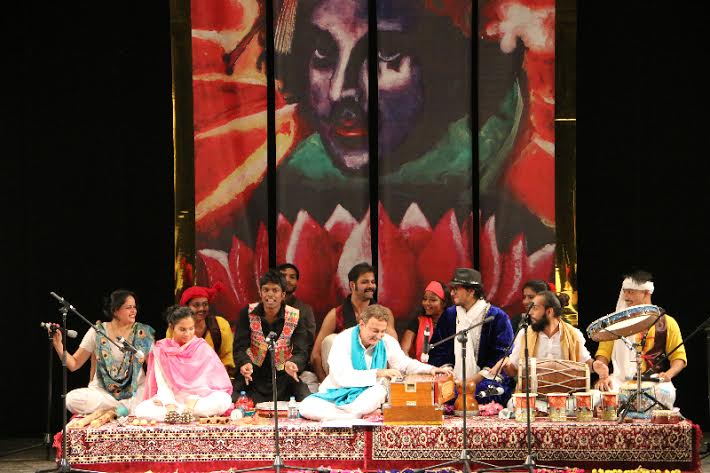 What happens when Twelfth Night by William Shakespeare is translated as Piyaa Behrupiyaa in Hindi by Amitosh Nagpal? Magic.
Directed by Atul Kumar, this acclaimed play now comes to Bengaluru.
Synopsis
In the household of Olivia, two campaigns are being quietly waged – one by the lovesick lord Orsino against the heart of the indifferent Olivia; the other by an alliance of servants and hangers-on against the high-handedness of her steward, the pompous Malvolio. When Orsino engages the cross-dressed Viola to plead with Olivia on his behalf, a bittersweet chain of events follows. Filled with a cast of unforgettable characters, Twelfth Night combines cruelty with high comedy and the pangs of unrequited love with some of the subtlest poetry and most exquisite songs Shakespeare
ever wrote.
About the director:
Atul Kumar, as the Artistic Director of The Company Theatre, has been involved in the art and pursuit of serious theatre for over two decades now. His education in French Language & Literature at JNU, Delhi was followed by a prolonged basic training in Kathakali and Kalaripayattu in Kerala for over three years as well as a stint with the master of visual theatre- Philippe Genty in France. Atul Kumar has also worked with Sacramento Theatre Company in the USA. He founded The Company Theatre in 1993 and has directed several
experimental plays that have won wide acclaim in India and abroad.
Under the aegis of The Company Theatre, Atul Kumar has been instrumental in organising national as well as international theatre festivals and other theatre related events like workshops, seminars, conferences and international exchanges.
Atul Kumar has also been involved fleetingly in several television projects besides live events and film assignments, which have often helped fund the theatre projects of the company. His vocation however has only been the pursuit of Theatre.
About The Company Theatre- The Company Theatre (TCT) since 1993 continues to work with the singular commitment to Theatre. A non-profit registered organization TCT is a theatre ensemble of professional and amateur artists working through repertory performances and professional training. Led by Atul Kumar, TCT seeks to explore interdisciplinary art forms and develop diverse artist and audience
communities from all over the world.
TCT conducts nation-wide theatre workshops that involve maximum representation of participants from all backgrounds. The workshops are open to students, corporates, artists and academics. Apart from organizing national & international theatre festivals, TCT has also performed extensively in festivals around the world. TCT started "Theatre at Home" in the year 2000, whereby theatre was taken into people's drawing rooms, terraces, backyards and other alternative spaces.
TCT has also organized various seminars and conferences on theatre related issues. The Company Theatre presently boasts of an International Residency for Theatre Research & Training in the country-side of Maharashtra where artists from all over the world are invited to live together and do process work and creating new language in the field of performing arts.
More about The Company Theatre at:
 www.thecompanytheatre.net
 http://www.facebook.com/AtulKumar.TheCompanyTheatre
Details:
Duration: 120 minutes with interval
Schedule:
22nd April- 7:30 pm, 23rd and 24th April- 3:30pm and 7:30pm at Ranga Shankara, Bangalore.
Tickets: www.bookmyshow.com
Also at Ranga Shankara box office on the day of the show
Cast & Credit:
TITAS DUTTA as Viola
POOJA GUPTA as Clown
ANAMIKA as Olivia
DHWANI VIJ as Maria
SUDHEER RIKHARI as Orsino
BHASKAR BORUAH as Sebastian
GIRISH SHARMA as uncle Toby
NEHPAL GAUTAM as Malvolio
RAUNAK KHAN as Andrew Agucheek
Direction- ATUL KUMAR
Percussion- MANISH KUMAR
Harmonium- ZAKI ANWAR
Side Percussion- MOUMITA RAY
Costumes- RACHEL D'SOUZA
Production- PRIYANSHI BAHADUR
Administration- SACHIN KAMANI
Lights- SUJAY SAPLE