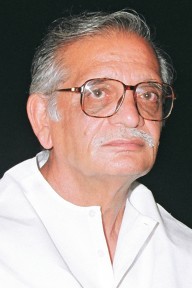 Never meet Gulzar during lunch time, especially when it hasn't been served yet. When he is hungry, he gets into a foul mood, refuses to answer in more than monosyllables and makes mocking comments like "I am busy arranging marriages" when asked what keeps him occupied these days. What we have said to upset him – not that we expected him to break into impromptu poetry for the benefit of the invited media – is a mystery yet, but here is a piece of advice. When a journalist wants to interview India's most googled lyricist and poet the next time, she should never ask him about how he copes with the pressures of multi-tasking, even if it is in the context of the "new" work he is in the city to promote.
In this case, it is a book of poems in English, a language whose finer nuances Gulzar claims being unfamiliar with, that he has translated into Hindustani and is being released. We decide to persist. After all, working on a newcomer's poems must have been far simpler compared to the complexity in Rabindranath Tagore's two poems he has recently translated for Subhash Ghai's upcoming film Kashmakash. He snaps again: "When you know everything, why do you ask?"
Theatre? Maybe that will loosen him up? And the subject is so "close" to his heart, as he has been quoted saying when the three-day theatre festival of plays based on his poems and short stories was staged in Delhi just last week. In each of three plays, which have supposedly not been read by many people according to festival director Salim Arif, Gulzar narrates both personal and shared experiences – whether it is about Partition of which he himself is a witness, or about life in Mumbai, the city that changed Sampooran Singh Kalra, a car mechanic into Gulzar, the Oscar winning lyricist.
Convinced this was a move in the right direction, a friend chimes in to ask about his recent experience of seeing his writings being performed on Delhi stage. "So what's new with that? I've been coming to Delhi very often," he dismisses this one as well.  We try hard but can't recall the last time a Gulzar work was staged in Delhi before this. The media wasn't invited, perhaps? We should have surfed better, we all agree.
We are then told to ask something else. What about his smooth transition to new-age lyrics like Dhan Te Nan (Kaminey) and O Mama (7 Khoon Maaf)? No, talking about his five-decade long journey that has won him innumerable awards and given us jewels like Mora Gora Ang Ley Le, Humne Dekhi Hai In Aankhon Ki Mehakti Khusbhoo, Do Deewane Shehar Mein, Hazaar Rahein Mud Ke Dekhi, Mera Kuch Saaman, among others, doesn't cut much ice either.
 By now, we have been ushered into a room where, once the introductions are made, the author is slated to read out the original poetry in English followed by Gulzar's rendition of the same in Hindustani. And here we see the man whose mastery over language can alter even an average piece of writing into a ghazal.  As he reads out his Hindustani translations, the applause is not so much for the poems on homelessness and loneliness, but for the trademark baritone that pauses at the right spots, hums even a free verse and literally sings out each poem.
And when the author Sukrita, whose book Poems Come Home we must mention  for providing us with at least a glimpse of the man we admire, confesses that her only fear during the collaboration was that the wordsmith's translation would completely overshadow the original in English, she is not too far off the mark.
That brings us back to the shayar whose fan following, ranging from a beaming 70-year-old to an awe-struck teenager, is amply evident at the post-event book-signing spree. As we leave, with mixed feelings about what we have experienced, one can't help but recall Gulzar's dialogue from the movie Aandhi that the wife directs at her husband.
"Tum shayar nahin hotey, toh bahut hi ordinary aadmi hote"
(Had you not been a poet, you would have been a very ordinary man"
Don't mind Gulzar saheb. It's the Delhi heat that has spoilt our mood.