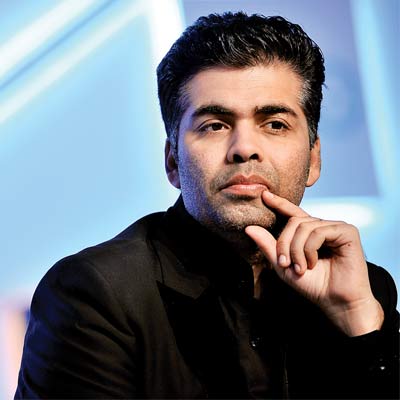 How easy it is to judge folks whose shoes we have not walked in. The largely lonely battle Karan Johar fought to save his film from hyper nationalist bullies and his desperate video which I could not bring myself to watch, the patriotism tax of Rs five crore and the backlash that followed did not discredit him as much as it did us.
**
And showed us up for just who we are. A nation of opinionated bystanders, largely unwilling to stick their necks out for anyone. Be it RTI activist Bhupendra Vira who was shot dead on October 16, 2016 at his residence in Kalina, Santa Cruz East. Or Najeeb Ahmed, a JNU student who went missing without a trace after an altercation with ABVP activists. Or J.R. Philemon, the Ph.D student who was found dead in his JNU hostel room this Tuesday.  Or the activists in Bastar who are routinely targetted and whose effigies were burnt recently by the police. Or the victims of mass pellet blindings and prolonged curfew in Kashmir. Or Chandu Babulal Chauhan, our soldier who went missing after the recent surgical strikes and was even branded by a journalist as a 'deserter.' Or the wheel-chair bound writer and activist, Salil Chaturvedi, who was assaulted while the national anthem was being played before the screening of a film in a multiplex in Panaji because he could not stand up.
**
What happened to Karan Johar was not just about a film. Or business. Or the 'unimportant' matter of artistic freedom to cast an actor regardless of his or her nationality. It was about what we are becoming slowly and imperceptibly. A country that can be divided and polarised under any pretext. A country that thinks that nationalist tokenism is more important than human life or dignity. Not our life or dignity, of course. Or our business. Watch how the majority of the Hindi film industry stayed quiet while Karan Johar was being pinned to a wall for the nation to see. While some like Ajay Devgan and Akshay Kumar made noises about the country being above all, especially the fate of a film (Because of course it was not their film at stake), only a few like Mahesh Bhatt and Anurag Kashyap dared to question the politics behind Johar's persecution and faced a barrage of online abuse in the bargain. As did Twinkle Khanna. Abhay Deol also questioned correctly why it was business as usual for other industries while the film industry was being shamed for working with Pakistani artists?
**
Recently Jaya Bachchan slammed her fraternity (in a different context) for putting business above art because of course the Bachchan brand has never been business driven. And of course neither she nor Devgan have ever heard of the Panama papers. Imagine what would have happened if the entire industry had risen together to not just protest against how Johar was being targetted but to also shut down business till politics was kept out of the realm of art. And just how many petitions, street protests or Facebook open letters did we initiate/write to the powers that be to question why in a country where RTI activists, rationalists, writers, students are already facing persecution, the film industry, also perhaps the last bastion of secularism, is now under attack?
**
And look, it really wasn't about the country Vs a film made by Karan Johar with a Pakistani superstar in it. It was about how far can we take the nationalism rhetoric by using our soldiers as a bait to rouse passions and show who really is the boss in the scheme of things. And yes, we learnt who the boss was, didn't we? Not the country. Not the underpaid, undersung soldier whose name we do not know till he dies. But politics.The grinning, remorseless, arm twisting avatar of politics we have released from the bottle and let loose to rampage across our little and big democratic freedoms.
**
When Karan Johar released that video, I remembered a conversation I had with a dear friend who has been battling land sharks and political corruption for over a decade and has learnt to deal with the system by not showing her loathing for it, but exhibiting tolerance through her teeth. With all the arrogance that ignorance brings along with it, I told her recently, "I don't know how you deal with it. I would never have been able to stand these goons." She sighed with all the patience that battle weariness brings with it and said, "You won't deal with it because you don't have to. I do and I can't afford to live in a bubble. There is too much at stake."I felt sheepish and chastened. Really, what right do we have to judge  Johar for capitulating? We are not living his challenges or helping him deal with them. We are just watching the show from the sidelines. We perhaps, as Shabana Azmi brilliantly pointed out in a recent TV interview, are like the frogs who have been put in a cauldron on slow boil. And we don't know that we are being cooked collectively. And when we do realise that it is now our turn to pay for our silence, maybe it will be too late.
**
Reema Moudgil is the editor and co-founder of Unboxed Writers, the author of Perfect Eight, the editor of  Chicken Soup for the Soul-Indian Women, a  translator who recently interpreted  Dominican poet Josefina Baez's book Comrade Bliss Ain't Playing in Hindi, an  RJ  and an artist who has exhibited her work in India and the US and is now retailing some of her art at http://paintcollar.com/reema. She won an award for her writing/book from the Public Relations Council of India in association with Bangalore University, has written for a host of national and international magazines since 1994 on cinema, theatre, music, art, architecture and more. She hopes to travel more and to grow more dimensions as a person. And to be restful, and alive in equal measure.